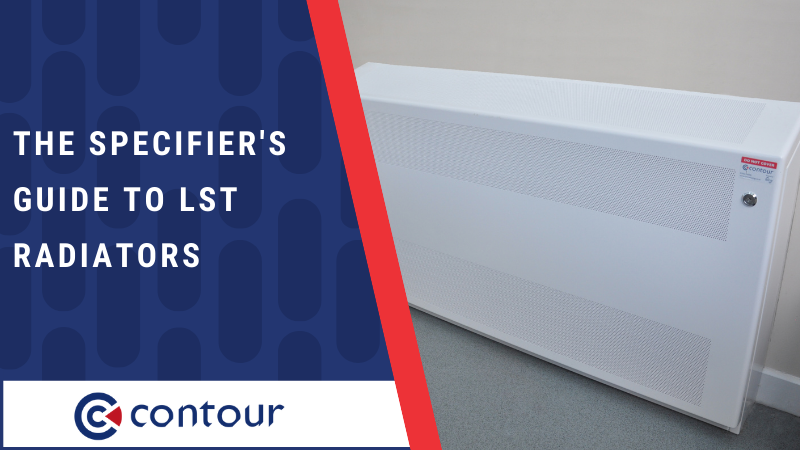 When given the task of replacing or introducing new radiators in schools, care homes, mental health units or even hospitals and commercial offices, there are plenty of things to consider.
Simply fitting any radiator isn't enough and you have to consider the environment, thinking about the types of people in them and how to keep them safe.
When you consider that i­­­n 1998, the NHS introduced new guidelines that keep the temperature below 43oC, traditional, decorative radiator solutions aren't going to be up to the job. This is why you have to consider LSTs, or low surface temperature radiators.
Read on to discover everything you need to know about LSTs in this extensive specifier's guide.
What are LST radiators?
An LST or low surface temperature radiator is a radiator that is specifically designed to not exceed a surface temperature of 43oC. Providing a safe surrounding environment, LSTs are ideal solutions when considering radiators for primary schools, hospitals, care homes and some* mental health units.
Complying with the NHS Health Guidance (1998), which provides information of safe surface temperature of objects, low surface temperature radiators are designed and manufactured as a barrier between the heat emitter and anyone in the environment.
In some cases, low surface temperature radiators, for instance in schools and care homes, may be designed to also cover any exposed pipework in order to protect against all hot surfaces.
*in many cases, a high security mental health unit would benefit from an anti-ligature radiator or guard as opposed to an LST radiator.
What Are Low Surface Temperature Radiator Covers?
Low surface temperature radiator covers allow for existing radiators in the likes of schools, hospitals, care homes and mental health units to remain, while protecting those most likely to come into contact.
Placed over existing radiators, low surface temperature radiator covers ensure that the temperature doesn't pose a threat to those in the surrounding environment. LST radiator covers also help cover other exposed surfaces around the radiator such as pipe work or panelling, creating an altogether safer environment.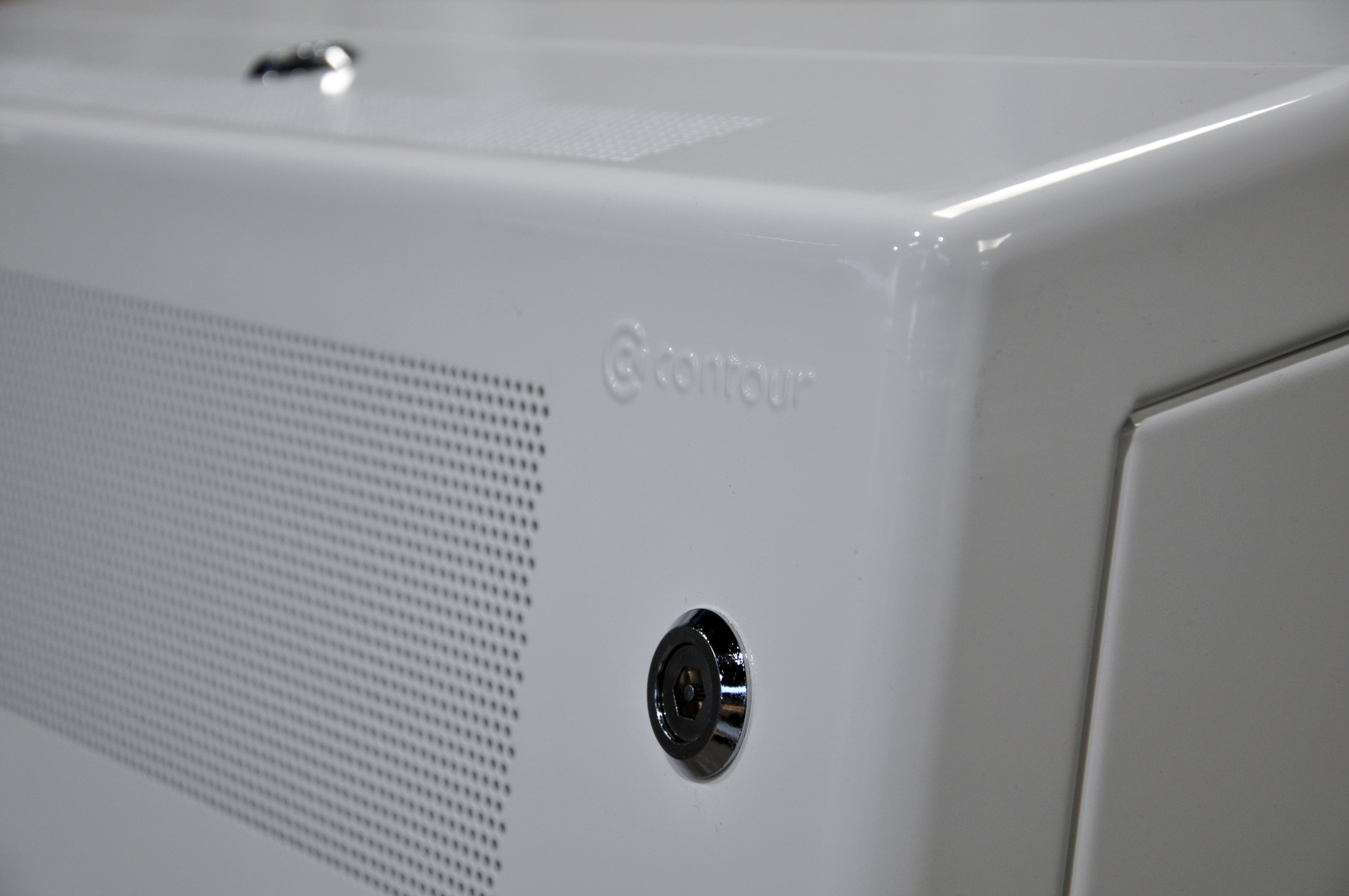 Building Regulations For Low Surface Temperature Radiators
The UK Government is responsible for drawing out the legal requirements of low surface temperature radiators in order to maintain health and safety standards.
As part of this, LST radiators are a legal requirement and therefore a fundamental obligation for use within schools, hospitals, doctor's surgeries, disabled bathrooms, and mental health facilities. This is in order to protect the safety of those within these environments.
Low Surface Temperature Radiators Features To Look Out For
Low surface temperature radiators include a lot of features which help maintain the safety and wellbeing within the environments in which they are installed.
Features include things such as easy maintenance and cleaning access, grilles to prevent objects finding their way into the radiator and anti-microbial coating. The key features of an LST radiator to ensure a safe working environment include:
Drop down access for easy cleaning access.
Coated with BioCote to protect against the spread of bacteria.
Bullnose and rounded corners to reduce the risk of cuts.
Rotary valve kits for access to the wall behind the radiator
Pencil proof grilles to stop objects finding their way through.
You can see a full breakdown of all the key features of LST radiators here.
Are LST Radiators Energy Efficient?
LST radiators offer a number of features that help minimise heat loss and streamline the cleaning process.
A report from BestHeating suggests that almost 45% of heat can be retained if radiators use the correct insulation process. With that in mind, using features such a Kingspan on the interior of low surface temperature radiator covers helps reflect heat that would otherwise be lost back into the room, maximising efficiency.
The ease of cleaning a low surface temperature also help streamline the maintenance process within schools, care homes, hospitals and mental health units.
The Best Place To Use LST Radiators
Low surface temperature radiators are an integral part of ensuring the safety and wellbeing of people within a variety of locations. Where those in the environment are at increased risk, legislation dictates that low surface temperature radiators must be used, and their requirement is becoming more frequently specified throughout a range of commercial and public projects.
This includes places such as primary schools and nurseries, care homes, mental health facilities and hospitals where the young, elderly and the vulnerable could all easily come to harm on radiators that don't confirm to regulation.
LST Radiators For Hospitals
All types of hospitals and health care environments benefit from installing low surface temperature radiators. Housing vulnerable and sick patients, hospitals need to ensure a safe environment and low surface temperature can help achieve this.
Radiators for hospitals need to stay a low temperature, abiding to NHS legislation while also fighting against the spread of harmful bacteria.
One way this is achieved is through BioCote, a patented additive that combats against the spread of bacteria such as MRSA and E.coli. Contour are the only company to incorporate BioCote into its LST radiators and guards, with results showing that this prevents these organisms from growing, therefore increasing hygiene.
Installing low surface temperature radiators that include BioCote can help you greater protect the safety and wellbeing of those in the surrounding environment.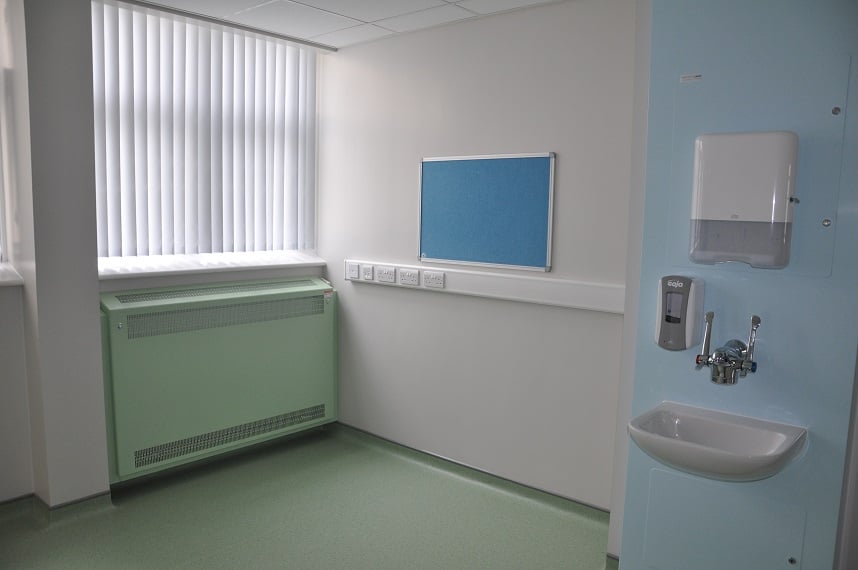 LST Radiators For Care Homes
With people that are frail and unsteady on their feet, the risk of scalding on radiator surfaces is incredibly common.
Luckily, low surface temperature radiators for care homes are the ideal solutions. Where care home residents may use the wall to stabilise themselves, having a low surface temperature radiator helps prevent against accidental scalding.
It is sometimes tempting to provide more decorative radiators and covers in these settings, however, these can cause a number of problems. For instance, decorative covers are much more difficult to clean and may be made of weaker material when compared with steel LST options.
Through both low temperature guards and radiators, you can protect against exposed high temperature surfaces and ensure the safety of those within care home environments.
LST Radiators For Primary Schools & Nurseries
With classrooms growing larger and children becoming more and more independent, moving around the classroom while they learn, school radiators could pose a threat to their wellbeing.
Regulation given to schools and nurseries state that radiators and other hot surfaces such as exposed pipes, located in areas where pupils might touch them, must not be hotter than 43oC.
Low surface temperature radiators have a number of features that make them an ideal solution for use within schools. One of these is what is called 'pencil proof' grilles, that are designed to prevent against any large object being forced into a potentially dangerous part of the radiator.
With a number of key features, and adhering to the latest legislation, low surface temperature radiators and covers the perfect heating solution for use within schools and .
What's The Difference Between LST Radiators & Underfloor Heating?
Low surface temperature radiators offer a range of advantages over underfloor heating, which is another means to achieve heating while maintaining a low surface temperature.
LST radiators are much more cost effective when compared with underfloor heating and are also far easier to install and maintain.
With underfloor heating, you can only have the heating source coming from a single location, the floor, while a low surface temperature radiator can be placed anywhere within a room.
Can LST Radiators Be Used In Wet Rooms?
LST radiators are great for using within a wet room as they are designed specifically to protect against the risk of corrosion. This is done by ensuring the materials used in the environment are correct and that the radiator is powder-coated, preventing the rusting process.
Radiators for wet rooms also need to fight against the spread of bacteria. Warm wet environments are prime real estate for bacteria, so it is important that LST radiators don't help them along the way.
BioCote is included on all low surface temperature radiators for wet rooms and fights against 99.9% of bacteria including MRSA and eColi.
Can I Change The Colours Of My Low Surface Temperature Radiator.
One of the key benefits of a low surface temperature radiator is that they can be designed and manufactured to suit your surrounding environments whether you are in a school, care home, hospital, or mental health unit.
Low surface temperature radiators are offered in an extensive range of colours to suit your environment. With the full RAL colour chart to choose from, LST radiator colour options are limitless.
What's more, the colour goes beyond aesthetics. Studies have shown that certain colours can have a calming effect on service users having a positive impact on the healing process. A full guide of colour psychology can be downloaded here.
Where Shouldn't You Use LST Radiators?
The grille size or other design features of a low surface temperature could be used as a ligature point, and in some environments such as mental health clinics this could cause serious harm to the service user.
This means that low surface temperature radiators shouldn't be used in certain environments such as PICUs and instead, specifiers should consider anti-ligature radiators where design features help make the environment much safer.
Some LST radiators and guards might not be suited to certain wet room environments, either. With high levels of moisture in the air, without the correct finishing such as powder coating, these LST covers would not last and quickly start to rust.
How Much Does A Low Surface Temperature (LST) Cost
Low surface temperature radiators and radiator covers are entirely bespoke meaning there is no definitive price.
Like buying a car, buying radiators throws up a number of options, all of which affect the price.
Things such as size, application, maintenance levels and finish all have an impact.
Beyond aesthetics, there are also things such as installation costs, BioCote and even additional safety features to consider which will all see prices vary.
When getting multiple quotes for LST radiators, price isn't the only thing to consider, you must ask yourself, is it fit for purpose? Is it easy to clean? And who will install it?
Prices for low surface temperature are available on request and you can contact the team here.
Are LST Radiators and Radiator Covers Easy To Clean?
Low surface temperature radiators are incredibly easy to clean and maintain. With drop down front access, cleaning routines can be extremely quick and efficient helping maintain hygiene standards.
One of the easiest ways to clean your LST radiator is to purchase a Rotarad system. With this in place, the radiator can unfold to the floor at 90o enabling complete access for cleaning the hard-to-reach parts.
All low surface temperature radiators also feature BioCote, the antimicrobial technology which inhibits the growth of 99.9% deadly bacteria including eColi and MRSA, low surface temperatures radiators are a fantastic solution for hospitals and other environments where bugs can rapidly spread.
Low Surface Temperature Radiators: Key Takeaways
Conclusion
A low surface temperature radiator is a fantastic option for a range of environments. From providing radiators for schools, hospitals, care homes, wet rooms and other environments with vulnerable users, low surface LSTs help maintain safety standards.
Adhering to the latest legislation and ensuring unwanted injury, choose an LST to suit your environment by picking the colour and options, covering all exposed hot surfaces.
Contour can provide LST radiator solutions for projects of all shapes and sizes, ensuring your setting meets the criteria expected.
About Us
Contour produces a range of innovative, safe surface temperature systems for healthcare, education, mental health, commercial and secure sectors, working in close partnership and collaborating with architects, M&E engineers, NHS Trusts, local authorities and contractors to deliver outstanding safe heating solutions.
Contour is the exclusive partner of BioCote® anti-microbial technology for LST and anti-ligature radiators. BioCote® additives reduce bacteria by up to 99.9%. Contour combines an extensive range of colour-paints is with BioCote® for a durable, high-quality finish.
Contour's heating solutions offer secure, single-person quick access to radiator guard interiors for regular deep cleaning and maintenance. Each year, Contour save the NHS millions of pounds in cleaning costs, therefore delivering cleaner, safer environments. Contour is redefining the marketplace and therefore many regards us as a design and innovation leader within the industry.
Contour has a quality-first philosophy. Our customer-focused team possess a 'can-do attitude, they take pride in developing solutions for your heating requirements.
Contact us at:
The Mansions, 43 Broadway Shifnal
Shropshire TF11 8BB United Kingdom
+44 1952 290 498