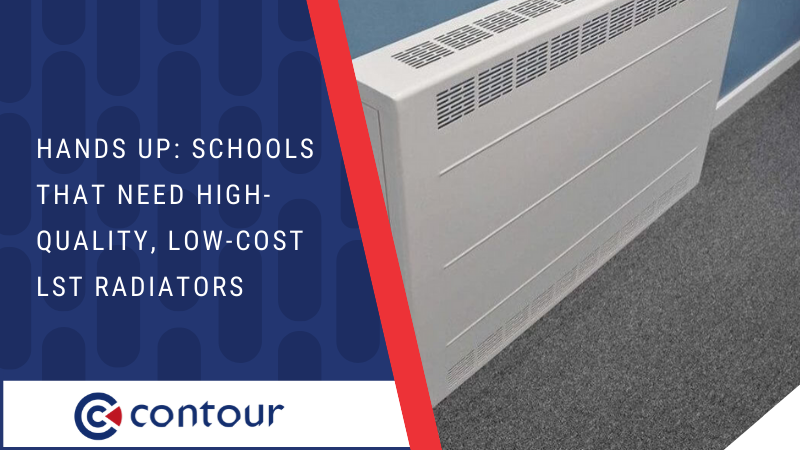 Alarmingly, most non-LST radiators heat to 75⁰C. With temperatures this high, there is a strong risk that children in schools could sustain dangerous burns.
This is where Covora high-quality, low-cost LST radiators come in.
The Education (School Premises) Regulations 1996 state that SEN schools, nurseries and teaching accommodation must furnish buildings with radiators that don't exceed 43⁰C to ensure safety for staff and children.
With Contour's Covora LST radiators, you can refurbish your classrooms with affordable, safe surface temperature heating solutions.
Contour's LST designs are pivotal to safety in educational environments; it's vital that children do not come into contact with hazardous surface temperatures in schools.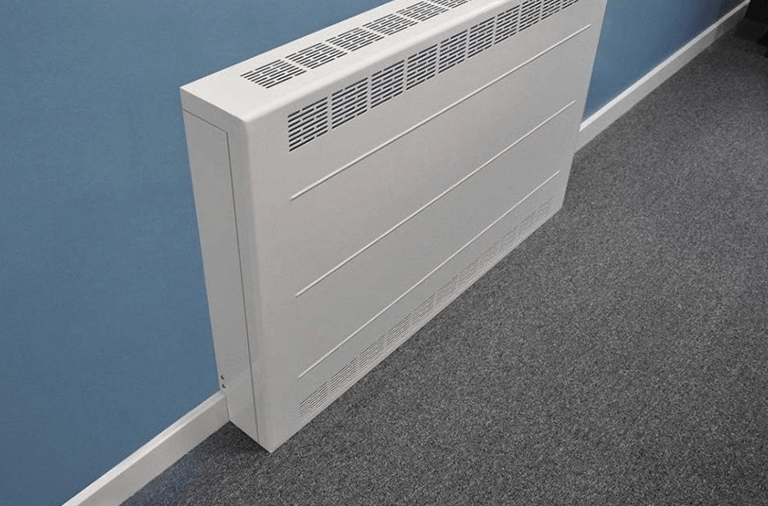 LST Radiators and Safety
Covora LST radiators ensure safe surface temperatures. These radiators are the ideal heating solution for classroom and student accommodation refurbishments: safe, robust and affordable.
Manufactured from 1.2mm mild steel, Covora LST radiators have strong, durable casings that are resilient towards the knocks and bumps of school life.
Ventilation grilles are easy to clean. The narrow width of the grilles prevents the insertion of pencils, pens and other classroom equipment.
For extra safety, the radiator covers has bullnose corners and rounded edges to strengthen the units and reduce the risk of injury should a child fall against the radiator.
LST Radiators and Hygiene
Contour's LST range is coated with BioCote® infused polyester powder to an average thickness of 60 microns, internally and externally. BioCote® anti-microbial additives reduce up to 99.5% of microbial colonies on the surface of radiator casings within 2 hours. A substantial reduction of up to 86% is clear in just fifteen minutes.
BioCote® constantly inhibits the growth of bacteria over the full expected lifetime of the radiator cover. Bacteria commonly found on radiators includes the H1N1 Influenza virus, Salmonella and Streptococcus faecalis.
Controlled tests conducted by BioCote® and supported by Contour revealed that children's absenteeism was 20% lower in a classroom environment where fixtures and fittings were protected with BioCote® than in a classroom with no anti-microbial protection. Click here to read our blog post on reducing disease in school environments by implementing anti-microbial radiator covers.
LST Radiator Design
Covora LST radiators are available in any colour of your choice, whether matte or metallic. Contour's extensive colour range allows your LST radiators to blend seamlessly with the design of your school or classroom environment.
Covora is available in over 140 sizes across
Single convector models
Double panel plus models
Double convector emitter models
Contour provide LST radiators to suit virtually any room or corridor size. Installation of Covora is quick and hassle-free: radiator covers are supplied as one-piece units, complete with pre-fabricated cut-outs for valves, skirting boards and pipework.
Contour radiators and radiator covers are covered by 10 and 5-year warranties respectively.
Ready to learn more about how Contour can re-design your heating solutions using Covora? Sign up to speak to a heating expert about safe surface temperature radiators for your classroom.
About Us
Contour produces a range of innovative, safe surface temperature systems for healthcare, education, mental health, commercial and secure sectors. We work in close partnership with architects, M&E engineers, NHS Trusts, local authorities, design consultants and contractors to deliver outstanding safe heating solutions.
Contour is a partner of BioCote® anti-microbial technology for LST and anti-ligature radiators. BioCote® additives reduce bacteria by up to 99.9% and are combined with Contour's extensive range of colour-paints to coat products for a durable, high-quality finish.
Contour's heating solutions offer secure, single-person quick access to radiator guard interiors for regular deep cleaning and maintenance. Each year, Contour save the NHS millions of pounds in cleaning costs, while delivering cleaner, safer environments. Contour has redefined the marketplace and is regarded by many as a design and innovation leader within the industry.
Contour's vision is supported by a quality-first philosophy and a passionate and conscientious customer focused team who possess a 'can-do' attitude, taking pride in developing solutions for your heating requirements.
Contact us at:
The Mansions, 43 Broadway Shifnal
Shropshire TF11 8BB United Kingdom
+44 1952 290 498
LinkedIn: Contour Heating Products Ltd
Reference
The Education (School Premises) Regulations 1996