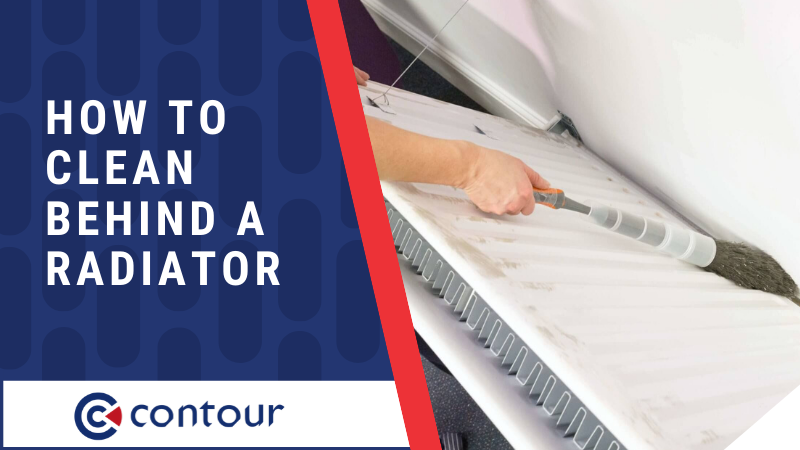 UPDATED: This blog post about cleaning radiators was updated in March 2020 to reflect more information and latest pictures.

An effective cleaning routine for radiators is imperative for every sector, particularly with recent events disrupting the way we, as a society, operates.
Whether you're looking to step up hygiene in classrooms, hospitals, secure facilities, or any other space, here's how you can make your life easier when cleaning radiators with Rotarad systems.
The most effective way to thoroughly clean your radiator is to invest in a rotating valve, such as a Rotarad system. Once installed, the system will allow for your radiator to be rotated to floor level, providing complete access behind the radiator for thorough cleaning.
Once your Rotarad system has been installed and you've detached your radiator from the wall, here's how to effectively clean inside the radiator.
How To Clean Behind a Radiator
Protect the floor beneath your radiator with a towel and turn off your heating before you begin cleaning. Clear debris from your radiator using either a long-handled micro-fibre brush or a vacuum cleaner. Repeat for each section of your radiator until clean.

Radiator Cleaning Methods
Cleaning a radiator thoroughly can be difficult. With little space behind radiators and between each fin, radiator cleaning is impossible without one of the following:
Microfibre brushes: microfibre is a synthetic fibre that is finer than one-fifth of a human hair. The fineness of microfibre makes it hugely effective when it comes to collecting dust and dirt. You will need to use a microfibre cloth that is attached to a long-handled brush to reach all the way down the fins in your radiator.
Vacuums: Whether you use a hand-held vacuum or the hose on a regular vacuum cleaner, vacuums suck the dust out of your radiator without you having to reach all the way down through each individual fin. You may not achieve the same results as you would by scrubbing the fins, but vacuuming can be a useful beginning point for cleaning procedures and can be useful for top-up cleaning.
Why You Need To Clean Your Radiator
Radiators are hot. The heat that they emit provides the ideal temperature for bacteria to multiply and thrive in their millions. Once someone touches your radiator and then touches another surface, contamination starts to spread through your environment, resulting in illness. This can only be minimised by frequent, effective cleaning, as shown in the methods listed above.
You can improve radiator hygiene further by investing in Contour's anti-microbial radiator covers. These are protected with BioCote® technology, which permanently inhibits the growth of 99.9% of bacteria within two hours.
Aside from bacteria, the build-up of dust in your radiator prevents heat output. Dust blocks the grilles and the fins in your radiator: your rooms don't get warmer, you turn your heating up higher than necessary, your bills soar. This is where the initial investment of a Rotarad system can save you costs long-term.
Rotarad: Effective Cleaning For Radiators
Rotarad systems can be fitted to any standard panel radiator, allowing radiators to pivot along the access of the radiator valves without putting any strain on the pipework or fittings.
Rotarad key features
Can be used in new and retrofit applications
Flame-free installation
Simple and fast to fit and operate
Reliable, safe and economic
WRAS approved
WRAS, KTW, ACS approved 'O' ring
A design life of 50 years minimum
Can be rotated through 360 degrees
Slimline, unobtrusive and paintable
Check out Contour's video guide to Rotarad systems:
If you'd like to know more, sign up to speak to a heating expert about how Rotarad could transform your radiator cleaning routine.
About Us
Contour produces a range of innovative, safe surface temperature systems for healthcare, education, mental health, commercial and secure sectors, working in close partnership and collaborating with architects, M&E engineers, NHS Trusts, local authorities, design consultants and contractors to deliver outstanding safe heating solutions.
Contour is the exclusive partner of BioCote® anti-microbial technology for LST and anti-ligature radiators. BioCote® additives reduce bacteria by up to 99.9% and are combined with Contour's extensive range of colour-paints to coat products for a durable, high-quality finish.
Contour's heating solutions offer secure, single-person quick access to radiator guard interiors for regular deep cleaning and maintenance. Each year, Contour save the NHS millions of pounds in cleaning costs, while delivering cleaner, safer environments. Contour has redefined the marketplace and is regarded by many as a design and innovation leader within the industry.
Contour's vision is supported by a quality-first philosophy and a passionate and conscientious customer focused team who possess a 'can-do' attitude, taking pride in developing solutions for your heating requirements.
Contact us at:
The Mansions, 43 Broadway Shifnal
Shropshire TF11 8BB United Kingdom
+44 1952 290 498
Twitter: @Contour_Heating
LinkedIn: Contour Heating Products Ltd