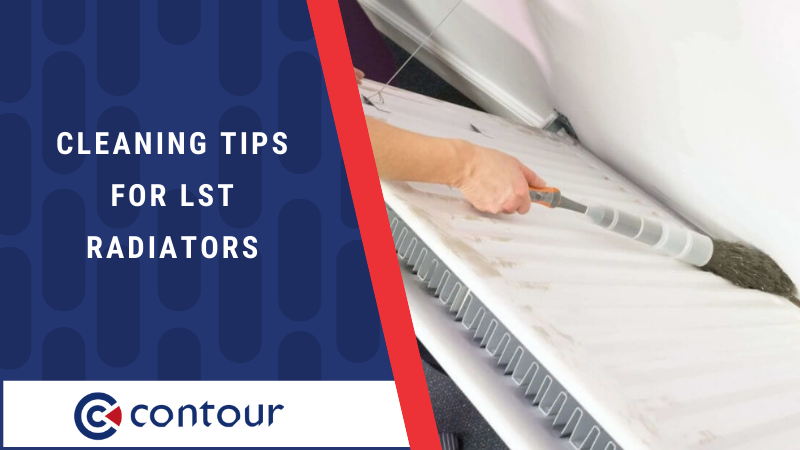 With concerns surrounding hygiene at what seems like an all-time high, it's no surprise that the NHS has drawn up guidelines that dictate cleaning routines in certain environments.
Among the guides, the NHS also highlights how often radiators in hospital and care home environments should be cleaned.
As these environments are where people are usually at their most vulnerable, having a stringent cleaning regime is vital to help fight against unwanted bacteria or viruses.
But to have a regime that is quick and efficient, radiators must be designed to help make this process so.
Contour's range of LST radiators are designed with this in mind and in this blog, we provide some useful cleaning tips to make sure your environments remain to the highest possible hygiene standards.

LST Radiator Cleaning In 5 Simple Steps
In a handful of easy-to-follow instructions, maintenance teams can quickly and efficiently clean LST radiators, making sure that hygiene and cleanliness levels remain at the highest possible standards.
1: Release Casing
Release the LST radiator casing by using the provided key to quarter turn the lock.
2: Lower The Casing
Remove the key and safely allow the one-piece door to drop down to floor level. This will then give you full access to the radiator and floor beneath.
3: Lower The Radiator
If Rotarad valve fittings have been selected for your LST radiator, another level of access is also provided. Simply rotate the radiator towards the ground, accessing the rear of the LST radiator.
4: Clean The Dirt
Remove dust and dirt and wipe down the radiators using a damp microfibre cloth.
5: Put It All Back
Rotate the radiator back into its original position and push back the radiator cover, locking in position using the provided key.
For more information on cleaning LST radiators and other heating products in Contour's range, read our extensive cleaning guide or contact our team.

Other LST Radiator Cleaning Tips
Use BioCote in Radiator Coating
Protection for LST radiators can be given right from the first point of contact. Included in the powder coating process, BioCote is a scientifically proven solution that can fight against harmful microbes such as e. Coli and MRSA.
Because BioCote is doing the heavy lifting, courageously fighting off microbes, the only cleaning required on the radiator's surfaces is a simple wipe with a damp cloth.
What To Use To Clean LST Radiators?
Because LST radiators are designed to make cleaning as easy and manageable as possible, maintenance teams require very little in the way of technical cleaning equipment.
As mentioned, with BioCote included in the powder-coated surfaces, the only maintenance that needs to be done is with a damp microfibre cloth.
Not only will this help remove any dirt and dust from the surfaces, the microfibre cloth also doesn't damage the powder-coated surface, extending your radiators life.
Conclusion
Cleaning a radiator to help maintain hygiene levels might seem obvious at first, but how many times have you tried to clean a radiator and realised it's almost impossible to do?
With impossible to clean radiators comes impossible to fight health concerns.
That's why having low surface temperature radiators that are easily cleaned and combat bacteria and viruses is a must in these environments.
While the likes of BioCote help combat this, innovative designs like Rotarad and drop-down front covers all mean that there is no place for dust and dirt to hide.
If you'd like to make sure your LST radiators are in the right state to be able to not only be regularly and easily cleaned but also combat hygiene and protect people in the surrounding environments, contact our expert team today.
About Us
Contour produces a range of innovative, safe surface temperature systems for healthcare, education, mental health, commercial and secure sectors, working in close partnership and collaborating with architects, M&E engineers, NHS Trusts, local authorities, design consultants and contractors to deliver outstanding safe heating solutions.
Contour is the exclusive partner of BioCote® anti-microbial technology for LST and anti-ligature radiators. BioCote® additives reduce bacteria by up to 99.9% and are combined with Contour's extensive range of colour paints to coat products for a durable, high-quality finish.
Contour's heating solutions offer secure, single-person quick access to radiator guard interiors for regular deep cleaning and maintenance. Each year, Contour save the NHS millions of pounds in cleaning costs, while delivering cleaner, safer environments. Contour has redefined the marketplace and is regarded by many as a design and innovation leader within the industry.
Contour's vision is supported by a quality-first philosophy and a passionate and conscientious customer focused team who possess a 'can-do attitude, taking pride in developing solutions for your heating requirements.