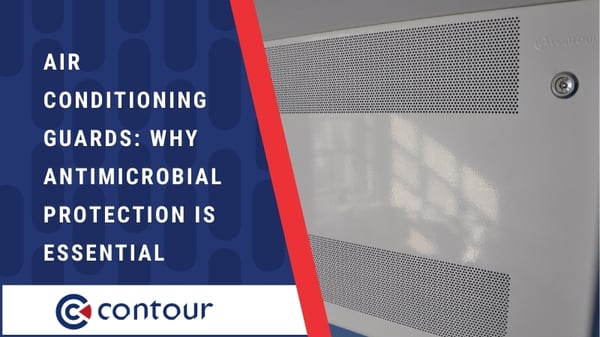 Hygiene is a necessity to keep our loved ones safe. When we walk into public environments, we put our trust into others that the environment we're in is well maintained and sanitary.
With recent events, hygiene has become something that is amplified in our everyday life, becoming the top priority in our minds.
Although hygiene of an air conditioning guard may not be the first thing you think of when it comes to maintaining a hygienic environment, however, it's important.
Read on to discover why antimicrobial protection is essential for air conditioning guards…
What Is BioCote?
BioCote is an antimicrobial technology which is introduced at the manufacturing stage to deliver protection against several microbes, these include bacteria, mould, and some viruses. It's a silver-based technology which lasts the lifespan of the guard.
Click Here to see a list of some of the notable microbes BioCote® technology has been proven effective against. Together with cleaning regimes and hand hygiene, it provides the ultimate hygiene protection.
Guards are painted with a dry powder coating method, including BioCote antimicrobial technology. In this process, the paint seals the air conditioning guard, so it's protected against destruction and erosion.
Contour Air Conditioning Guards
By incorporating Biocote in Contour's air conditioning guards can reduce the presence of microbes such as MRSA and E. coli.
The technology makes our air conditioning guards simpler to keep hygienically clean by actively working to reduce the number of microbes on the protected surface.
Making surfaces more sterile and less likely to pose a risk of cross-contamination.
BioCote® has experimented on a live hospital ward, results found that BioCote® protected products were considerably less contaminated with a 96% reduction in bacteria.
It's been successful to show success against notable microbes, including Salmonella, H1N1, and feline coronavirus, strain Munich.
It also has been found to reduce microbes on a protected surface by up to 99.69% in 2 hours, highlighting the considerable hygiene improvement BioCote® can deliver to air conditioning guards.
Conclusion
Now more than ever, we're becoming aware of the hygiene levels of the surfaces around us. BioCote® is extremely useful when it comes to reducing microbes such as bacteria, and mould.
Having Biocote incorporated into air conditioning guards will help keep surfaces uncontaminated and sterile.
Additionally, alongside with hand hygiene, Biocote offers peace of mind that the environments that we may come across are clean.
To view BioCote's latest test certificate, or to find out more about this unique antimicrobial, click here.
About Us
Contour produces a range of innovative, safe surface temperature systems for healthcare, education, mental health, commercial and secure sectors, working in close partnership and collaborating with architects, M&E engineers, NHS Trusts, local authorities, design consultants and contractors to deliver outstanding safe heating solutions.
Contour is the exclusive partner of BioCote® anti-microbial technology for LST and anti-ligature radiators. BioCote® additives reduce bacteria by up to 99.9%. Contour combines an extensive range of colour-paints is with BioCote® for a durable, high-quality finish.
Contour's heating solutions offer secure, single-person quick access to radiator guard interiors for regular deep cleaning and maintenance. Each year, Contour save the NHS millions of pounds in cleaning costs, therefore delivering cleaner, safer environments. Contour is redefining the marketplace and therefore many regards us as a design and innovation leader within the industry.
Contour has a quality- first philosophy. Our customer-focused team possess a 'can-do' attitude, they take pride in developing solutions for your heating requirements.
Contact us at:
The Mansions, 43 Broadway Shifnal
Shropshire TF11 8BB United Kingdom
+44 1952 290 498
Twitter: @Contour_Heating
LinkedIn: Contour Heating Products Ltd