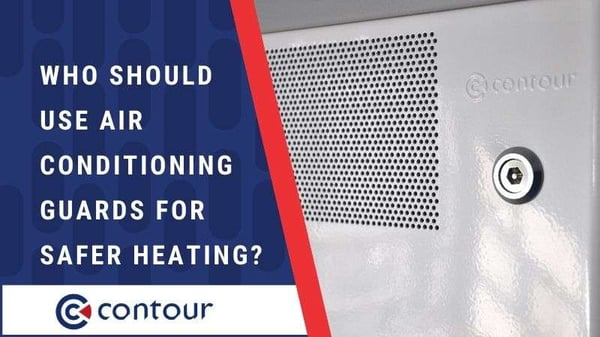 There's no doubt that air conditioning systems are one of the most expensive commodities within a setting, so you must aim to avoid damages and vandalism that might occur.
Read on to discover who can benefit from using air conditioning guards…
What Type Of Environments Require Air Conditioning Guards?
Any public or private environment, or settings that could cater to vulnerable people or where unauthorised access to the units is prohibited.
Air conditioning units are expensive, so a guard will be necessary for environments that are more prone to vandalism.
We discuss below some environments that would benefit from protection services such as air conditioning units.
Air Conditioning Guards For Mental Health Hospitals
An anti-ligature product is one that reduces the risk of someone tying material around a piece of furniture to inflict harm to themselves or anyone else, particularly beneficial in mental health settings.
Contour's air conditioning guards are anti-ligature with safe edges and IP3x grilles to reduce injuries that can be life-threatening to individuals.
In these environments, vandalism may be more prone. The guards are made with Zintec protected steel in various gauges from 1.5mm-2mm to ensure the guards are strong and robust.
Also, when extra strength is needed, we can provide a strengthening strut to provide the front of the cover with additional strength.
Air Conditioning Guards For Hospitals
With recent events especially, it's important to keep the hospital environment as comfortable and as hygienic as possible for patients, staff and visitors.
In hospitals, It's been estimated that in England, 300,000 patients a year acquire hospital-associated infections and that 5,000 patients sadly lose their lives from these infections.
To combat this, BioCote® is introduced at the manufacturing stage of the guards to present protection against various microbes: bacteria, mould, and some viruses. Working alongside cleaning regimes and hand hygiene, it delivers the ultimate hygiene protection.
This hand-held hygiene can be easily attained with easy access for cleaning. All our air conditioning guards provide easy access for cleaning, drop-down hinged doors it provides access for hospitals to thoroughly clean air conditioning units.
Providing all hospital service users with a hygienic and comfortable environment.
Air Conditioning Guards For Schools
Within schools and nurseries, a primary concern of many customers is the issue of small items, particularly pencils, being pushed through the grilles.
Small items like pencils and crayons can often end up being dropping or wedged into air conditioning grilles.
Our air conditioning guards work well for school environments as the grilles are pre-punched with pencil proof grilles to prevent stationary or small items from being pushed through.
With this, children don't have the risk of trapping their fingers in grilles or pushing pens/pencils through the grilles.
The grille design uses 5.5mm wide radius grilles or IP3x grilles if required for demanding environments.
Air Conditioning Guards For Public Building
Public settings, like sports clubs, may require air conditioning guards. Air conditioning units in this setting will be used frequently and can be subject to damage. So, it'll be necessary to protect the air conditioning guard.
When you think of a public place like sports clubs – does a worn-out, boxed-looking air conditioning unit come to mind?
Contour's air conditioning guards can transform old looking AC units for a more aesthetically pleasing cover along with a more robust design from impacts and vandalism. With this, public spaces will look more professional.
Conclusion
Our bespoke air conditioning guards can provide you with a robust, hygienic resolution to protect your units to meet your distinctive needs. These features can be beneficial in many environments to provide hygienic and anti-ligature solutions.
To ensure peace of mind, all guards are protected with a 5-year warranty against defects in workmanship and materials for 5 years from the purchase date.