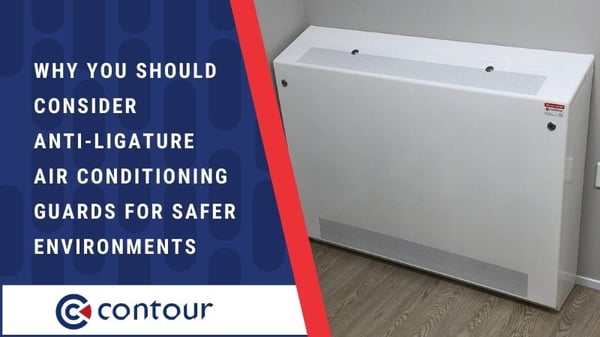 Architects, specifiers, and ward managers are continually seeking ways to reduce self-harm and suicide in mental health settings.
This has led to the development of anti-ligature products designed to protect all users that may encounter air conditioning units.
A safe environment is essential to reduce the element of risk. Behaviours in mental health units and schools are often unpredictable. This then can lead to unsafe and sometimes even life-threatening situations.
So, it's important to have an air conditioning guard that is anti-ligature to protect air conditioning units.
Read on to uncover why you should consider anti-ligature air conditioning guards for safer environments…
Minimise Self-Harm And Injuries
Many individuals assume that the risk of suicide comes from ligature points from above head-height. Other studies have found that suicides can, unfortunately, occur where ligature anchor points have been below the head or even at waist height.
Therefore, it's important to ensure air conditioning guards are anti-ligature as they can be floor mounted, flat panelled or even above head height and ceiling mounted.
Anti-ligature air-conditioning guards should follow certain characteristics:
Smaller grilles, we recommend IP3X grilles
Minimal gaps on joints
(If wall-secured) insignificant gaps between product and wall
Bullnose, rounded corners
No sharp edges
Air Conditioning Guards Can Be Strong And Robust
When users are looking to self-harm, they probably don't just search for obvious ligature points.
It's not uncommon that furniture in mental health environments can be subject to destruction. Once vandalised, these users could then use the damaged furniture as a weapon to self-harm themselves or others.
Contour air conditioning guards are available in Zintec protected steel in several gauges from 1.5mm-2mm to provide peace of mind that the air conditioning guards are strong and robust.
Where extra strength is required, Contour can provide a strengthening strut to assist the front of the cover for added strength.
This also will minimise the risk of individuals destructing the guard to inflict injuries on themselves or to others.
Mental health units can spend a lot of money replacing damaged items due to frequent damage that occurs.
It's important to consider the durability you'll benefit from selecting for an anti-ligature air conditioning guard that is both robust and damage-limiting.
They're Not Just Limited To Mental Health Units
Whilst anti-ligature features are closely affiliated with the needs of a mental health setting, air conditioning guards can be used in different establishments to provide a safe and strong solution.
There's a need for anti-ligature features in SEN schools, care homes, and hospitals. This is due to the susceptible nature of the individuals requiring a level of care.
Conclusion
Utilising an anti-ligature air conditioning guard will reduce the danger of an individual attaching anything to the guard that could inflict harm.
When choosing an air conditioning guard, consider where there may be any ligature points so you're aware of the possible implications.
At Contour air condition guards are bespoke, anti-ligature and are made to provide optimum levels of hygiene.
To ensure peace of mind, all guards are protected with a 5-year warranty against defects in workmanship and materials for 5 years from the purchase date.