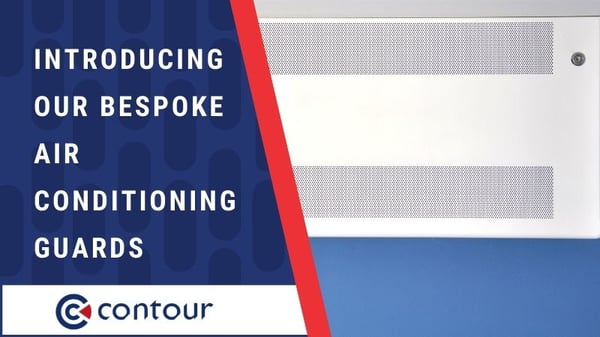 Not all buildings conform to a standard construction. In fact, older buildings will have unique 'quirks' that makes them interesting and gives them character.
Whilst, visually, these buildings are great, it does mean that the fixtures, fittings, and solutions you specify need to be bespoke to cater for these unique intricacies.
Are you searching for a bespoke air conditioning solution? Our air conditioning guards are made to cover existing or built-in air conditioning units to provide you with a bespoke guard to meet your unique needs.
Read on to find out more…
Key Features Of Our Air Conditioning Guards
Below we'll discuss the key features of our guards.
Bespoke
Our air conditioning guards are fully bespoke to cater to a variety of unique design options. This means that every customer gets the best possible product when purchasing their air conditioning guard.
We'll work with you to decide the best guard for you, whether this is wall/ floor mounted or a flat panel.
Our air conditioning guards can provide you with a robust, hygienic solution to protect your air conditioning units. These units allow for a 23% open area for airflow.
However, to avoid air loss, it's recommended that plenum is built once the air conditioning guard has been supplied.
Protects Air Conditioning Systems
There's no doubt that air conditioning systems are one of the most expensive commodities within a setting; you'd want to avoid damages and vandalism that might occur.
In public spaces where damages and vandalism are subject to happen, weak air conditioning guards can face destruction that ultimately ruins the unit beneath.
Our air conditioning guards are available in Zintec protected steel in various gauges from 1.5mm up to 2mm to ensure the guards are strong and robust.
Where extra strength is needed, we can provide a strengthening strut to give the front of the cover additional strength.
Easy Access For Cleaning And Maintenance
All of our air conditioning guards whether that's wall/floor mounted or flat panelled provide easy access for cleaning and maintenance.
By having easy access, air conditioning units can be efficiently cleaned and maintained quickly.
Reducing dust and dirt that can be otherwise harmful to individuals when breathing in.
Anti-Ligature
Contour's air conditioning guards are made to be anti-ligature with safe edges and IP3x grilles to reduce injuries and stash point.
These anti-ligature features will be best placed in environments like mental health hospitals where there may be vulnerable service users.
BioCote®
BioCote® is introduced at the manufacturing stage to offer protection against various microbes: bacteria, mould, and some viruses.
Click Here to see a list of some of the notable microbes BioCote® technology has been proven effective against. Working alongside cleaning regimes and hand hygiene, it delivers the ultimate hygiene protection.
It's a silver-based antimicrobial technology that lasts the lifespan of the air conditioning guard.
Our guards are painted using a dry powder coating process, which includes BioCote® antimicrobial technology. During this, the paint will have sealed the guard, so it's protected against damage and corrosion.
Wall Mounted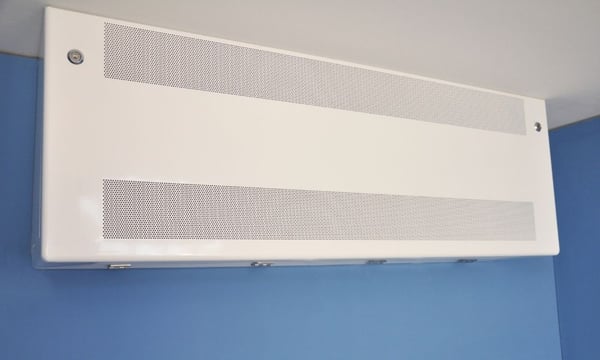 Our wall mounted air conditioning guard offers:
Protection for expensive heating and cooling units that have been retro fitted or where there has been a change of use in the building/room
Easy access for cleaning and maintenance with a drop-down hinged door
Flat Panelled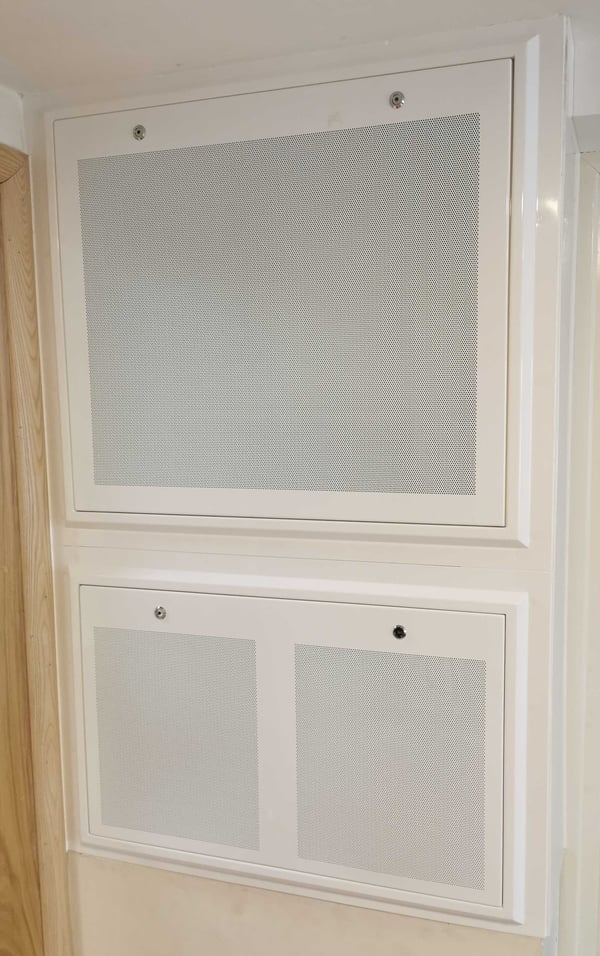 Our flat panelled air conditioning guard offers:
A solution for air conditioning units that are built into the walls
A drop-down front door for complete access to every internal surface for cleaning and maintenance
Space-saving design so the room you have can be maximised, this is ideal for corridors and high traffic areas
Floor Mounted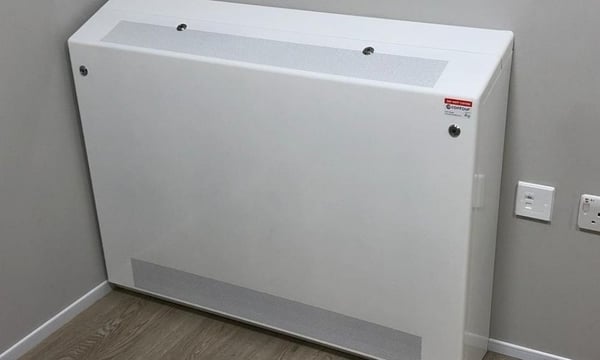 Our floor mounted air conditioning guard offers:
Drop-down front door providing complete access to every internal surface for cleaning and protection
Prefabricated cut-outs for vinyl flooring and skirting boards to reduce noise and mess on-site
Conclusion
To ensure peace of mind, all guards are protected with a 5-year warranty against defects in workmanship and materials for 5 years from the purchase date.
Don't worry, if you require a bespoke solution for your unique needs – Contour has got you covered.