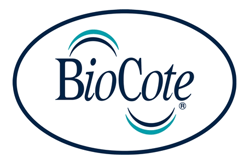 Contour Heating are the only company to incorporate BioCote® anti-microbial protection into our LST and anti-ligature radiators and guards. This unique, patented additive provides an effective, safe and long-lasting solution to combatting a wide range of dangerous bacteria, including MRSA and E.coli.
The anti-microbial efficacy of BioCote® products has been tested against a wide range of gram positive and gram negative bacteria as well as fungi. BioCote® has been proven to inhibit the growth of these organisms, thus providing hygienic practice.
Hospital Associated Infections
Studies have shown that at any one time, approximately 9% of hospital patients are suffering from a hospital-acquired infection. This is unpleasant for the patient, increases their length of stay, and can lead to serious complication or death. The House of Commons public accounts committee says up to 5,000 patients die from a hospital-acquired infection every year, costing the NHS £1 billion.
Patients contracting a HAI spend an average of 2.9 times longer in hospital, with over 300, 000 HAI's every year in England.
Hospital Trust expenditure on cleaning wards in 2004 exceeded £522 Million.
Research on the economic impact of HAI's concluded that the cost of introducing preventative measures is less than treating infections. Around 15-30% could be prevented by better application of best practice, releasing resources of £150 – 300 million for alternative NHS use.
Proven Protection
The active agents in BioCote® have been used extensively in Hospitals as excellent antimicrobials with low toxicity against non-target organisms. They don't function in the same way as antibiotics and there is no evidence to date to demonstrate that bacteria have become resistant to BioCote® as they have to some antibiotics.
BioCote® is tested to be effective against the following bacterium:
Staphylococcus Aureus (including MRSA)
Escherichia Coli (E-Coli)
Listeria Monocytogenes
Streptococcus faecalis
Salmonella enteritidis
Life Time Protection
Products treated with BioCote® have been tested for the simulated life of the product/material with no significant reduction in the anti-microbial performance noted, therefore demonstrating the anti-microbial efficacy for the life of the product/material.
For more information on BioCote, visit the website at www.biocote.com