LST Radiators are often installed because they offer a safer alternative to a traditional radiator.
Contour have put together this blog post to explore the differences between traditional and LST radiators and why, in certain spaces, one is a safer alternative to the other.
Traditional Radiators
Young children and vulnerable adults are at a greater risk of injuries such as burns if they come into contact with a hot surface on a radiator.
In certain environments such as care homes, schools and hospitals, this means that a traditional radiator could be considered a safety risk as it doesn't stay at a consistently low temperature. This makes it potential risk for burns.
According to YouGen: "Traditionally, radiators fed by central heating systems operate at higher temperatures (from 60 to 80 degrees C)." At that temperature, should somebody fall against then, there is a risk to their safety.
This is why LST radiators, which run at lower temperature, as often the preferred choice for schools and hospitals.
LST Radiators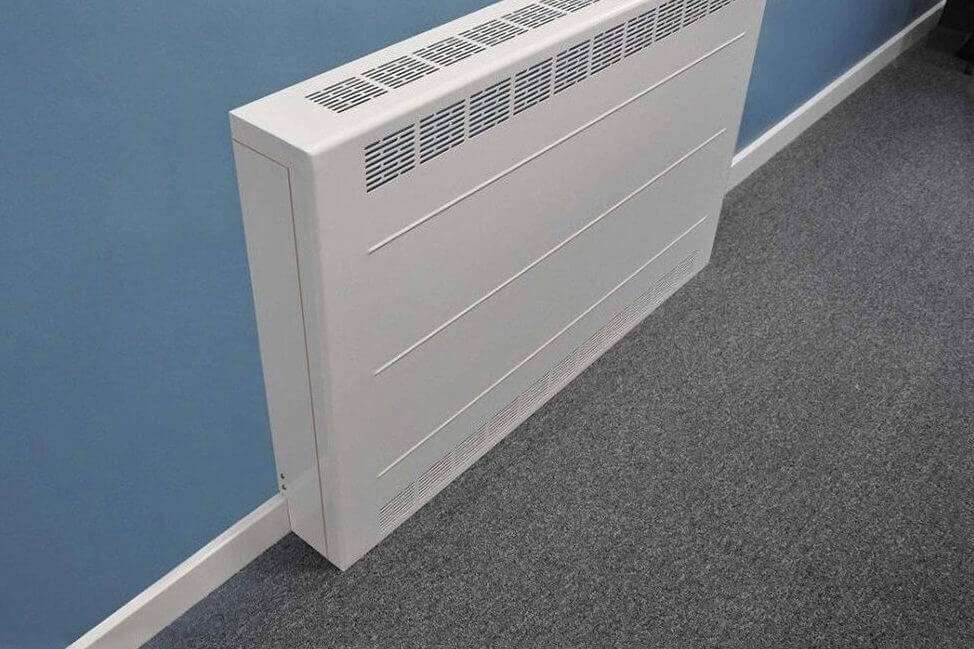 LST Radiators run at much lower temperature than traditional radiators. Recommendations from the UK government state an advised level of 43°C.
By fitting radiators at a lower surface temperature, a safer environment is created. In schools and nurseries, where young children are often running around or perhaps stopping by radiators to lean on them during break times, there needs to be a safety measurement in place to protect them from injuries.
By installing LST radiators, children can continue their learning in a warm environment that keeps them safe at the same time.
This is also true of hospitals and care homes, where vulnerable people can feel safe as they move around the space.
Additional Safety
Bespoke Design
LST radiators from Contour can be designed on a bespoke basis to fit any space. This offers benefits that a traditional, mass-produced radiator cover doesn't as you can feel assured that it will be an exact fit to your specifications.
BioCote®
Our LST radiators also come with BioCote® antimicrobial technologies to reduce the growth of harmful bacteria such as MRSA and E-Coli by up to 99.9%. This is perfect for schools and hospitals where hygiene is a primary concern.
Pencil Proof Grilles
For additional safety in schools, we can also include pencil proof grilles into our designs. This stops small items being pushed into the radiator covers but also prevents fingers getting caught to!
Conclusion
While traditional radiators aren't dangerous, they can be considered a health and safety risk in certain environments where vulnerable people are spending time.
LST radiators are the safer alternative for spaces that require heightened levels of protection for those who require extra care when it comes to heating solutions.
Contour LST Radiators come with multiple additional features that make them a superior safety option to traditional radiators such as pencil proof grilles and a bespoke design to suit any environment.
About Us
Contour produces a range of innovative, safe surface temperature systems for healthcare, education, mental health, commercial and secure sectors, working in close partnership and collaborating with architects, M&E engineers, NHS Trusts, local authorities, design consultants and contractors to deliver outstanding safe heating solutions.
Contour is the exclusive partner of BioCote® anti-microbial technology for LST and anti-ligature radiators. BioCote® additives reduce bacteria by up to 99.9%. Contour combine an extensive range of colour-paints is with BioCote® for a durable, high-quality finish.
Contour's heating solutions offer secure, single-person quick access to radiator guard interiors for regular deep cleaning and maintenance. Each year, Contour save the NHS millions of pounds in cleaning costs, therefore delivering cleaner, safer environments. Contour is redefining the marketplace and therefore many regard us as a design and innovation leader within the industry.
Contour have a quality- first philosophy. Our customer-focused team possess a 'can-do' attitude, they take pride in developing solutions for your heating requirements.
Contact us at:
The Mansions, 43 Broadway Shifnal
Shropshire TF11 8BB United Kingdom
+44 1952 290 498
Twitter: @Contour_Heating
LinkedIn: Contour Heating Products Ltd