One of the first things you need to know when replacing your LST or anti-ligature radiator covers is the size that you need to specify.
This simple 'how-to' guide is designed to help you measure up for your radiator project, whether you're upgrading the heating in a hospital, hospice, school, nursery school, office or secure facility.
Before measuring for your new radiator covers, you will need
A tape measure
A contour survey sheet and pen
A camera to take any photographs that will support your specification for bespoke designs
You can download a Contour survey sheet here. Choose from:
Flat-Top Radiator Guard Survey Sheet
Sloping-Top Radiator Guard Survey Sheet
Measuring For Radiator Covers: The Process
Contour require a few measurements to manufacture and fit your new radiator casings. You'll need to measure
The length of your radiator, including valves
The height of your radiator
The depth of your radiator from the wall
Any skirting boards, if you will require cut-outs
By providing Contour with skirting board measurements, we can make any cut-out modifications during the manufacturing process to avoid any disruptive cutting during installation. This means that your installation will be as efficient as possible.
Step 1) Measuring The Length Of Your Radiator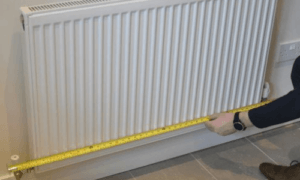 Measure the widest length of your radiator, including the valves at either side.
Add 50mm to your measurement to allow for the 20mm fixing return on DeepClean radiator covers.
The total dimension will form the required length measurement for your radiator covers.
Step 2) Measuring The Height Of Your Radiator
Measure the height of your radiator and add 50mm to calculate the required height measurement for your radiator covers.
When measuring the height of your radiator, you may find that your floor isn't level. Be sure to measure both sides of the radiator, especially if the radiator measures 1800mm or longer.
If your radiator has an access ramp that isn't level with the floor, Contour can manufacture a radiator cover with a tapered plinth to create a flat level.
Step 3) Measuring Radiator Cover Depth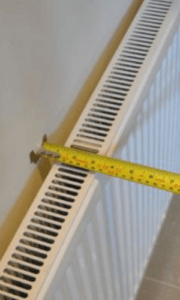 Measure the distance between the wall and the radiator to determine the depth of your radiator.
You will need to take this measurement below your radiator if you have pipework underneath the radiator.
Ensure that your measurement begins at the wall and finishes at the deepest part of your heating system – even if this is pipework* – so that your radiator guard encases the entire system.
For DeepClean radiator casings, Contour have a standard tolerance that is 65mm deeper than the deepest part of the radiator. You will need to add this to your depth measurement to calculate the necessary dimension for your new radiator covers.
Example: a 90mm radiator requires a 155mm radiator cover.
The 65mm tolerance comprises
40mm allowance for the door of your radiator cover
20mm allowance for the frame of your radiator cover
5mm for further tolerance
Step 4) Measuring For Cut-Outs In Skirting Boards Or Vinyl Flooring Cut-Outs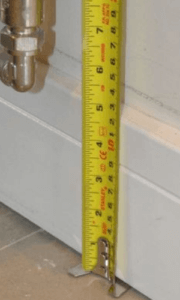 If you have skirting boards or vinyl flooring that will get in the way of your radiator guard installation, we will need to create cut-outs during the manufacturing process of your radiator covers. These can be accommodated for a variety of floor finishes.
Contour will require the following dimensions to produce your radiator casings with accurate cut-outs
Height of the required cut-out
Depth of the required cut-out
Radius of the cove
*Contour also offer pipe boxing should you wish to protect your pipes with a safe, aesthetic casing. Like Contour's LST and anti-ligature radiator covers, pipe boxing is available in any RAL colour.
Free Surveying
If you need advice from a technical expert when measuring for your radiator covers, you can use Contour's free surveying service.
Your surveyor will work with you, suggesting innovative design modifications to help you reduce installation time and costs.
All Contour surveyors have extensive surveying and installation experience. They will be able to identify the correct size and quantities of radiator guards required. They will also take note of any modifications necessary to ensure that your radiator guards are manufactured to the highest quality for your environment. Your modifications will be programmed into manufacture to ensure maximum efficiency of your installation process.
Sign up below to book your free survey.
About Us
Contour produces a range of innovative, safe surface temperature systems for healthcare, education, mental health, commercial and secure sectors, working in close partnership and collaborating with architects, M&E engineers, NHS Trusts, local authorities, design consultants and contractors to deliver outstanding safe heating solutions.
Contour is the exclusive partner of BioCote® anti-microbial technology for LST and anti-ligature radiators. BioCote® additives reduce bacteria by up to 99.9% and are combined with Contour's extensive range of colour-paints to coat products for a durable, high-quality finish.
Contour's heating solutions offer secure, single-person quick access to radiator guard interiors for regular deep cleaning and maintenance. Each year, Contour save the NHS millions of pounds in cleaning costs, while delivering cleaner, safer environments. Contour has redefined the marketplace and is regarded by many as a design and innovation leader within the industry.
Contour's vision is supported by a quality-first philosophy and a passionate and conscientious customer focused team who possess a 'can-do' attitude, taking pride in developing solutions for your heating requirements.
Contact us at:
The Mansions, 43 Broadway Shifnal
Shropshire TF11 8BB United Kingdom
+44 1952 290 498