We're regularly asked how to measure up for a metal radiator cover. It's a pretty straightforward exercise, but we thought it would be extremely useful if we were to post some simple instructions to help explain the process quickly and clearly.
We're running a series of guides for all of our different models, so please look about for more posts about these. This guide is for our DeepClean LST Radiator Guard, specifically the floor standing, flat top design.
Measuring For A Standard Floor Standing Flat Top DeepClean Radiator Guards
First of all, you will need a few basic items ready before you start;
Tape Measure
Pen & Paper, or even better a Contour Survey Sheet
Camera/Camera Phone (just in case there are some tricky bits you want us to be aware of)
A spirit level if you think the floor or wall may not be too level.
Flat Top Radiator Guard Survey Sheet
Once you have got all of this to hand, you are ready to measure your radiator for a metal radiator cover.
The process is to measure the length (width) of the radiator, the height from the floor, the depth from the wall and measure up any skirtings for the factory made cutouts (this eliminates site cutting and makes your life easier when installing the radiator covers).
Step 1 - Measure Up The Guard Length / Width
Carefully measure the widest point of the radiator, this is normally from valve to valve.
Once you have measured this length, add at least 50mm to give you tolerance either side for the 20mm fixing return that the Deep Clean guard has on the frame. Write this dimension into the length box on our site survey form.
Step 2 - Measure For The Cover Height
To get this measurement you need to add 50mm to the highest point of the radiator.
Always make sure you check both sides of the radiator to make sure the floor isn't running out.
If your floor isn't level we can manufacture a radiator guard with a tapered plinth to give you a level top. You may want us to survey this for you.
Step 3 - Measure for The Radiator Cover Depth
For the Deep Clean guard, our standard tolerance is 65mm deeper than the deepest point of the radiator. On a 90mm deep radiator, you will have a 155mm deep guard.
The 65mm Tolerance is due to the plinth detail we have on our guard which allows the door when opened to lie flat on the floor.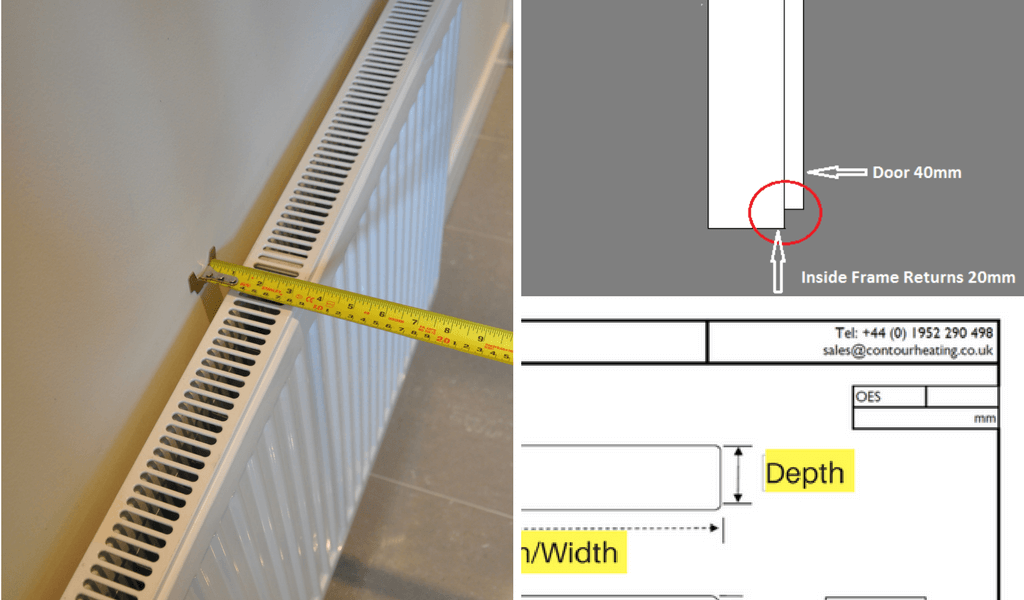 Step 4 - Measuring For Skirting Cutouts
If you require a cut out for the skirting board or vinyl flooring (cap and coved) we will require the height and depth of this along with the radius of the cove so we can achieve the detail below.
If Anti-ligature we recommend the skirting be cut back and butted up to the side of the guard.
If you have surface mounted pipework then provide us with the height and depth + 10mm tolerance to each. As this will generally be covered up by Pipe boxing.
Do You Want Us To Survey Your Radiator Guard Project?
We offer site surveys free of charge as an integral part of our comprehensive service.
Our surveyors, all having considerable installation experience, will identify the correct size and quantities of products required. They will take note of any special requirements that are necessary including cut-outs.
Modifications can then be programmed into manufacture, making the installation process more efficient. Contour's team of surveyors can work with you to suggest innovative and alternative design modifications on your original concepts, helping you reduce installation time and costs.
To book a survey, please complete the form below: