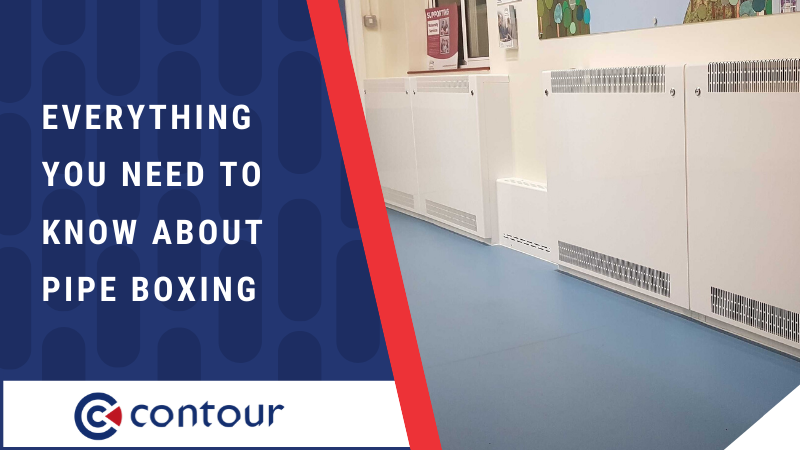 Concealing exposed pipework is essential to ensure that safety standards are met in healthcare, mental health, custodial, education and local authority sectors. Alongside this, the pipe boxing's smooth surface allows for efficient, hygienic cleaning practices.
This blog post sets out to provide further information to help aid the specification process of Contour's pipe boxing solutions.
Read on to find out more.
Pipe Boxing: Three Options Available
In most cases, aluminium, Zintec steel, magnelis steel and preformed plywood are the preferred materials used during the manufacturing process of the pipe boxing, and each material is suited to different purposes.
Internal, Low Risk Applications
For internal, dry applications of high and low traffic, we recommend that you opt for a preformed plywood solution*. The thickness of this can be adapted to suit the specific environment. For a high-traffic environment, like a school corridor, for example, we recommend that you go for an 8mm thickness.
*03/04/2020-Due to COVID-19, we are currently unavailable to offer the preformed plywood option. Alternatives in aluminium and steel are available.
External Pipe Boxing - For Damp or Wet Environments
Sometimes the need to cover up pipework may be required to stop vandalism or deter individuals from absconding. Aluminium is a great solution because of it's ability to withstand the rigors of the British weather. Where strength is a key factor in requiring boxing to stop vandalism, the use of magnelis steel can provide the strength with the organic magnelis coating to provide the protection from the outside elements.
High-Risk Environments
For environments that are susceptible to damage, such as a mental health facility or SEN/challenging setting, a stronger solution would be most appropriate. In this instance, mild steel would be the most suitable material.
The table below highlights this further.
| | | |
| --- | --- | --- |
| Environment | Material | Thickness |
| Internal installation - Dry - Low Traffic | Plywood | 5mm |
| Internal installation - Dry - High Traffic | Plywood | 8mm |
| Internal installation - Damp or went conditions | Aluminium | 2mm |
| Internal installation - at high-risk of physical damage | Mild Steel | 2mm |
| External Installation - Low traffic | Aluminium | 2/3mm |
| Internal - Wet - High risk of damage | Zintec Steel | |
Can You Get Anti-Ligature Pipe Boxing?
For high-risk settings, an anti-ligature pipe boxing option is available.
Recent statistics indicate that suicide and self-harm in mental health and custodial settings continue to be a problem in the UK. This has prompted a rise in anti-ligature specification for furniture, fixtures and fittings in these high-risk environments.
It's a common misconception that death by self-strangulation has to be committed from a suspended height. The reality is that a suicidal individual will look for any opportunity to inflict harm upon themselves and it is not uncommon for individuals to self-strangulate using a method known as the 'crocodile roll'. This involves tying a cord around a ligature point below waist height and rolling along the floor until the cord is fully wrapped around the individual's throat.
Potential ligatures below waste height pose a significant risk to users, which is why anti-ligature pipe boxing should be a consideration in mental health, custodial, and any other settings that house individuals who exhibit challenging and self-harming behaviours.
Anti-ligature Characteristics to Look Out For
Look for anti-ligature grilles that are punched directly into the aluminium or steel, rather than as a separate grille sheet welded inside the casing. This reduces potential weak spots and ensures casing retains strength and rigidity.
In terms of grille design, specifiers should seek to choose products that comply with latest Government guidance, for example The Home Office Police Buildings Design Guide (Custody, July 2009, section PD3.02.14), which details that grilles unless otherwise specified, should be perforated with 2mm diameter holes at 4mm centres, in a triangular pitch formation.
Top Tip:
The fixings should be of an anti-tamper design and the entire perimeter should be sealed up with anti-pick mastic, where possible. Joints should be kept to a minimum to minimise weak spots and stash points.
Added Protection: BioCote® Anti-Microbial Protection
Healthcare, mental health, custodial and education settings all require safe and stringent hygiene practices in order to control the spread of infection. Additionally, these settings require the cleaning process to be thorough yet efficient in order to reduce overheads whilst following safety guidelines.
The above settings are all vulnerable to potentially unsanitary treatment and viruses are known to stay on surfaces even after they have been wiped clean.
Therefore, we recommend that specifiers opt for pipe boxing that contains anti-microbial protection, such as BioCote®. To find out more about the hygienic efficiencies of BioCote® protection, click here.
Conclusion
Boxing in unsightly pipework will provide users with a safe, hygienic solution; yet it is important to understand key product characteristics before making specification.
We hope that this blog has provided answers to some of your common queries, but don't hesitate to get in touch with an expert to discuss your project further.
Click here to access our pipe boxing product page, where you'll find further information, including technical drawings and a brochure.
About Us
Contour produces a range of innovative, safe surface temperature systems for healthcare, education, mental health, commercial and secure sectors, working in close partnership and collaborating with architects, M&E engineers, NHS Trusts, local authorities, design consultants and contractors to deliver outstanding safe heating solutions.
Contour is the exclusive partner of BioCote® anti-microbial technology for LST and anti-ligature radiators. BioCote® additives reduce bacteria by up to 99.9%. Contour combine an extensive range of colour-paints with BioCote® because of it's durable, high-quality finish.
Contour's heating solutions offer secure, single-person quick access to radiator guard interiors for regular deep cleaning and maintenance. Each year, Contour save the NHS millions of pounds in cleaning costs, therefore delivering cleaner, safer environments. Contour is redefining the marketplace and therefore many regard us as a design and innovation leader within the industry.
Contour have a quality- first philosophy. Our customer-focused team possess a 'can-do' attitude, therefore they take pride in developing solutions for your heating requirements.
Contact us at:
The Mansions, 43 Broadway Shifnal
Shropshire TF11 8BB United Kingdom
+44 1952 290 498
Twitter: @Contour_Heating
LinkedIn: Contour Heating Products Ltd