More and more educational authorities are now giving schools the responsibility of controlling their own budgets, including energy costs. As a result, Headteachers, senior staff members and Caretakers all play their part in their own energy management.
Of course, keeping track of energy costs is just a small part of the wider aim for schools, and that is ultimately the safety and well-being of the pupils in attendance.
And we can look at this in two ways:
1) Monitoring the heat output of heating appliances such as radiators, reduces the risk of burning due to hot surface temperature.
2) The money saved on energy costs could be used to help enhance the educational experiences of the pupils, through better training and resources.
Why Do we Need To Address Heating In Schools?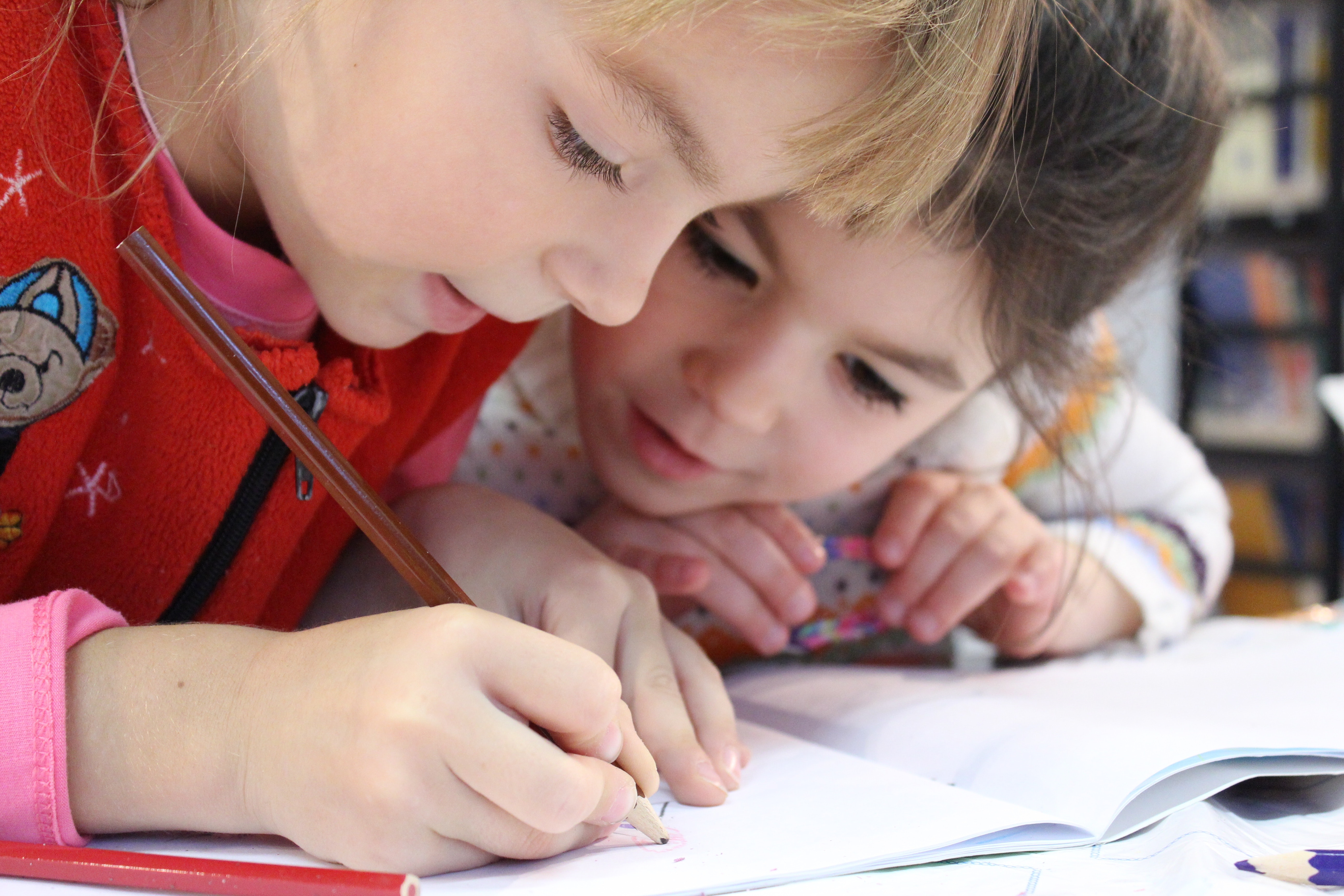 It's been nearly ten years since the alarming statistic which stated that in a single year (2010), 1,970 people were injured in a public building by either a radiator or a section of hot pipework. Of these accidents, 1,399 occurred in a place of education. Source.
The affect of this has resulted in local authorities putting in measures to ensure the risk of surface temperature scalding is minimised.
Most notably, every public establishment that caters for children or vulnerable individuals must ensure that their radiators do not exceed a surface temperature of 43 degrees.
The Problem With Standard Radiators
Many schools continue to use standard radiators to heat areas throughout the school, including classrooms. It is normally left to the caretaker to monitor the heat output in the morning and evening.
However, teaching staff have access to the heating control systems within their classrooms during the day so that they can adjust the temperature to suit the comfort of their pupils.
The problem here is that standard steel panel radiators can reach almost double the recommended temperature of 75 degrees. This is enough to cause a serious burn in seconds.
And who is it that suffers?
Firstly, it's the burn victim. Young children don't always react quickly or appropriately when faced with harmful situations. What might be a minor burn to an adult who is able to quickly react in this situation might be a serious injury to a young child.
Secondly, it's the caretaker who will have been placed in charge of monitoring the heat output of the standard radiator. Head Teachers will be looking to hold someone accountable.
Thirdly, if teaching staff have access to heating controls throughout the day, the blame will inevitably be placed on them.
The last thing a teacher wants is a child to be harmed whilst in their care and for their reputation to be tarnished, as a result.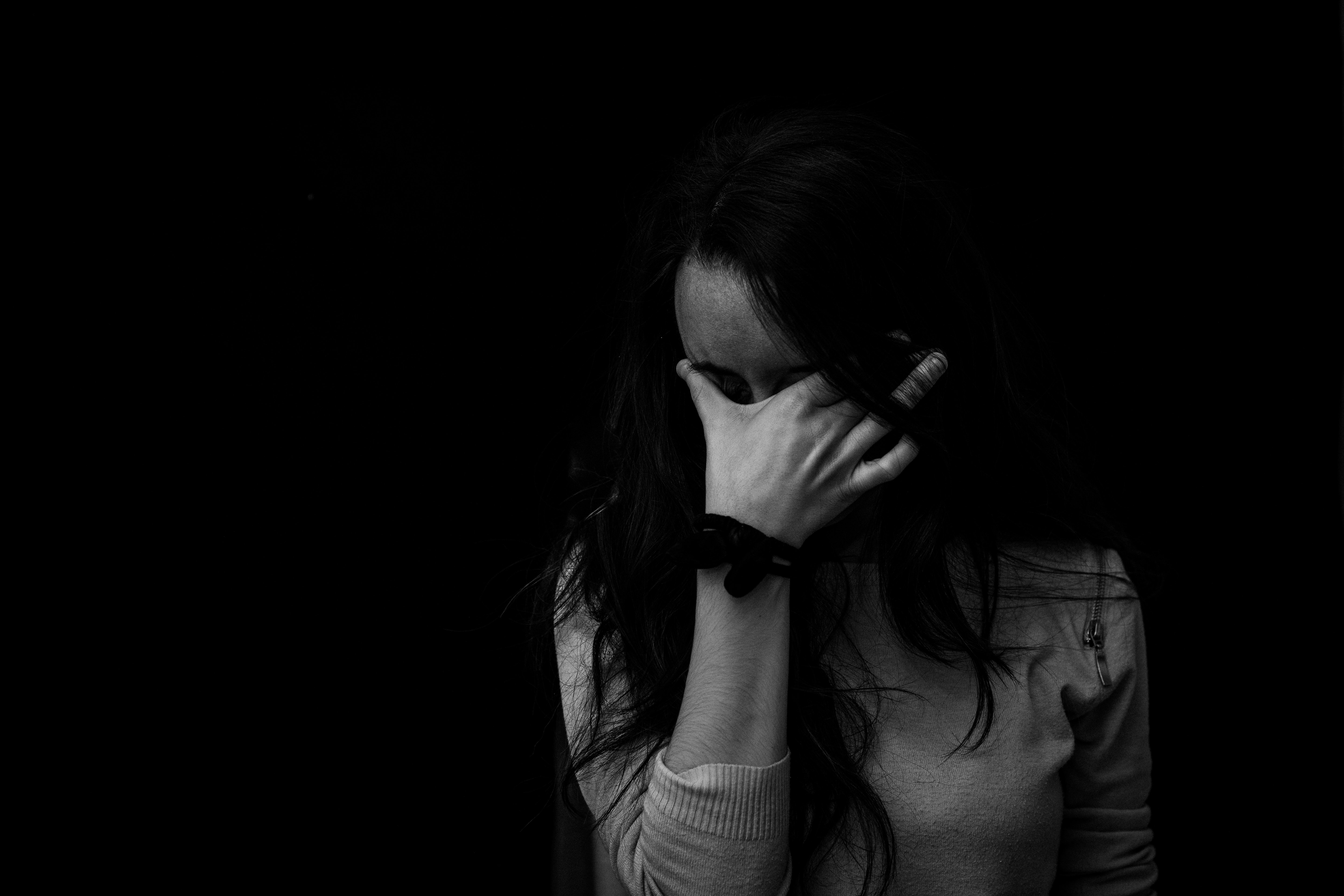 Why Choose LST Radiators For Mainstream Schools?
We'll aim to outline some of the main reasons why you should consider LST radiators for your educational settings.
1. Radiator Surface Temperature
Most importantly, Low Surface Temperature (LST) radiators don't exceed the recommended heat output of 43 degrees. Therefore, if a child comes into contact with an LST radiator, they are highly unlikely to suffer extreme injury.
2. Inclusive Educational Approach
All schools aim to promote inclusivity as part of their approach. With that in mind, mainstream settings welcome pupils with various physical, learning and behavioural needs. It's important to understand that the risk of injury in a classroom is heightened when more vulnerable pupils are placed in a mainstream setting, where class sizes often exceed 30 pupils.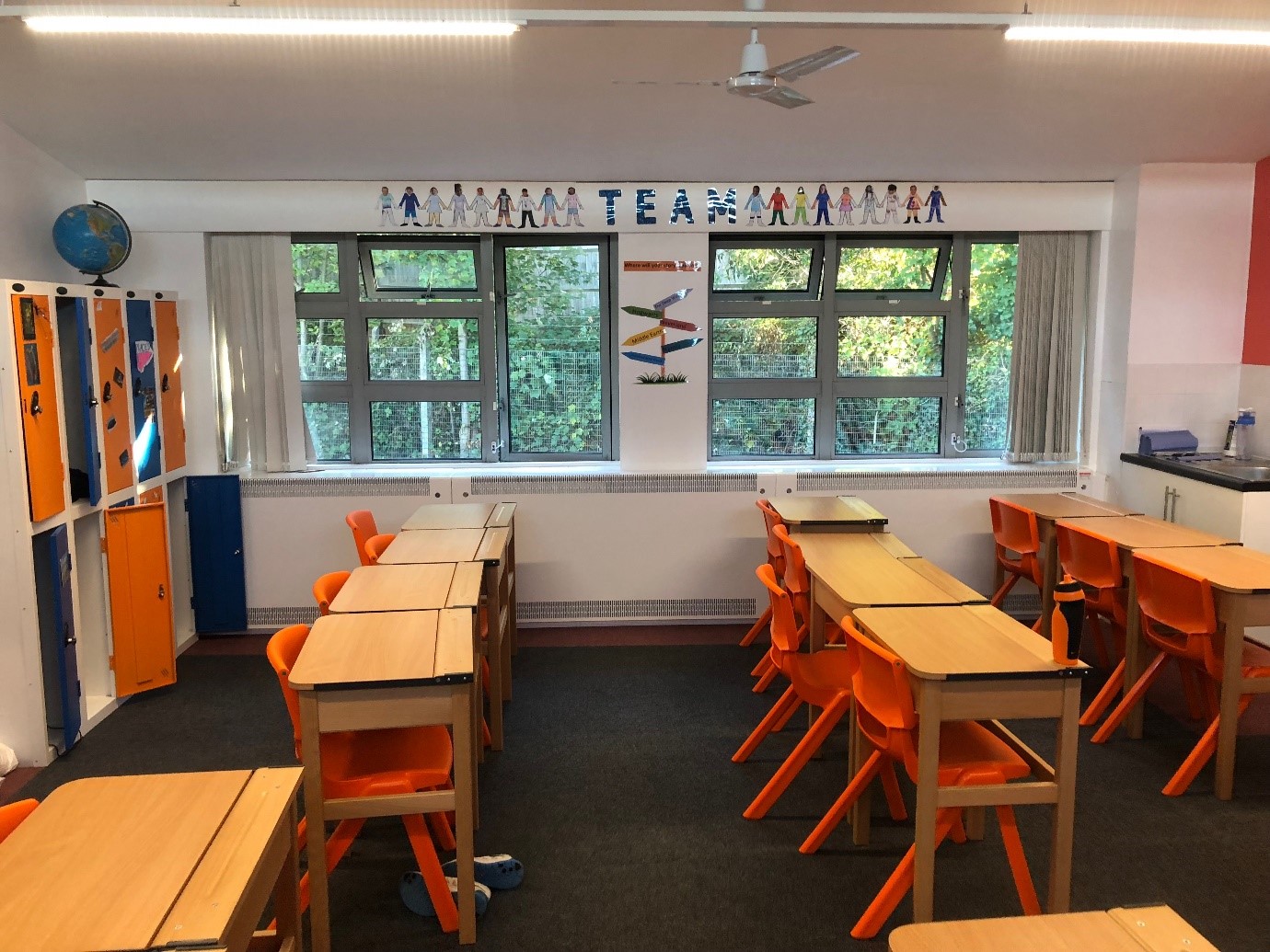 3. The Child's Age Can Make Them More Vulnerable To Injury
As with Special Educational Needs (SEN) children, primary-aged children are more vulnerable to burning accidents. We touched earlier on the fact that they can't react appropriately or quickly when faced with danger.
Early Years Foundation Stage (EYFS) pupils and Key Stage 1 (KS1) pupils often explore their surroundings through touch. A play-based curriculum means that children will naturally crawl under furniture as part of their role-playing, increasing the risk of injury.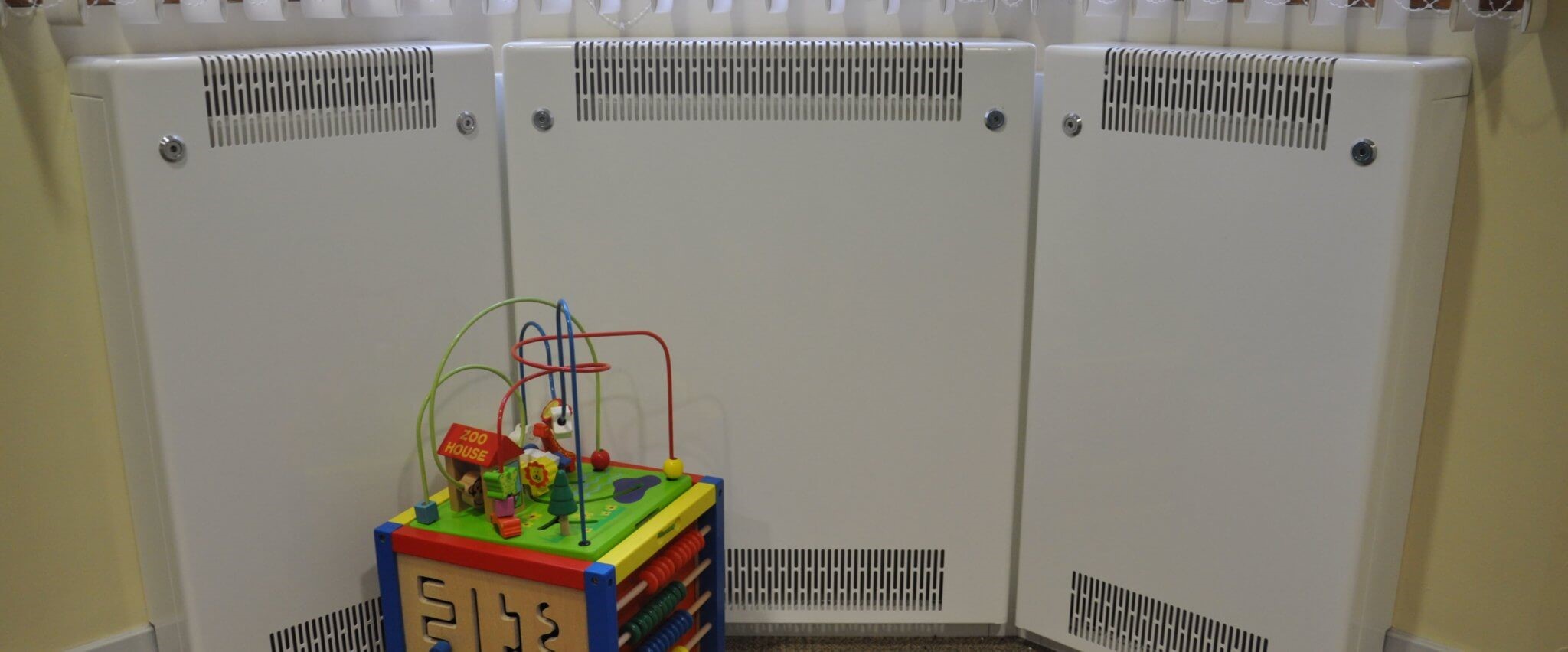 4. LST Radiators Have Additional Safety Benefits
Contour's LST radiators are robust, with rounded corners (bullnose corners). Most standard radiators have pointed and sometimes sharp edges. By removing these risks, you're providing children with an additional element of safety.
The DeepClean LST Radiator can be installed with a rotary valve which enables cleaning staff access behind the radiator, giving the added benefit of hygiene, minimising the spread of germs and bacteria. Coupled with the unique BioCote anti-microbial technology, Contour's LST radiators provide ultimate protection against harmful elements.
What Other LST Options Are Out There?
We get it. Budgets are tight. Installing a completely new set of LST radiators can prove to be a costly investment. So why not opt for an LST radiator cover instead?
Our guards can be retrofitted over existing heat emitters to deliver a durable, low surface temperature radiator system.
Installing a radiator cover can have all the benefits (listed above) as an LST radiator itself.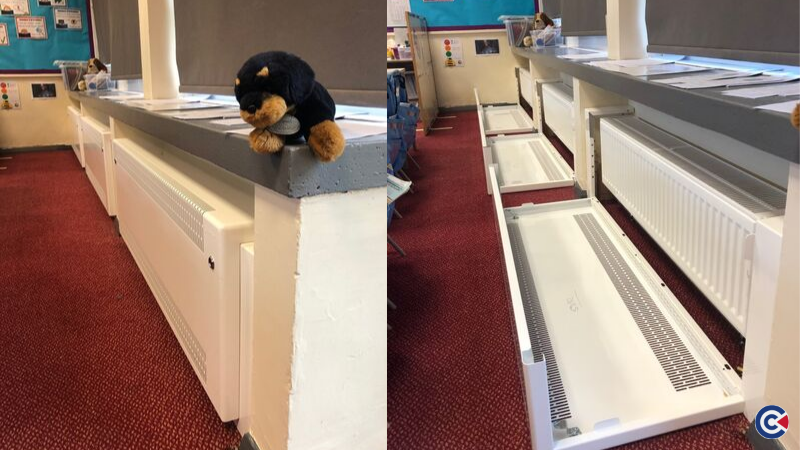 Conclusion
Keeping heating safe in schools requires educational authorities to think beyond the budget. The safety and wellbeing of your children should mean that LST solutions are essential. Contour has a range of options available and will work to accommodate the different needs of each educational setting.
If you'd like to discuss your options and learn how to improve the safety of your school, fill out the form below and talk to one of our experts today.
About Us
Contour produces a range of innovative, safe surface temperature systems for healthcare, education, mental health, commercial and secure sectors, working in close partnership and collaborating with architects, M&E engineers, NHS Trusts, local authorities, design consultants and contractors to deliver outstanding safe heating solutions.
Contour is the exclusive partner of BioCote® anti-microbial technology for LST and anti-ligature radiators. BioCote® additives reduce bacteria by up to 99.9%. Contour combines an extensive range of colour-paints is with BioCote® for a durable, high-quality finish.
Contour's heating solutions offer secure, single-person quick access to radiator guard interiors for regular deep cleaning and maintenance. Each year, Contour save the NHS millions of pounds in cleaning costs, therefore delivering.