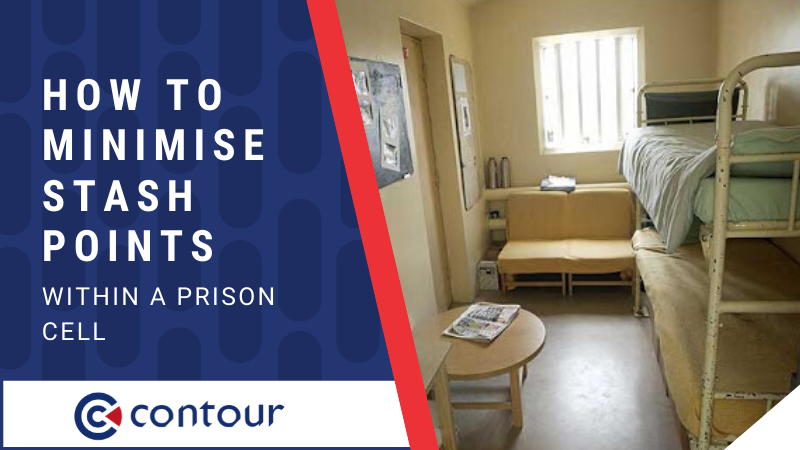 The smuggling of drugs, mobile phones and weapons is a common area for concern within prisons across the UK. It is therefore important for specifiers to source products that minimise the potential for inmates to conceal items within their cell.
This post will look at Contour's anti-ligature radiators, guards, ventilation grilles and pipe boxing solutions, which have all been manufactured to mitigate the concealment of stash points.
Cell Searching In UK Prisons
Under current legislation, cell searching is identified as a routine cell search and a routine-plus cell search:
A Routine search is a level-A rub down search and a cell search, with no property record check
A Routine-Plus search is a full body search and may also involve a property record check, in addition to a cell search
However, it's important to note that prisoners will go to great lengths to stash forbidden contraband, suggesting that not all concealed items will be identified within a routine cell search.
The Architecture of Current UK Prisons
The architectural characteristics of UK prisons often come under scrutiny by the media. One report commented on the unsanitary living conditions of a Birmingham prison, built in the 1800s, comparing it to something you'd see in a medieval dungeon.
With large numbers of UK prisons being built pre-twentieth century, you will often find exposed pipework and dated, standard panel radiators, causing a variety of risks for both inmates and prison officers.
Read More:
Reducing Stash Points With Pipe Boxing
As stated before, it's not uncommon for there to be exposed pipework within prison cells, making it easy for inmates to conceal contraband behind the pipe system.
With Contour's pipe boxing, the exposed pipework is fully encapsulated by a 2mm Zintec steel casing, making it highly effective at deterring prisoners from stashing contraband around the pipework.
To learn more about why pipe boxing is essential in prisons, click here.
Reducing Stash Points With Anti-Ligature Radiators And Guards
Anti-ligature solutions are commonly specified in areas where there's a potential for suicide and self-harm. An example of this would be inside a 'safer cell'.
However, the anti-ligature radiator and guard's full casing and 2mm grille design makes them the ideal deterrent for the concealment of contraband, making it highly unlikely for prisoners to stuff items inside the casing of the radiator or cover.
Along with Contour's easy-access locking system, routine checks can be carried out safely and thoroughly in the unlikely event of an item being placed inside the casing's interior.
Conclusion
Through appropriate specification of heating and ventilation solutions within prison cells, you can reduce instances of hidden contraband, helping to promote a safe prison and custodial environment.
For more information on how Contour's products can provide effective heating and ventilation grilles for your prison project, get in touch with one of our experts today.
About Us
Contour produces a range of innovative, safe surface temperature systems for healthcare, education, mental health, commercial and secure sectors, working in close partnership and collaborating with architects, M&E engineers, NHS Trusts, local authorities, design consultants and contractors to deliver outstanding safe heating solutions.
Contour is the exclusive partner of BioCote® anti-microbial technology for LST and anti-ligature radiators. BioCote® additives reduce bacteria by up to 99.9%. Contour combines an extensive range of colour-paints is with BioCote® for a durable, high-quality finish.
Contour's heating solutions offer secure, single-person quick access to radiator guard interiors for regular deep cleaning and maintenance. Each year, Contour save the NHS millions of pounds in cleaning costs, therefore delivering.