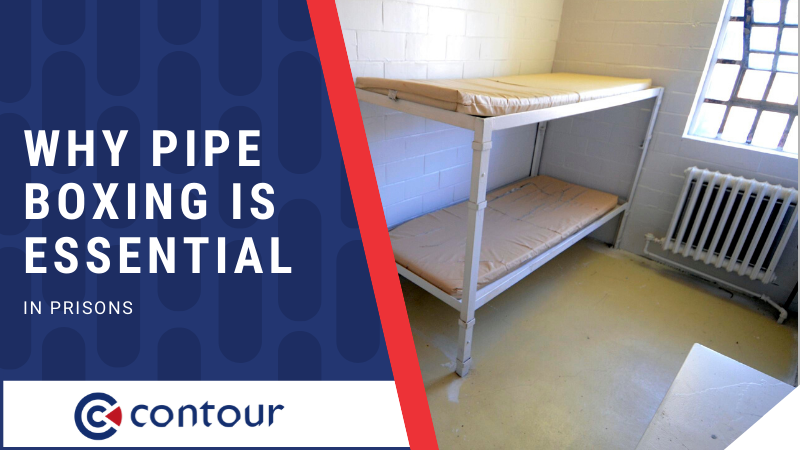 Contour provides a complete turnkey solution for our aluminium, steel and plywood pipe boxing ranges, from survey, design and manufacture, through to installation.
The purpose for choosing a pipe boxing solution in a custodial and prison environment differs to that of healthcare, educational or domestic uses.
Your focus shifts from the aesthetic appeal to a more practical, safety-conscious approach-which we aim to highlight in today's post.
There are four main reasons why pipe boxing is, arguably, an essential commodity in standard prison cells:
Pipe boxing helps to reduce issues surrounding the misuse of contraband
Pipe boxing minimises the risk of injury through scalding-either self-inflicted or during confrontations.
Pipe boxing is robust, made from 2mm Zintec steel
Pipe boxing allows for exceptional levels of hygiene
Reducing Stash Points In Prison Cells
The Prison Reform Trust, 2019, states that a programme of routine cell searches should be in place and decided upon with the Director of the high Security Estate.
Cell searches are categorised by two basic types-a routine cell search and a routine-plus cell search:
A Routine search is a level-A rub down search and a cell search, with no property record check
A Routine-Plus search is a full body search and may also involve a property record check, in addition to a cell search
Despite the level of search that takes place, contraband such as drugs and mobile phones continue to be an area of concern in prison environments over the UK.
Prisoners are constantly inventing new and creative ways to hide contraband. One report highlighted that a preferred method is to stick contraband behind furniture and appliances within the cell blog.
It's not uncommon for traditional cell design to have exposed pipework running along the perimeter of the cell. This causes a multitude of opportunities for prisoners to stash drugs, phones and other contraband.
Contour's Pipe Boxing Solution
With Contour's pipe boxing, the exposed pipework is fully encapsulated by a 2mm Zintec steel casing, making it highly effective at deterring prisoners from stashing contraband in their prison cells.
Pipe Boxing: A Safe Solution For Prison Cells
Violence in prison cells is an all-too-common occurrence in the UK custodial sector, with many suggesting that gang affiliation is a root cause.
A report by The Independent commented upon the level of violence in a Warwickshire prison, stating that the category C jail was found to be "fundamentally unsafe" for the second time by HM Inspectorate of Prisons, following a damning inspection in 2016.
There are numerous opportunities for inmates to inflict violence upon themselves and fellow prisoners, with scalding being a popular method.
Exposed piping can reach up to a staggering 80°C. If an inmate were to be held against an exposed area of pipework, the chances of severe injury through scalding is substantial.
To avoid this risk, Contour's pipe boxing delivers a safer surface temperature, minimising the risk of severe injury.
Pipe Boxing Provides Robust Performance
Improvised prison weapons are a common issue. They are generally made by damaging and modifying other parts of cell fixings and furniture into something sharp-with the intent of using it as a stabbing tool.
Therefore, it's important to arm cells with robust, damage-proof fixtures, fittings and furniture.
Contour's 2mm Zintec Steel pipe boxing minimises the risk of damage due to its highly strong and durable material. This reduces the potential for prisoners to improvise sharp objects from any area around the pipework.
Pipe Boxing Provides Exceptional Levels Of Hygiene
Due to the smooth surface of the exterior casing, superior cleaning can be highly achievable. This is ideal in prison environments where cells are subjected to a variety of unsanitary incidences involving dirty protests.
With the smooth casing encapsulating the pipework, Contour's pipe boxing allows for efficient and through sanitation, reducing the risk of cross-contamination and illness.
Conclusion
Exposed pipework in prison cells continues to be an issue regarding the safety and behaviour of inmates.
Contour's steel pipe boxing provides ultimate protection against damage, violence and the stashing of contraband.
To talk more about the specification of anti-ligature and pipe boxing solutions in prison environments, talk to one of our experts today.
About Us
Contour produces a range of innovative, safe surface temperature systems for healthcare, education, mental health, commercial and secure sectors, working in close partnership and collaborating with architects, M&E engineers, NHS Trusts, local authorities, design consultants and contractors to deliver outstanding safe heating solutions.
Contour is the exclusive partner of BioCote® anti-microbial technology for LST and anti-ligature radiators. BioCote® additives reduce bacteria by up to 99.9%. Contour combines an extensive range of colour-paints is with BioCote® for a durable, high-quality finish.
Contour's heating solutions offer secure, single-person quick access to radiator guard interiors for regular deep cleaning and maintenance. Each year, Contour save the NHS millions of pounds in cleaning costs, therefore delivering.