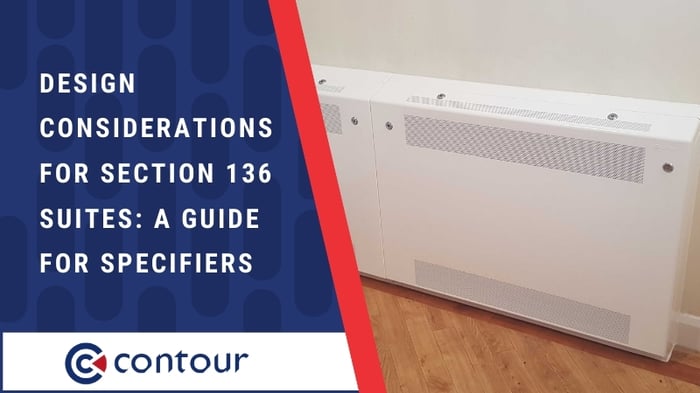 A Section 136 Suite must be a safe, secure and a comfortable environment for individuals who are vulnerable and often exhibit unpredictable behaviours.
For this reason, architects and specifiers must seek ways to ensure a section 136 suite is as secure and comfortable as possible.
Read on to find out more about section 136 suites…


What Is A Section 136 Suite?
The section 136 suite is a place of safety, security, and comfort for individuals who have been arrested by the police under the Section 136 of the Mental Health Act following concerns that they are suffering from a mental disorder.
Once these individuals are in the suite, they're assessed to establish whether they need treatment. This is done by qualified mental health staff, to ensure that the needs of the detained person are fully met.
Staff work to ensure that the protection and dignity of the individual are preserved until a decision can be made by the assessing team as to which treatment is best for the individual.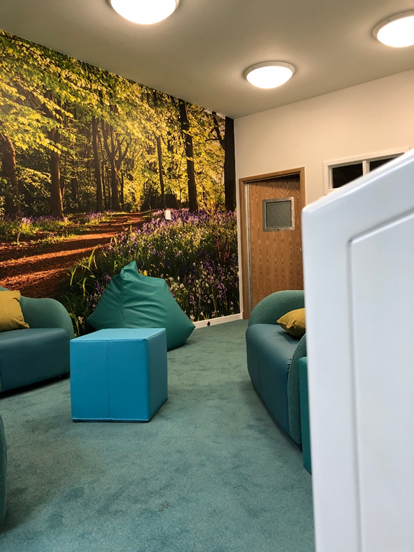 Key Features For A Section 136 Suite
The layout of a room could enhance or restrict the feeling of serenity, therefore section 136 environments are designed to encourage feelings of calmness and safety.
This is important because the environment individuals are in can increase or reduce feelings of physical security, promote/reduce mobility and impact the patients' mental health.
Design Considerations Of Section 136 Suites
Due to the susceptibility and vulnerability of the individuals that enter section 136 suites, furniture, fixtures, fittings and appliances must be optimised to preserve safety standards and to provide a comfortable environment for all Service Users.
For heating solutions like air conditioning guards and LST radiators, it's important to search for a solution that:
Is a

ble to withstand vandalism

Is efficient




Built To Withstand Vandalism
Vandalism is something that is a frequent occurrence of prisoners in custodial settings and this is no different in 136 suites.

These acts of vandalism can lead to individuals creating 'weak points' in furniture such as doors, windows sanitary wear. Therefore, it's important to search for a radiator guard or AC unit that's strong and robust to withstand such damage.
In this case, Zintec steel material is a strong solution to protect heating from vandalism, damage, and corrosion. Zintec steel will be able to withstand acts of vandalism and provide you with a durable heating solution for section 136 suites.


Heating Efficiency In Section 136 Suites
Numerous traditional radiators still work on a pipe coil system, which has several downsides from a design and efficiency perspective.
Often obtrusive and unattractive, pipe coil systems use far more water due to its wide diameter pipe. Whereas an anti-ligature radiator operates on a much smaller section of pipework, taking up less space.
Anti-ligature radiators and air conditioning guards can work to reduce the need for heating solutions to operate for lengthy periods and therefore, can heat up far quicker.
Anti-Ligature Considerations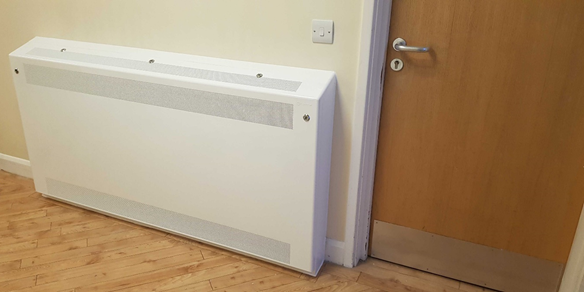 It's vital to understand that the state of mind that users are often unpredictable when they're detained and placed in a Section 136 suite.
Aggression, fear, and confusion will most likely be driving the behaviours of these individuals, which is why anti-ligature products are a key consideration.
Radiators and air conditioning (AC) guards within 136 suites should be designed to be extremely difficult for an individual to use the appliance as a ligature risk.
Anti-Ligature Features To Minimise Harm
You need to keep in mind that, when individuals are looking to self-harm, they probably don't search for obvious ligature points.
It's commonly thought that suicide risk comes from ligature points that are above head-height. However, studies have found that suicides can, unfortunately, occur where ligature points have been below the head or even at waist height.
Therefore, it's necessary to make sure that all LST radiators or air conditioning units are anti-ligature because they can be floor mounted, flat panelled, or even above head height and ceiling mounted.
To ensure that all anti-ligature risks are reduced, you should look at a heating solution that follows these certain characteristics:
Small grilles, we recommend IP3X rated grilles
(If wall secured) No large gaps between product and wall
Minimal gaps or joints
No sharp edges
Bullnose, rounded corners
Security locks and fixings
With these design characteristics in place, you'll greatly lessen the possibility for service users to tie a rope or cord around any ligature points that would be easily accessed with standard grille and casing designs.
Air Conditioning Guards Offering Protection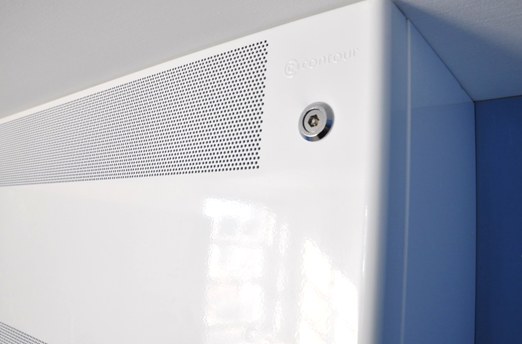 Air conditioning guards are produced to protect air conditioning units from damage to further improve their durability.
If vandalism occurs in a section 136 suite, air conditioning units can become weak and therefore, lose the protection it presents for the unit underneath it.

With units being one of the costliest objects in a room, you want to be able to prevent the possibility of damages and vandalism that might occur.
To offer the needed protection, a tip is to search for air conditioning guards that are made to be robust with strong material and opportunities to add strengthening properties if your specific needs require it.
LST Radiators Offering Protection
Low Surface Temperature Radiators, or LSTs as they are commonly referred to, are particularly designed radiators that don't exceed a surface temperature of 43°C.

LSTs are typically specified in environments where safety is a priority – like a section 136 suite. To meet the needs of a section 136 suite, an LST radiator must be anti-ligature and easy to clean.
Hygiene: Why Is It Important For Section 136 Suites?
Easy access for cleaning and maintenance is important for air conditioning (AC) units and LST radiators since 136 suites experience a high turnover of individuals and fixtures can become a breeding ground for dirt and bacteria if not routinely cleaned.

Another thing to keep in mind is that AC units and LST radiators can become difficult to clean due to their positioning on walls, so specification should be focused on the unique design characteristics that allow cleaning operatives to do the job thoroughly and efficiently.
Prioritising Hygiene
Vandalism in a section 136 suite can take place in the style of a 'dirty protest'. A dirty protest is where urine, vomit, blood, and faeces are covered over walls, ceilings, and floors, and is a common act of sabotage in many custodial settings.

When an individual chooses to urinate or defecate without the use of suitable facilities, it can pose a significant health risk to other's who are subjected to it.
Tuberculosis, HIV, and Hepatitis C are just some of the dangers to staff and other service users during a dirty protest. It's therefore essential that appropriate cleaning practices are carried out safely and effectively.
Whilst Section 136 Suites are more closely monitored than prison cells, vandalism like this can still occur and therefore needs consideration.
Easy Access For Cleaning And Maintenance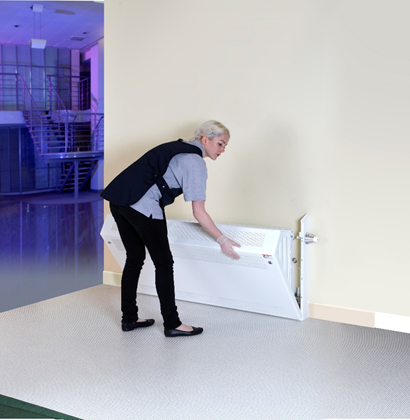 Having a heating solution in place with hinges will allow them to drop down, providing easy access for technicians to clean properly to get rid of the dust and dirt that has built up.
Traditional heating solutions may require 2 or more people to disassemble it to thoroughly clean inside, whereas heating solutions with easy access provides straightforward entry for one person to clean the guard within minutes.
This is especially important for section 136 suites where rooms need to be available at short notice to assist users.
Introducing BioCote ®
BioCote® is an antimicrobial technology that is presented at the manufacturing stage of an LST radiator or air conditioning guard to provide protection against several microbes, these include bacteria, mould, and some viruses.
Click Here to see a list of some of the notable microbes BioCote® technology has been proven effective against. Together with cleaning regimes and hand hygiene, it provides the essential hygiene protection.
Guards are painted with a dry powder coating method, including BioCote® antimicrobial technology. In this process, the paint seals the guard, so it's protected against damage and corrosion.
The technology makes our heating solutions easier to keep hygienically clean by actively working to reduce the number of microbes on the protected surface.
Colour Psychology In Section 136 Suites
Colour psychology is impactful, and it has the power to influence our feelings. In section 136 suites, it can work to promote calmness to further the comfortability of an individual.
A plain white section 136 suite can often feel clinical when in fact, a suite should accommodate a calming atmosphere, as well as a practical one.
It's imagined that blue and green shades provide a feeling of stability and harmony whilst red can raise blood temperature and help those experiencing weakness or fatigue. Orange can trigger mental activity, so orange should be avoided.
The RAL Chart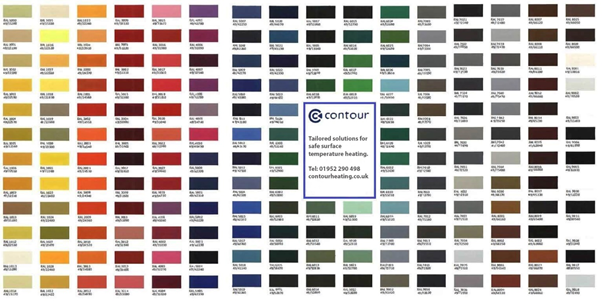 Working from a RAL chart, Contour can deliver almost any colour LST radiator, to match your colour schemes.



Conclusion
A 136 suite's key purpose is to offer safety and security to individuals that are arrested under the Section 136 of the Mental Health Act.
Many design features need to be considered to provide this level of safety and this includes the heating solutions too.
Contour can supply and manufacture anti-ligature LST radiators and air conditioning guards to meet the security levels of a 136 suite.
About Us
Contour produces a range of innovative, safe surface temperature systems for healthcare, education, mental health, commercial and secure sectors, working in close partnership and collaborating with architects, M&E engineers, NHS Trusts, local authorities and contractors to deliver outstanding safe heating solutions.
Contour is the exclusive partner of BioCote® anti-microbial technology for LST and anti-ligature radiators. BioCote® additives reduce bacteria by up to 99.9%. Contour combines an extensive range of colour-paints is with BioCote® for a durable, high-quality finish.
Contour's heating solutions offer secure, single-person quick access to radiator guard interiors for regular deep cleaning and maintenance. Each year, Contour save the NHS millions of pounds in cleaning costs, therefore delivering cleaner, safer environments. Contour is redefining the marketplace and therefore many regards us as a design and innovation leader within the industry.
Contour has a quality-first philosophy. Our customer-focused team possess a 'can-do attitude, they take pride in developing solutions for your heating requirements.
Contact us at:
The Mansions, 43 Broadway Shifnal
Shropshire TF11 8BB United Kingdom
+44 1952 290 498