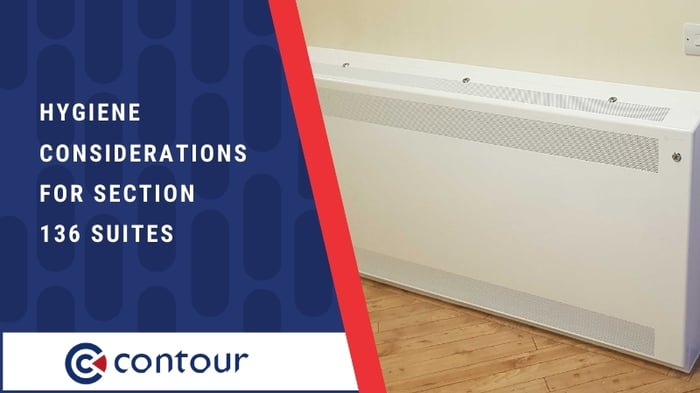 If you're involved in the design or specification of a section 136 suite you'll understand that hygiene is essential and, as such, it's important to look for a heating solution that promotes a sanitary environment to keep all service users comfortable and safe. Section 136 suites are designed to provide a 'place of safety' whilst individuals are being assessed under the Section 136 of the Mental Health Act.
Easy access for cleaning and maintenance is key for air conditioning (AC) units and LST radiators since 136 suites experience a high turnover of users; not to mention the fact that such fixtures can become a breeding ground for dirt and bacteria if not routinely cleaned.

Another thing to keep in mind is that AC units and LST radiators can become difficult to clean due to their positioning on walls, so specification should be focused on the unique design characteristics that allow cleaning operatives to do the job thoroughly and efficiently.

Prioritising Hygiene In Section 136 Suites
Section 136 suites can become vandalised in a similar way to prison cells, which is a similar approach to hygiene is necessary.
A dirty protest is where urine, vomit, blood, and faeces are smeared over walls, ceilings, and floors, and is a common act of vandalism in many custodial settings.

When an individual chooses to urinate or defecate without the use of appropriate facilities, it can pose a significant health risk to other's who are subjected to it.
Tuberculosis, HIV, and Hepatitis C are just some of the dangers to staff and other service users during a dirty protest. It's therefore essential that appropriate cleaning practices are carried out safely and effectively.
Section 136 Suites: Easy Access For Cleaning And Maintenance
Having LST radiators or air conditioning guards with hinges will allow them to drop down, providing easy access for operatives to clean properly to get rid of the dust and dirt that builds up over time.
With these hinges, guards can be quickly dropped down without any hassle. Traditional heating solutions may require 2 or more people to dismantle it to thoroughly clean inside, whereas heating solutions with easy access provides straightforward entry for one person to clean the guard just in minutes.
This is particularly important for section 136 suites where rooms need to be available at short notice to accommodate Users.


Conclusion
Although choosing a hygienic heating solution may not be on the top of your priority list -it's important to have easy access for cleaning and maintenance to preserve the safety of all service users in section 136 suite.
Contour air conditioning guards and LST radiators are fully bespoke, anti-ligature and strong to maximise their durability and cleanliness.
To ensure peace of mind, all Contour guards are protected with a 5-year warranty against defects in workmanship and materials for 5 years from the purchase date.
To find out more, talk to an expert today.

About Us
Contour produces a range of innovative, safe surface temperature systems for healthcare, education, mental health, commercial and secure sectors, working in close partnership and collaborating with architects, M&E engineers, NHS Trusts, local authorities and contractors to deliver outstanding safe heating solutions.
Contour is the exclusive partner of BioCote® anti-microbial technology for LST and anti-ligature radiators. BioCote® additives reduce bacteria by up to 99.9%. Contour combines an extensive range of colour-paints is with BioCote® for a durable, high-quality finish.
Contour's heating solutions offer secure, single-person quick access to radiator guard interiors for regular deep cleaning and maintenance. Each year, Contour save the NHS millions of pounds in cleaning costs, therefore delivering cleaner, safer environments. Contour is redefining the marketplace and therefore many regards us as a design and innovation leader within the industry.
Contour has a quality-first philosophy. Our customer-focused team possess a 'can-do' attitude, they take pride in developing solutions for your heating requirements.