LST radiators are a safety feature for many facilities including schools, residential care homes, hospitals and mental health wards.
There are many benefits to installing LST radiators into these and many other environments. Contour has been blogging about these advantages, exploring how LST radiators are a beneficial addition wherever they are installed.
Read on to find out more…
Safer Heating
The biggest benefit of LST radiators is that they are a safer heating solution than traditional radiators.
LSTs keep surface temperatures of the radiator down, reducing the risk of burns if somebody made contact with them.
YouGen wrote that traditional radiators "operate at higher temperatures (from 60° to 80°C)" making them a safety risk in certain spaces.
LST radiators reduce that risk because of the low surface temperature they maintain.
Greater Efficiency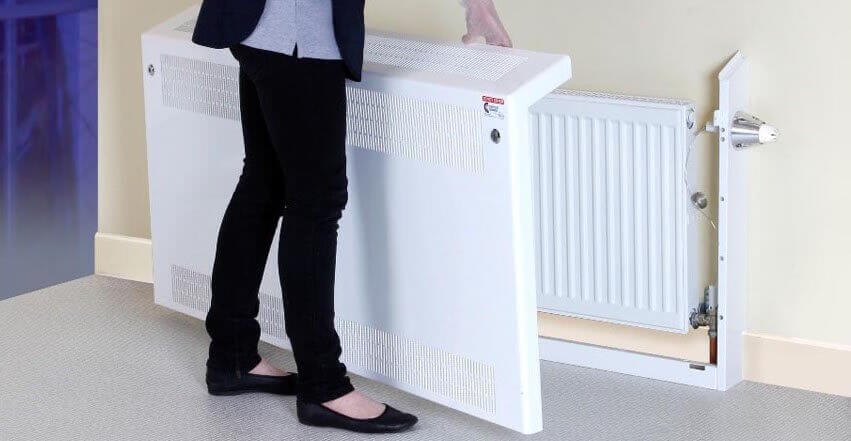 NHS guidelines state that radiators in hospitals should be cleaned at least once a week. A traditional radiator typically takes two cleaning personnel 30 minutes to clean. This includes disassembling, cleaning and reassembling the radiator cover.
Contour LST radiators include RotaRad kits into their design. This makes cleaning faster, safer and more efficient.
With RotaRad, LST radiators can be cleaned by one person in five minutes, reducing the overall annual cost of employing personnel for cleaning.
For schools and hospitals, who are often experiencing tighter budgets, this can be hugely beneficial in reducing financial costs.
When comparing LST radiators to alternative heating systems such as underfloor heating it's important to note that underfloor heating can take up to eight hours to reach optimal temperature. With LST Radiators it takes a matter of minutes. This makes them more efficient in terms of functionality as well as installation ease.
Easy To Install
LST Radiators can be installed wherever best suits you. Other forms of heating, such as underfloor heating, limits your options when deciding where things can be located in a room. You have to work around the heating system.
With LST radiators, you can install the radiators wherever suits you depending on the space available.
Robust & Durable
Contour LST radiators are made with 1.5mm Zintec mild steel as standard, alternatively 2mm is available if required. This makes them more durable than others on the market. They are designed for locations where durability is primary such as hospitals where people are rushing past the radiators and schools where students are likely to bang bags against the covers as they pass.
This also makes our LST radiators extra resistant to corrosion and rust.
We supply our LST radiators as one-piece constructions. This improves robustness because it removes screws or bolts that would fit together a multi-piece unit that is at risk of coming loose. With a single-piece unit, this isn't a problem.
Additional Features From Contour
Contour LST Radiators come with the following additional options to further optimise the safety benefits of installing them:
Pencil proof grilles to stop fingers getting caught and small objects being pushed through the grille
Bullnose corners and radius edges to reduce the risk of serious injury in the event of a fall
BioCote® antimicrobial technology to reduce the growth of harmful bacteria by 99.5%
Conclusion
LST radiators provide safer heating solutions with better durability and efficiency. They are also superior to underfloor heating in terms of ease of installation and heating times.
With Contour LST radiators you will see all the benefits of installing them with the additional reassurance of features such as BioCote® antimicrobial technology and pencil proof grilles to protect small fingers and stop things being lost inside the covers.
Would you like to learn more? Sign up below to speak to a heating expert today:
About Us
Contour produces a range of innovative, safe surface temperature systems for healthcare, education, mental health, commercial and secure sectors, working in close partnership and collaborating with architects, M&E engineers, NHS Trusts, local authorities, design consultants and contractors to deliver outstanding safe heating solutions.
Contour is the exclusive partner of BioCote® anti-microbial technology for LST and anti-ligature radiators. BioCote® additives reduce bacteria by up to 99.9%. Contour combine an extensive range of colour-paints is with BioCote® for a durable, high-quality finish.
Contour's heating solutions offer secure, single-person quick access to radiator guard interiors for regular deep cleaning and maintenance. Each year, Contour save the NHS millions of pounds in cleaning costs, therefore delivering cleaner, safer environments. Contour is redefining the marketplace and therefore many regard us as a design and innovation leader within the industry.
Contour have a quality- first philosophy. Our customer-focused team possess a 'can-do' attitude, they take pride in developing solutions for your heating requirements.
Contact us at:
The Mansions, 43 Broadway Shifnal
Shropshire TF11 8BB United Kingdom
+44 1952 290 498
Twitter: @Contour_Heating
LinkedIn: Contour Heating Products Ltd