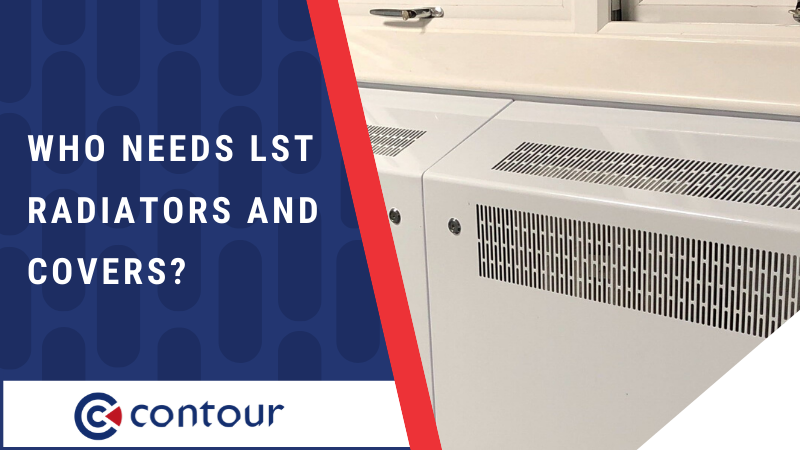 LST Radiators have been an important safety-related part of modern heating systems for several years. These devices are critical where specialised heat emitters are needed for safety. LST radiators are especially necessary in any place where vulnerable populations exist or may exist. In many locations, LST radiators are required by law.
What Types of Environments Require LST Radiators and/or Covers?
Any public or private group, structure, or organisation that is responsible for the care or oversight of children, mentally or physically handicapped individuals, the elderly, or the general public must provide for the protection of those who might encounter a hot surface.
LST Radiators for Schools
Schools, where minor children congregate, have a clear need for LST Radiators in order to protect children. Children are often unaware of surfaces that can be hot and are prone to engage in behaviours that make accidents more likely.
For those looking for an LST radiator or cover for a school environment, seek out other benefits such as 'pencil proof grilles' and easy access for cleaning and maintenance.
LST Radiators for Care Homes
Elderly persons who can no longer live in their own homes require protection from heated surfaces. These individuals may be physically weak or lack coordination. This can cause them to fall into a heater or to use it to steady themselves when walking by. Some elderly people may lack mental acuity and may come into contact with a hot surface for related reasons.
LST Radiators for Hospitals
Hospitals are places where handicapped, injured, ailing, the elderly, and the very young are often present. Persons admitted to hospitals and those visiting may be prone to come into contact with a hot heater surface for any of the reasons we might associate with persons fitting the above descriptions. LST Radiators are necessary for public and private healthcare institutions for these reasons and more.
LST Radiators for Social Housing
Housing for persons with low income may be host to the ill, elderly, the infirm, and other vulnerable persons. In any event, it is wise to utilise LST Radiators or covers in any place where we cannot predict who will occupy a given space of interest. Even the owners of private residences may incur injury or experience legal trouble if a visitor should burn themself on a heated surface. Therefore, social housing provided by local councils have an even greater responsibility to provide safe environments for those they serve.
LST Radiators for Public Buildings
Any location where members of the public can be expected to gather or dwell should use LST Radiators and covers on all of their exposed heating units for the reasons mentioned above, and more.
LST Radiators with Anti-Microbial Protection
Of course, the main benefit to an LST radiator and/or cover is the low surface temperature that could protect vulnerable individuals from injury. However, specifiers should seek solutions with added elements of safety.
As one of the only radiator manufacturers to incorporate BioCote® anti-microbial protection into the paintwork of their products, Contour's radiators provided that added assurance in safety. Read more about BioCote® here.
LST Radiators for Regulatory Compliance
For any and all of the above-mentioned types of spaces and organisations, it is likely that government regulation requires heaters and similar units to be equipped with Low Surface Temperature radiators or covers for any and all heating units which may be dangerously hot to the touch.
Check with your local authorities to learn whether or not your space is required by law to be equipped with these devices. Keep in mind that even if you are not legally required to use these heating protection devices, you may not be protected against civil or criminal legal action should a guest to your building or facility become injured by a hot surface.
To learn more, please visit our product page. There, you will find detailed descriptions of all of the LST Radiators and covers we have available.
About Us
Contour produces a range of innovative, safe surface temperature systems for healthcare, education, mental health, commercial and secure sectors. We work in close partnership with architects, M&E engineers, NHS Trusts, local authorities, design consultants and contractors to deliver outstanding safe heating solutions.
Contour is a partner of BioCote® anti-microbial technology for LST and anti-ligature radiators. BioCote® additives reduce bacteria by up to 99.9% and are combined with Contour's extensive range of colour-paints to coat products for a durable, high-quality finish.
Contour's heating solutions offer secure, single-person quick access to radiator guard interiors for regular deep cleaning and maintenance. Each year, Contour save the NHS millions of pounds in cleaning costs, while delivering cleaner, safer environments. Contour has redefined the marketplace and is regarded by many as a design and innovation leader within the industry.
Contour's vision is supported by a quality-first philosophy and a passionate and conscientious customer focused team who possess a 'can-do' attitude, taking pride in developing solutions for your heating requirements.
Contact us at:
The Mansions, 43 Broadway Shifnal
Shropshire TF11 8BB United Kingdom