The need for efficiency and easy maintenance has never been more prevalent in care and nursing homes. Such environments are subject to a variety of activity throughout the busy day. Whilst the residents may not be as mobile on their feet, the care staff is constantly working hard to provide the best possible care.
This involves the use of lifting and manoeuvring equipment, transporting users from one room to the next and ensuring that daily activities-like mealtimes are efficiently carried out.
Due to the busy nature of the care and nursing environment, the need for resources that are low maintenance is essential.
Contour's DeepClean LST radiators and radiator covers provide the ideal solution, designed to safely heat your care home whilst requiring little-to-no maintenance.
Read More:
LST Radiators And Radiator Covers
Contour's complete radiator systems come with high-quality Herz Thermostatic Radiator Valves (TRVs) for either internal or external fitting.
An external TRV kit is where the TRV head is on the outside of the cover, allowing staff to adjust and control the temperature of the room themselves. To read more about Contour's TRV options, click here.
With such a simplistic temperature adjustment option, care home supervisors and support staff will be able to ensure that residents are always kept warm and comfortable.
Cleaning Contour's LST Radiators
Cleanliness is a priority in care and nursing environments, particularly when immune systems are compromised. Therefore, a quick and efficient solution to cleaning is a high priority.
Contour's LST radiators provide full access to the radiator for thorough cleaning. This is achieved by a simple quarter turn lock, allowing the one-piece casing to be dropped down to floor level.
For more movement and efficiency, Rotarad fittings can be installed with the LST radiator, allowing it to be tilted downwards to floor level for access to the wall behind the radiator.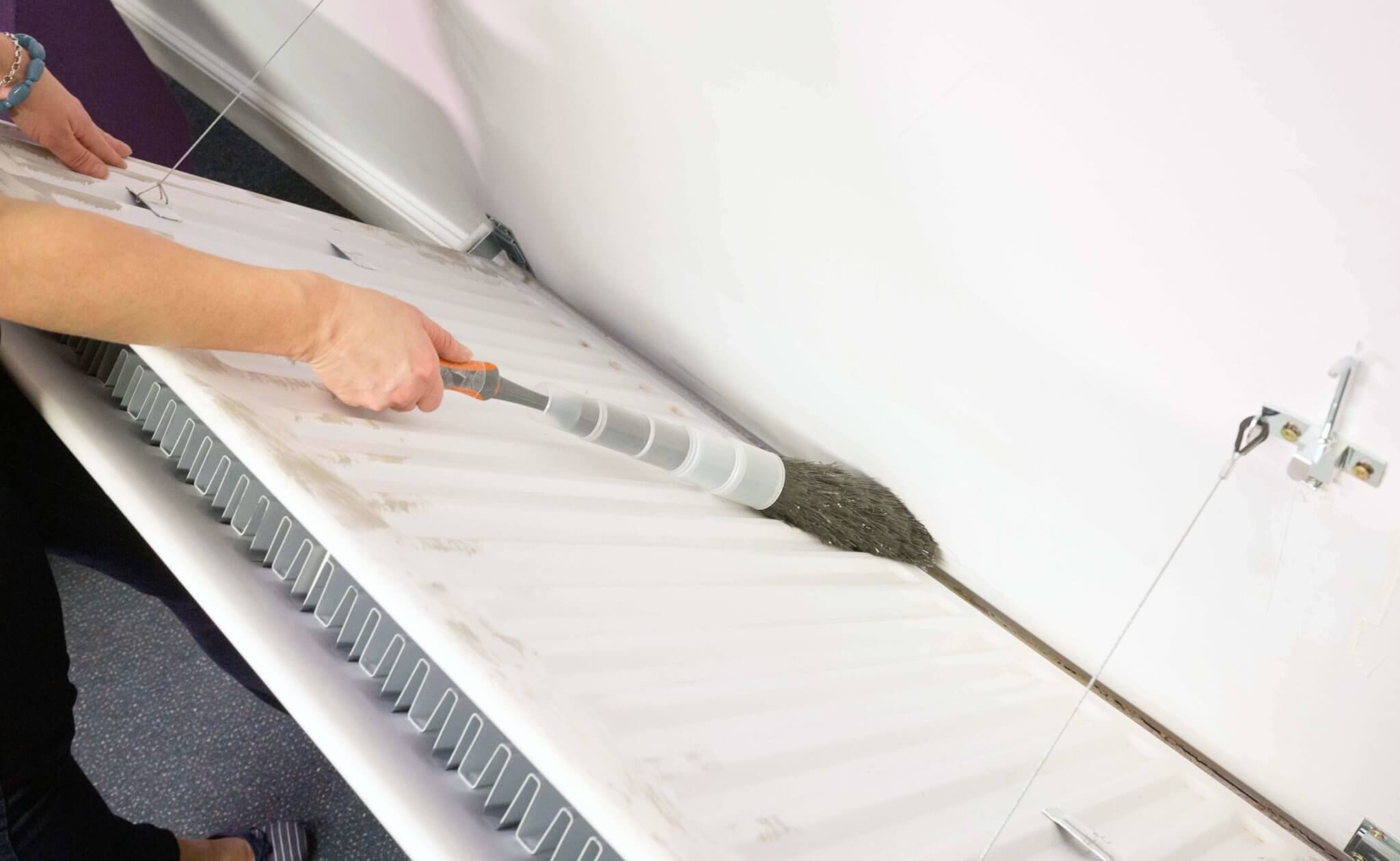 Timing
A thorough clean can be achieved in a fraction of the time-requiring only one person-in just 5 minutes. When you consider that a standard radiator clean requires two people, assistance from estates personnel and at least half an hour, it's clear to see that you'll be saving time and resources.
When you remove a regular radiator cover for cleaning, you'll often need to cut the existing sealant away so that you don't damage the existing paintwork or the wall that it's sealed up to. In contrast, the DeapClean radiator cover design allows you to remove the top and front of the door for cleaning and maintenance, without the need for removing any screws or sealant from the wall.
We estimate that in seven hours, two people can clean fourteen regular radiators, whereas one person can clean eighty-four DeepClean LST radiators in the same amount of time!
Conclusion
All of our radiators contain BioCote antimicrobial protection incorporated into the paintwork, minimising the spread of harmful bacteria, including MRSA and E.Coli. Read more about BioCote's unique antimicrobial properties here.
Maintaining Contour's radiator and guard range has never been easier. Simple temperature controls and quick, efficient cleaning ensures that your care and nursing home continues to operate at a productive level.
Easy maintenance allows you to focus on the things that are most important: the care and wellness of your residents.
For more information on some of the areas we've covered today, don't hesitate to get in touch with one of our experts.

About Us
Contour produces a range of innovative, safe surface temperature systems for healthcare, education, mental health, commercial and secure sectors, working in close partnership and collaborating with architects, M&E engineers, NHS Trusts, local authorities, design consultants and contractors to deliver outstanding safe heating solutions.
Contour is the exclusive partner of BioCote® anti-microbial technology for LST and anti-ligature radiators. BioCote® additives reduce bacteria by up to 99.9%. Contour combines an extensive range of colour-paints is with BioCote® for a durable, high-quality finish.
Contour's heating solutions offer secure, single-person quick access to radiator guard interiors for regular deep cleaning and maintenance. Each year, Contour save the NHS millions of pounds in cleaning costs, therefore delivering.