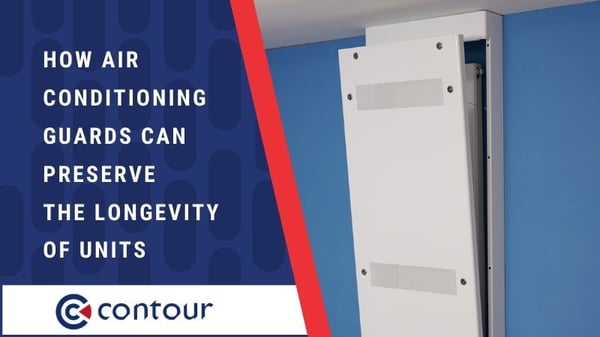 Some air conditioning units come with an all-purpose cover that doesn't offer protection from vandalism to fully shield the units underneath.
Having a bespoke made cover can ensure your guard fits your unique space, so it can work to provide the ultimate protection for your expensive units.
Read on to discover how an air conditioning guard can work to protect your units to avoid damage…
Standard Air Conditioning Guards
Standard air conditioning guards are sometimes not enough to offer full protection to air conditioning units.
It's not unknown that units are expensive commodities and replacing them can become costly to your bank account.
Having a guard that doesn't provide sufficient strength can quickly become damaged, failing to preserve the unit.
Search For A Strong Solution
It's important to search for an air conditioning that is strong and robust to ensure the longevity of the unit beneath it.
This can help bring your building up to standard as in public settings – damage and vandalism can occur along with general wear and tear.
When this happens, guards can become weak more promptly and therefore, loses the protection it presents for the unit underneath.
To ensure you're not having to replace the units every so often, you want to be in a position to avoid the likelihood of the damages and vandalism that might commence.
To offer the necessary protection, search for air conditioning guards that is robust with strong material and opportunities to add strengthening properties if your specific needs require it.
Anti-ligature
When guards become weak, they can be then used as weapons to self-harm or to hurt others. It's important to keep note that when individuals seek to self-harm, they don't just look for obvious ligature points.
Where there may be gaps or weak points in the guard or the unit, it can be used to vandalise.
Anti-ligature guards are made to be more solid and secure than standard air conditioning guards.
With the strength that anti-ligature guards offer, it becomes durable and protective to ensure the longevity of the units.
As well as, reducing the risks of using damaged units as weapons to cause injuries.
Bespoke
Positioning is important for your air conditioning unit. They must be positioned to stay clear of any feeling objects or spillages, whilst not blocking passageways.
According to DCUL, any direct hit from passing objects will impact the units longevity. So, it's essential to position these guards to avoid destruction.
Positioning these guards in your space may become challenging with the presence of plug sockets, bent walls and skirting boards.
To overcome this, search for a bespoke guard that can be made to cater to your unique space. This ensures that every customer receives the best possible guard for their needs.
Conclusion
A strong and robust air conditioning guard works to endure the longevity of your units. This will ultimately save you having to pay hefty prices when replacing your expensive units.
At Contour, we work with you to decide the best bespoke guard for your needs, whether this is wall/ floor mounted or a flat panel.
For protection, Contour air conditioning guards are made in Zintec protected steel in various gauges from 1.5mm-2mm to offer a strong guard to shield your units.
If your environment is a mental health unit or any other public space where extra strength may be needed, Contour can provide a strengthening strut to provide the front of the cover additional depth.
For anti-ligature features, Contour's guards are made to be anti-ligature with safe edges and IP3x grilles to reduce injuries.
To ensure peace of mind, all guards are protected with a 5-year warranty against defects in workmanship and materials for 5 years from the purchase date.
Our air conditioning guards can provide you with a robust, hygienic solution to protect your air conditioning units. These units allow for a 23% open area for airflow with the IP3x grille and the standard grilles have a higher open air flow.
However, to avoid air loss, it's recommended that plenum is built once the air conditioning guard has been supplied.
About Us
Contour produces a range of innovative, safe surface temperature systems for healthcare, education, mental health, commercial and secure sectors, working in close partnership and collaborating with architects, M&E engineers, NHS Trusts, local authorities and contractors to deliver outstanding safe heating solutions.
Contour is the exclusive partner of BioCote® anti-microbial technology for LST and anti-ligature radiators. BioCote® additives reduce bacteria by up to 99.9%. Contour combines an extensive range of colour-paints is with BioCote® for a durable, high-quality finish.
Contour's heating solutions offer secure, single-person quick access to radiator guard interiors for regular deep cleaning and maintenance. Each year, Contour save the NHS millions of pounds in cleaning costs, therefore delivering cleaner, safer environments. Contour is redefining the marketplace and therefore many regards us as a design and innovation leader within the industry.
Contour has a quality-first philosophy. Our customer-focused team possess a 'can-do' attitude, they take pride in developing solutions for your heating requirements.
Contact us at:
The Mansions, 43 Broadway Shifnal
Shropshire TF11 8BB United Kingdom
+44 1952 290 498
Twitter: @Contour_Heating
LinkedIn: Contour Heating Products Ltd