As educational settings differ, so do their requirements in terms of resources and furniture.
Low Surface Temperature (LST) and Anti-Ligature radiators and covers differ based on their characteristics and intended use. This will impact on the type of radiator or cover that you decide to specify.
The UK provides education to cater for a range of needs and purposes. We'll aim to explore some of the different educational environments and help you decide which radiator is best suited to your type of school.
In our LST & Anti-Ligature Radiators and Guards Brochure, we have highlighted some key environments and our recommended products that we deem suitable.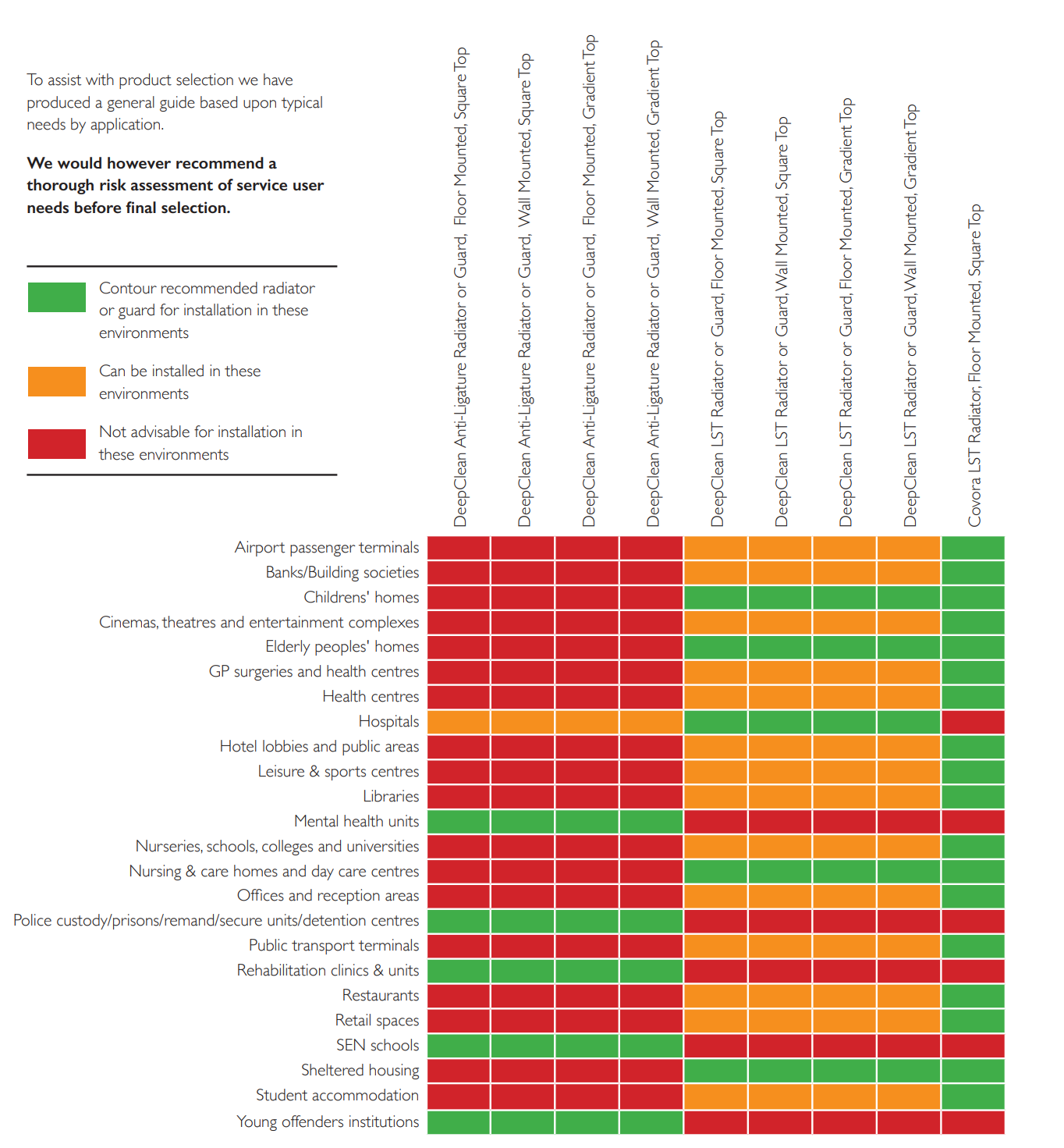 Radiators For Special Educational Needs (SEN) Schools
There are a variety of SEN schools which focus on different areas, from communication and interaction to sensory and physical needs.
Whilst we recognise that SEN schools differ in the level of care that they provide, we recommend that in more severe cases, an anti-ligature radiator would be the better option.
As the name suggests, anti-ligature radiators reduce any risk of an individual tying a cord or rope around anchor points on the radiator.
This is especially useful for those who display self-abusive tendencies or have any behavioural issues.
Want to find out more? Read out detailed article here:
Radiators For Mainstream Schools
State schools, academies, faith schools and independent schools all fall into this category. When referring to mainstream schools, we're assuming that there are very few children with Special Educational Needs.
If there are children with SEN, you would expect them to have a one-to-one Teaching Assistant who would be responsible for the care and safety of the child.
In these instances, an LST radiator would be a better option. LST radiators are designed not to exceed 43°C; the recommended heat output as highlighted by current regulations.
A surface that exceeds 43°C is considered to be a burn risk to children who come in close contact with them. Considering that back in 2010, one-thousand three hundred and ninety-nine children suffered a burn injury in a place of education, the surface temperature should be closely monitored.
Radiators For Nursery Schools
This very much depends on the individual school's circumstances. We understand that younger children are more likely to explore their surroundings through play, increasing the risk of an accident occurring via a ligature point.
Additionally, younger children are more likely to post items through the grilles, causing potential hygiene and heat-related issues.
However, whilst anti-ligature radiators provide an element of safety, they do not provide the low surface temperature that is required to reduce burn incidents.
We recommend that you opt for an LST radiator with pencil-proof grilles.
Radiators For Residential Facilities
Residential facilities are widely used throughout the year by a range of different children. The need for robust performance to withstand wear over time is a key factor to consider.
As radiators will be placed within dormitories with minimal adult supervision, we recommend an LST radiator with pencil-proof grilles. This way you're reducing the risk of a burn incident, and preventing any small items being pushed through the casing.
All Radiator Choices Come With BioCote Protection
Whatever you choose, you can be confident that our radiators will provide ultimate protection against a range of harmful bacteria, including MRSA and E.coli.
This is due to our unique BioCote protection. As the only company to incorporate BioCote into our radiators and guards, you will be benefitting from superior hygienic practice.
Learn more about BioCote protection here:
Radiator Colour Can Have a Huge Impact
An often-overlooked element of our radiators is the wide variety of colour options available. The key to an effective educational environment lies within the visuals, too. Colour psychology suggests that certain colours can have a positive impact on our mood and well-being. This is particularly important for those with SEN
With our range of colour options available for both LST and anti-ligature radiators, why not choose something that'll have visual impact?
Conclusion
Choosing the right radiator for your educational setting can be a difficult decision. Our experts are always available, should you need to discuss your options further.
During our consultation process, we always aim to help you come to the right decision. If you're tasked with re-designing an educational environment, we'd love to hear from you.
About Us
Contour produces a range of innovative, safe surface temperature systems for healthcare, education, mental health, commercial and secure sectors, working in close partnership and collaborating with architects, M&E engineers, NHS Trusts, local authorities, design consultants and contractors to deliver outstanding safe heating solutions.
Contour is a partner of BioCote® anti-microbial technology for LST and anti-ligature radiators. BioCote® additives reduce bacteria by up to 99.9% and are combined with Contour's extensive range of colour-paints to coat products for a durable, high-quality finish.
Contour's heating solutions offer secure, single-person quick access to radiator guard interiors for regular deep cleaning and maintenance. Each year, Contour save the NHS millions of pounds in cleaning costs, while delivering cleaner, safer environments. Contour has redefined the marketplace and is regarded by many as a design and innovation leader within the industry.
Contour's vision is supported by a quality-first philosophy and a passionate and conscientious customer focused team who possess a 'can-do' attitude, taking pride in developing solutions for your heating requirements.