As Contour continues to lead the way for anti-ligature solutions, we are pleased to introduce our three new products for mental health environments. They are:
The Anti-Ligature Ventilation Grille
The Anti-Ligature TV Cabinet
The Anti-Ligature Light Switch Cover
What does Anti-ligature mean?
An anti-ligature product is one that prevents anyone from attaching anything to it that could inflict harm to themselves or anyone else. Particularly beneficial in mental health settings, Contour has worked hard to develop safe solutions for those at most risk.
Read on to learn more about our latest products…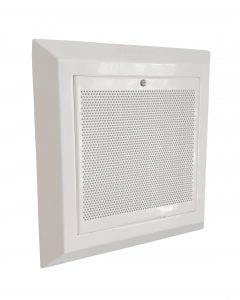 Ventilation Grilles are often positioned on ceilings or on high walls and their openings can be used to create a ligature point. With its robust, metal structure, Contour's anti-ligature ventilation grille can be fitted over the existing grille or opening to provide an anti-ligature solution whilst giving easy access for cleaning and maintenance.
How is it cleaned? I hear you ask…
The anti-ligature ventilation grille front panel is secured to its framework with a Tamper proof torx bolt. When removed, the front panel can be hinged open without falling, allowing you to clean and maintain to a high standard.
This also means that the fixings into the wall or ceiling are not compromised every time the unit is accessed for cleaning, like standard fixed units.
The anti-ligature ventilation grille is available in a range of colours and sizes to fit into your establishment's aesthetics.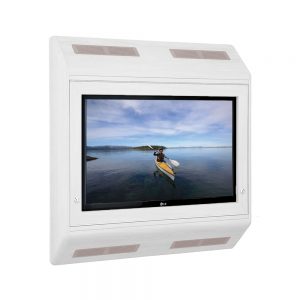 Fully encapsulating the television, Contour's anti-ligature TV cabinet provides ultimate protection.
Often placed in communal areas, televisions are an integral part of any mental health facility.
Televisions are often expensive pieces of equipment that are susceptible to damage, particularly when located in such areas.
As with the anti-ligature ventilation grille, the TV cabinet only allows for authorised access, enabling you to access the television when required.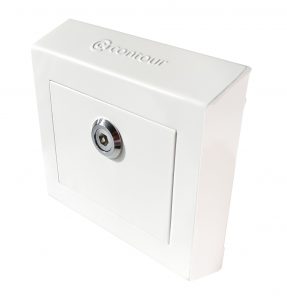 Damage limitation is at the forefront of Contour's newest items and the anti-ligature light switch cover is no exception.
We recognise that the temptation to vandalise may become more attractive when there is potential to 'self-harm,' too. In this instance, a damaged light switch could cause electrocution.
The misuse of light switches can also lead to arguments and confrontations, where you have patients or Pupils playing with the switches repetitively.
One NHS trust also had the problem of staff using the emergency lights as night-time lighting by mistake and draining the batteries, which is not ideal when in an emergency situation.
Limiting these issues and risks is the main concept behind the anti-ligature light switch.
Authorised personnel will be in charge of accessing the cover opening to turn the lights on at the start and end of the day.
BioCote
As with Contour's products LST radiators, the light switch cover and ventilation grille are covered in BioCote®, providing antimicrobial protection.
Contour Heating is the only company to incorporate BioCote® anti-microbial protection into our LST and anti-ligature products. This unique, patented additive provides an effective, safe and long-lasting solution to combatting a wide range of dangerous bacteria, including MRSA and E.coli.
Learn more about Biocote's technology.
One Final Note
Contour is very proud to be expanding our business portfolio with the introduction of three new products. We're constantly aiming to develop our product range and provide the most informative material for our customers.
Contour will always aim to accommodate your individual needs. All products are available in a range of sizes and colours, offering bespoke options when necessary.
Have any queries, or struggling to find the product that matches your exact requirements? Don't hesitate to get in touch with one of our advisors where we will endeavour to assist in your buying journey.
About Us
Contour produces a range of innovative, safe surface temperature systems for healthcare, education, mental health, commercial and secure sectors, working in close partnership and collaborating with architects, M&E engineers, NHS Trusts, local authorities, design consultants and contractors to deliver outstanding safe heating solutions.
Contour is the exclusive partner of BioCote® anti-microbial technology for LST and anti-ligature radiators. BioCote® additives reduce bacteria by up to 99.9%. Contour combines an extensive range of colour-paints is with BioCote® for a durable, high-quality finish.
Contour's heating solutions offer secure, single-person quick access to radiator guard interiors for regular deep cleaning and maintenance. Each year, Contour save the NHS millions of pounds in cleaning costs, therefore delivering cleaner, safer environments. Contour is redefining the marketplace and therefore many regard us as a design and innovation leader within the industry.
Contour has a quality- first philosophy. Our customer-focused team possess a 'can-do' attitude, they take pride in developing solutions for your heating requirements.
Contact us at:
The Mansions, 43 Broadway Shifnal
Shropshire TF11 8BB United Kingdom
+44 1952 290 498
Twitter: @Contour_Heating
LinkedIn: Contour Heating Products Ltd