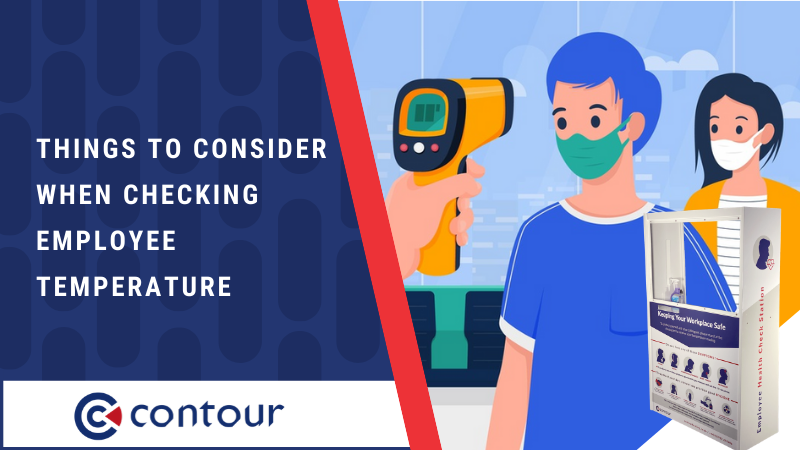 Many companies have introduced temperature checking before employees enter their workplace as a way of controlling the spread of COVID-19.
To help enable this effective practice, Contour has introduced The Health Check Station.
The station has been designed to help aid the checking of temperature for employees or any individual entering a public building.
This blog post sets out to provide some useful tips for any business owner or health and safety manager who is considering implementing temperature checks as part of their COVID-19 strategy.
Who Should Take Temperatures?
The person responsible for checking employee temperature would ideally be a willing volunteer. After all, they are potentially putting themselves in harm's way.
With a designated 'Temperature Checker' in place, these individuals should be provided with protective equipment and training on certain confidentiality considerations.
To help minimise the risk of this individual catching the virus, a station – such as the Health Check Station – is an effective means of protecting the person responsible for carrying out the temperature check.
Protective Measures for Person Responsible for Carrying Out Temperature Check
Once the employer has decided who should administer the temperature scan, they should be provided with protective clothing such as gloves, sanitiser and disposable cloths.
Their clothing should also highlight that they are the designated person responsible for carrying out the temperature check. This way, employees are able to clearly differentiate key persons within their organisation.
However, protective clothing won't be as effective as providing your Designated Scanner with a station to house their PPE, whilst allowing them to safely carry out the scan. Employers should therefore consider other strategies to make this process as effective as possible.
Privacy is Important
Whilst logistics may dictate taking an employees' temperature upon arrival at work, Employers should avoid employees lining up and waiting for their temperature to be taken. Instead, the administrator should take an employee's temperature as privately as possible and keep the identity of any employees with fevers confidential. This was highlighted by SHRM in a recent article.
Therefore, we recommend that anyone thinking about purchasing a Health Check Station – or carrying our any form of temperature check - should carefully consider the privacy of their staff, and how they will tackle the issue of confidentiality.
Are Temperature Checks a Good Idea?
For those considering whether or not to adopt this practice, I'm sure you've considered whether temperature checks are actually a good idea or not.
If we look at global practices, temperature checks are widely used in international airports. They have also been a common practice in parts of Asia for some time now.
And, whilst they don't diagnose Coronavirus, they may help to identify an underlying symptom that might not have been obvious prior to the temperature check.
Speak To Contour About Temperature Checks
If you'd like to find out more about Contour's Health Check Station, and how it can help you to protect your workforce against the spread of Covid-19, talk to us today.
Our experts will be able to talk to you about how the Health Check Station has been manufactured, what benefits it serves and – most importantly – how it can help keep your workforce safe.
If you'd like to read more about temperature checking, read our most recent blogs:
About Us
Contour produces a range of innovative, safe surface temperature systems for healthcare, education, mental health, commercial and secure sectors. We work in close partnership with architects, M&E engineers, NHS Trusts, local authorities, design consultants and contractors to deliver outstanding safe heating solutions.
Contour is a partner of BioCote® anti-microbial technology for LST and anti-ligature radiators. BioCote® additives reduce bacteria by up to 99.9% and are combined with Contour's extensive range of colour-paints to coat products for a durable, high-quality finish.
Contour's heating solutions offer secure, single-person quick access to radiator guard interiors for regular deep cleaning and maintenance. Each year, Contour save the NHS millions of pounds in cleaning costs, while delivering cleaner, safer environments. Contour has redefined the marketplace and is regarded by many as a design and innovation leader within the industry.
Contour's vision is supported by a quality-first philosophy and a passionate and conscientious customer focused team who possess a 'can-do' attitude, taking pride in developing solutions for your heating requirements.
Contact us at:
The Mansions, 43 Broadway Shifnal
Shropshire TF11 8BB United Kingdom
+44 1952 290 498