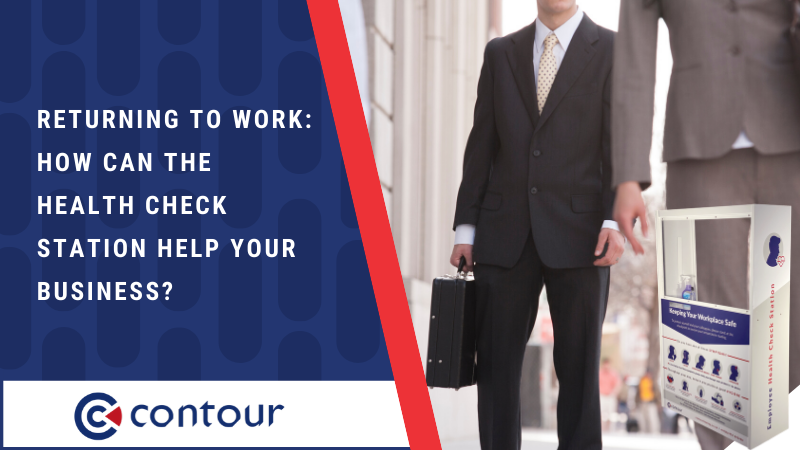 In light of the Government's new guidance, which was recently launched to help get Brits safely back to work, Contour has released The Health Check Station.
This blog post is aimed at business owners seeking to re-open in the coming weeks and we imagine that you're probably having to make tough choices for your workforce. From social distancing measures to providing the correct PPE, there's a lot to think about in order for businesses to get back up and running and workplaces operating safely.


Controlling the Spread of COVID-19 In The Workplace
The latest Government guidance - which can be found here -has highlighted some key points for employers seeking to re-open their business. Here, we have paraphrased 5 key points:

1. Work from home, if you can
Carry out a COVID-19 risk assessment, in consultation with workers or trade unions
Maintain 2 metres social distancing, wherever possible
Where people cannot be 2 metres apart, manage transmission risk
Reinforcing cleaning processes
However, the document fails to acknowledge how employers can minimise the risk of the virus spreading if individuals are already showing symptoms that they are not aware of.
Hidden Symptoms of Coronavirus
As we're aware, the more obvious symptoms of Coronavirus include a high fever, a new cough, and difficulty breathing. However, it's the 'silent' symptoms that we all need to acknowledge. One such 'silent' symptom is a high temperature.
If individuals are entering the workplace with a high temperature, they may not even be aware that they are infected with the virus – which is bad news for your workforce.
The most effective way to identify a high temperature is by issuing 'temperature checks' to employees before entering their place of work.
Checking Employee's Temperature Before Entering Work
Designed to be placed outside of a building – or in the building's main reception – The Health Check Station is designed to act as a checkpoint before individuals enter their place of work.
Rather than just pointing a digital thermometer at someone, The Health Check Station acts as a 'pod', encapsulating the person responsible for carrying out the temperature check. This sophisticated method gives that added element of reassurance to those involved.
With its BioCote® protected, mild steel construction and robust Perspex screen, The Health Check Station is the beacon of reassurance to anyone who may be concerned about returning to work. And of course, to business owners who want to ensure safety amongst their workforce.
Added Benefits of the Health Check Station
Aside from its robust design and anti-microbial protective properties, The Health Check Station contains a visual sign on the front and side panels. This is aimed to remind workers on safe practices when entering the workspace. However, there are options to purchase the Health Check Station in a plain design – or a design of your choice, making it a seamless fixture for your workspace.
How Can Contour Aid The Safe Return To Work?
Of course, the Health Check Station does not act as a test for Coronavirus – rather, a measure that businesses can use to provide added reassurance, as well as potentially controlling the spread of the virus.
For more information, head over to our product page. Here you will find a detailed overview, alongside technical drawings of The Health Check Station. Alternatively, head over to our pricing enquiry page here to discuss your unique requirements further.
About Us
Contour produces a range of innovative, safe surface temperature systems for healthcare, education, mental health, commercial and secure sectors, working in close partnership and collaborating with architects, M&E engineers, NHS Trusts, local authorities, design consultants and contractors to deliver outstanding safe heating solutions.
Contour is the exclusive partner of BioCote® anti-microbial technology for LST and anti-ligature radiators. BioCote® additives reduce bacteria by up to 99.9% and are combined with Contour's extensive range of colour-paints to coat products for a durable, high-quality finish.
Contour's heating solutions offer secure, single-person quick access to radiator guard interiors for regular deep cleaning and maintenance. Each year, Contour save the NHS millions of pounds in cleaning costs, while delivering cleaner, safer environments. Contour has redefined the marketplace and is regarded by many as a design and innovation leader within the industry.
Contour's vision is supported by a quality-first philosophy and a passionate and conscientious customer focused team who possess a 'can-do' attitude, taking pride in developing solutions for your heating requirements.
Contact us at:
The Mansions, 43 Broadway Shifnal
Shropshire TF11 8BB United Kingdom
+44 1952 290 498
Topics: health check station, covid-19, coronavirus