One of the primary questions asked about the installation of radiator covers is: do radiator covers reduce the output of heat?
For schools, where budgets are tightening, and health and safety laws are at the forefront of child protection, this is often a primary concern.
Let's look at the effects of radiator covers on heat output, and what to consider when installing radiator covers in schools…
Why Worry About Heat Loss?
Concerns over the loss of heat from a radiator happens for a number of reasons. One of the most common is cost efficiency.
Schools operate on tight budgets that must adequately provide for staff and students while maintaining high standard learning facilities.
Highly decorative radiator covers may be a consideration for their aesthetic appeal for children, but you could lose as much as 20-25% of heat output as a result! The overall cost efficiency would be drastically reduced. Classrooms would take longer to heat and the cost of maintaining that would rise.
Temperature is often a concern in schools, as UK Law states that classrooms must be a minimum of 16°C or pupils and staff can be allowed to leave.
A highly efficient radiator cover could result in as little as a 5% reduction in heat output. These covers come with free areas in them to allow a greater amount of heat to flow back into the classroom. The more gaps in the grilles; the better the heat output and the greater the overall efficiency.
However, covers with larger gaps may not always be the most suitable for a classroom of small children. Pupils may insert small items into the gaps, such as pencils. Or they could catch their fingers in the grilles which, should an injury occur, could result in legal ramifications.
Considering the nature of the environment that the radiator covers will be is key when considering how to prioritise heat output. While a 5% reduction may initially seem preferable, the cover itself might not be suitable for the school environment.
Reducing The Risk Of Heat Loss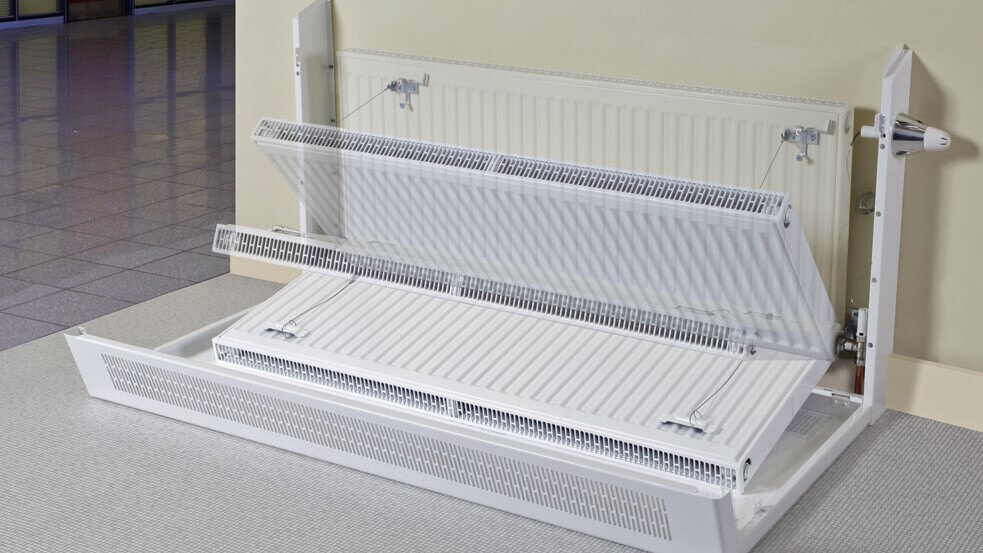 Cleaning the radiator covers often prevents blockages that could prevent the heat from filtering through into the classroom.
Contour's radiator covers are designed with the option of including Rotarad Rotating Radiator Valves to improve the easiness of cleaning. With easier cleaning access comes a reduced risk of heat loss due to small items being stuck inside the radiator covers.
Considering additional insulation materials in the choice of radiator cover could have an overall impact on the heat loss incurred.
Contour can provide a reflective film behind the radiator that will reflect lost heat back into the classroom, improving the efficiency of the radiator cover and in turn reducing the cost of having to turn the heating up to make up for what is lost.
How Can Contour Help?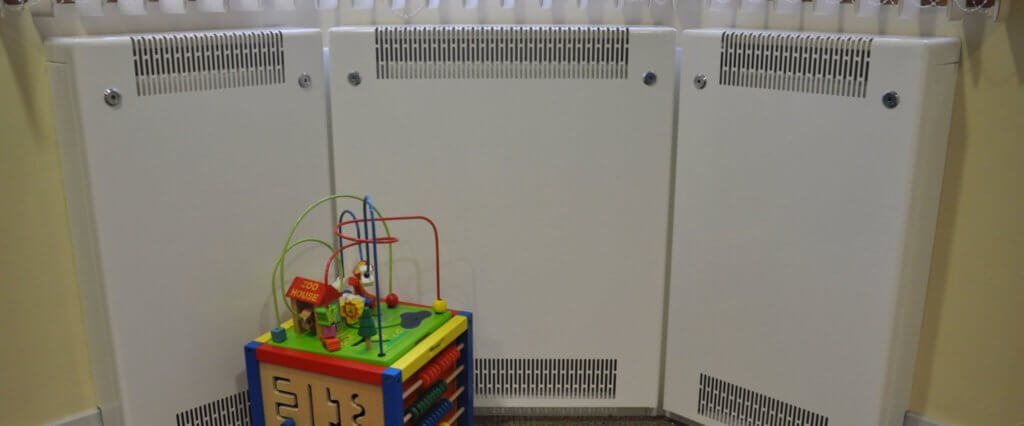 We are passionate about providing the highest standard of radiator covers to the education sector. We also understand that cost and safety are often two of the biggest concerns when installing radiator covers into schools.
Contour radiator covers offer a small reduction of 11% on heat output while also meeting all of the additional safety requirements as specified by you.
As well as a balance of heat output and efficiency we can provide radiator covers with:
Pencil proof design to prevent stationary being pushed through the grilles
Bullnose corners to reduce the risk of injury if a child fell against the radiator cover
Easy access for cleaning and maintenance
1 piece construction for durability
BioCote® antimicrobial technology to inhibit the growth of up to 99.9%of bacteria
With safety at the forefront of our work for the education sector, we can provide your school with safe, efficient radiator covers that will maintain a high standard of protection for students while ensuring a strong heat output at all times.
About Us
Contour produces a range of innovative, safe surface temperature systems for healthcare, education, mental health, commercial and secure sectors, working in close partnership and collaborating with architects, M&E engineers, NHS Trusts, local authorities, design consultants and contractors to deliver outstanding safe heating solutions.
Contour is a partner of BioCote® anti-microbial technology for LST and anti-ligature radiators. BioCote® additives reduce bacteria by up to 99.9% and are combined with Contour's extensive range of colour-paints to coat products for a durable, high-quality finish.
Contour's heating solutions offer secure, single-person quick access to radiator guard interiors for regular deep cleaning and maintenance. Each year, Contour save the NHS millions of pounds in cleaning costs, while delivering cleaner, safer environments. Contour has redefined the marketplace and is regarded by many as a design and innovation leader within the industry.
Contour's vision is supported by a quality-first philosophy and a passionate and conscientious customer focused team who possess a 'can-do' attitude, taking pride in developing solutions for your heating requirements.
Contact us at:
The Mansions, 43 Broadway Shifnal
Shropshire TF11 8BB United Kingdom
+44 1952 290 498
LinkedIn: Contour Heating Products Ltd
Speak To A Heating Expert Today: