Hundreds of thousands of children return to schools and nurseries this September. Classroom environments will fill with breeding infections once again, inevitably re-introducing the surge of illness.
While childhood illnesses are unavoidable, it's certainly possible to minimise the risk of them to improve school attendance and the health of staff and students.
To help meet the challenge of reducing classroom-associated illnesses, Contour target high levels of microbes in and around classroom radiators with our DeepClean anti-microbial, safe heating solutions.
How Do DeepClean Radiator Covers Improve Hygiene?
Anti-Microbial Finish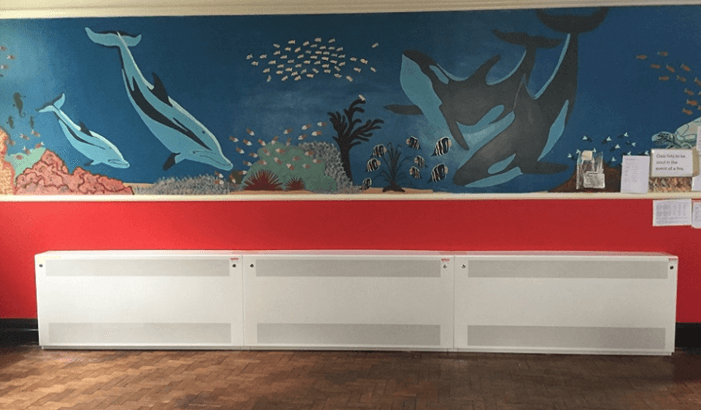 DeepClean LST radiator covers are coated with BioCote® anti-microbial technology, which works to constantly inhibit the growth of bacteria over the full expected lifetime of the radiator cover.
Radiators are one of the worst classroom culprits for high levels of bacteria, due to the optimum temperature for bacteria growth. Contour recommends that schools counteract bacteria with radiator casings from our anti-microbial, safe surface temperature range.
A regular and rigorous testing regime proves time and time again that BioCote® reduces up to 99.9% of microbial colonies on a radiator guard within 2 hours. A substantial reduction of up to 86% is clear in just fifteen minutes.
Controlled tests conducted by BioCote® and supported by Contour revealed that children's absenteeism was 20% lower in a classroom environment where fixtures and fittings were protected with BioCote® than in a classroom with no anti-microbial protection.
The anti-microbial protective technology is effective against viruses and bacteria commonly cited as the cause of school-associated illnesses, including the H1N1 Influenza virus, Salmonella and Streptococcus faecalis.
Contour collaborate with BioCote® to reduce the risk of cross-contamination, improve hygiene and guarantee healthier classroom environments.
Easy Cleaning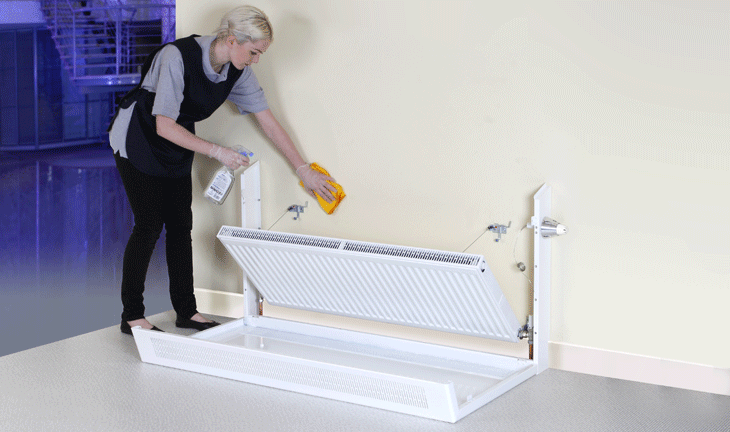 Most radiators can't be cleaned effectively because full access isn't possible without costly assistance from estates personnel in the complete disassembly and reassembly of radiators. This is why Contour's DeepClean range has been designed for easy cleaning. The one-piece LST radiator guards can be easily removed and cleaned by one person.
It takes approximately 30 minutes to disassemble and clean a traditional radiator cover. Meanwhile, it takes around 5 minutes to simply remove and clean a DeepClean radiator cover. This means that in 7 hours, 2 people could clean 14 radiator covers, or 1 person could clean 84 DeepClean radiator covers.
When you invest in Contour's DeepClean range, you facilitate a quicker, cost-effective cleaning process that improves hygiene throughout your school. Rigorous, frequent cleaning becomes affordable when you specify Contour.
Click here to access our step-by-step directions and instructional video for cleaning radiator casings and radiators.
The DeepClean range offers numerous benefits aside from its hygiene values:
A range of floor-standing and wall-mounted options
Pre-fabricated cut-outs for vinyl flooring, skirting boards and pipework
Slimline design to reduce the loss of floor space
Robust, corrosion-resistant design
Internal fixings to eliminate tamper opportunities
Extensive colour RAL finishes
To find out more about how Contour radiators could improve hygiene in your classrooms, sign up below to speak to a heating expert.
Improving hygiene is core to Contour's ethos, but there is a multitude of other reasons why Contour could benefit your school. Click here to learn more.
About Us
Contour produces a range of innovative, safe surface temperature systems for healthcare, education, mental health, commercial and secure sectors, working in close partnership and collaborating with architects, M&E engineers, NHS Trusts, local authorities, design consultants and contractors to deliver outstanding safe heating solutions.
Contour is a partner of BioCote® anti-microbial technology for LST and anti-ligature radiators. BioCote® additives reduce bacteria by up to 99.9% and are combined with Contour's extensive range of colour-paints to coat products for a durable, high-quality finish.
Contour's heating solutions offer secure, single-person quick access to radiator guard interiors for regular deep cleaning and maintenance. Each year, Contour save the NHS millions of pounds in cleaning costs, while delivering cleaner, safer environments. Contour has redefined the marketplace and is regarded by many as a design and innovation leader within the industry.
Contour's vision is supported by a quality-first philosophy and a passionate and conscientious customer focused team who possess a 'can-do' attitude, taking pride in developing solutions for your heating requirements.
Contact us at:
The Mansions, 43 Broadway Shifnal
Shropshire TF11 8BB United Kingdom
+44 1952 290 498
sales@contourheating.co.uk
Twitter: @Contour_Heating
LinkedIn: Contour Heating Products Ltd