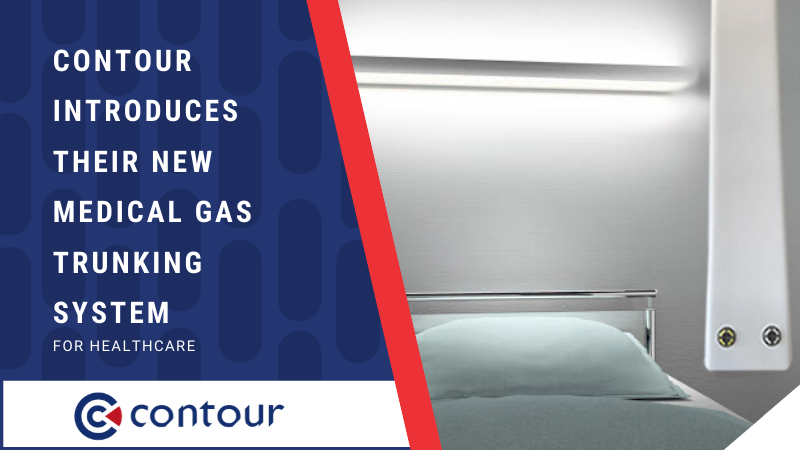 The NHS faces unprecedented challenges as it continues its fight against coronavirus. With hospitals approaching full capacity, there's a need to ensure effective care is provided to those receiving treatment for the virus and, of course, any other medical issues that individuals may have during this turbulent time.
With more NHS temporary hospitals being opened across England, Wales and Scotland to cope with the outbreak, efficient yet effective resources are essential and – for this reason - Contour has released their latest product: The new Medical Gas Trunking System.
What is a medical gas trunking system?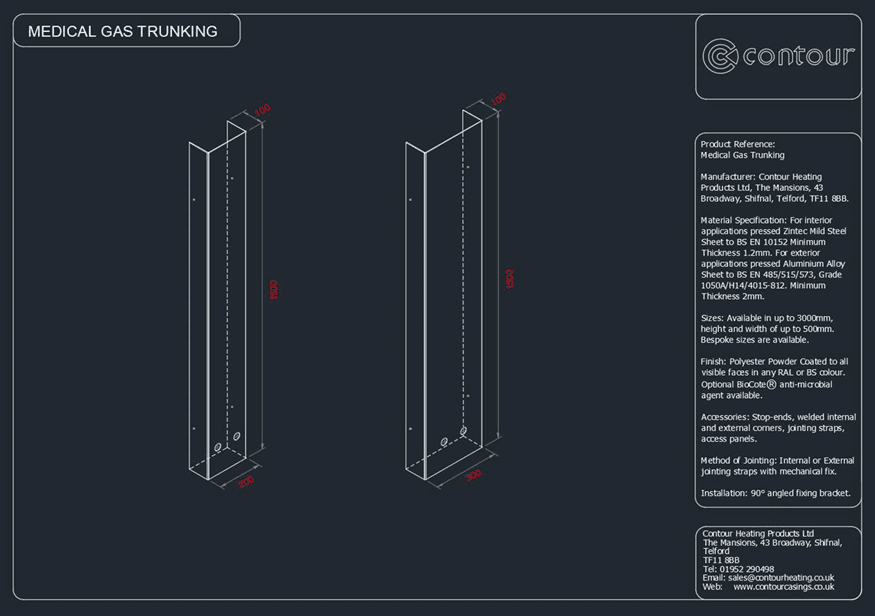 A medical gas trunking system is an effective way to conceal unsightly cables, pipes– which supplies oxygen and other essential medical services to patients in care.
Located beside a patient's bed, the trunking system is both practical and aesthetic, providing ultimate care and comfort.
The medical trunking system is a versatile solution for those wanting an efficient, yet effective way to help deliver care to patients, saving on essential floor space and overcoming a range of potential limitations.
Medical Trunking System with BioCote Protection
As with many of Contour's products, the Medical Gas Trunking System is coated in BioCote® antimicrobial protection as standard. BioCote is a unique, patented additive that provides an effective, safe and long-lasting solution to combatting a wide range of dangerous bacteria, including MRSA and E.coli.
The anti-microbial efficacy of BioCote® products has been tested against a wide range of gram positive and gram negative bacteria as well as fungi. BioCote® has been proven to inhibit the growth of these organisms, thus providing hygienic practice.
Contour are firm advocates for the use of BioCote®-protected products within care-centred environments-which is why their anti-ligature and LST radiators and guards also contain the unique additive.
To download the latest BioCote® test certificate, click here.
Medical Gas Trunking Key Product Characteristics
There are several characteristics that make Contour's latest solution an ideal choice for healthcare environments. Firstly, the simplistic design ensures easy on-site installation, which is crucial when working against the clock.
Secondly, the trunking has pre-fabricated cut outs for services. This can be tailored to suit individual requirements for things such as nurse call alarm systems and plug sockets if required.
The trunking system is also made from 1.2mm mild Zintec steel, providing robust performance in even the most demanding of environments.
Conclusion
With its simple, yet effective design, Contour's new Medical Gas Trunking System is the ideal option for those dealing with increased demand at such a challenging time.
If you're involved in a healthcare project and would like to learn more, don't hesitate to get in touch with an expert today.
About Us
Contour produces a range of innovative, safe surface temperature systems for healthcare, education, mental health, commercial and secure sectors, working in close partnership and collaborating with architects, M&E engineers, NHS Trusts, local authorities, design consultants and contractors to deliver outstanding safe heating solutions.
Contour is the exclusive partner of BioCote® anti-microbial technology for LST and anti-ligature radiators. BioCote® additives reduce bacteria by up to 99.9% and are combined with Contour's extensive range of colour-paints to coat products for a durable, high-quality finish.
Contour's heating solutions offer secure, single-person quick access to radiator guard interiors for regular deep cleaning and maintenance. Each year, Contour save the NHS millions of pounds in cleaning costs, while delivering cleaner, safer environments. Contour has redefined the marketplace and is regarded by many as a design and innovation leader within the industry.
Contour's vision is supported by a quality-first philosophy and a passionate and conscientious customer focused team who possess a 'can-do' attitude, taking pride in developing solutions for your heating requirements.
Contact us at:
The Mansions, 43 Broadway Shifnal
Shropshire TF11 8BB United Kingdom
+44 (0) 1952 290 498