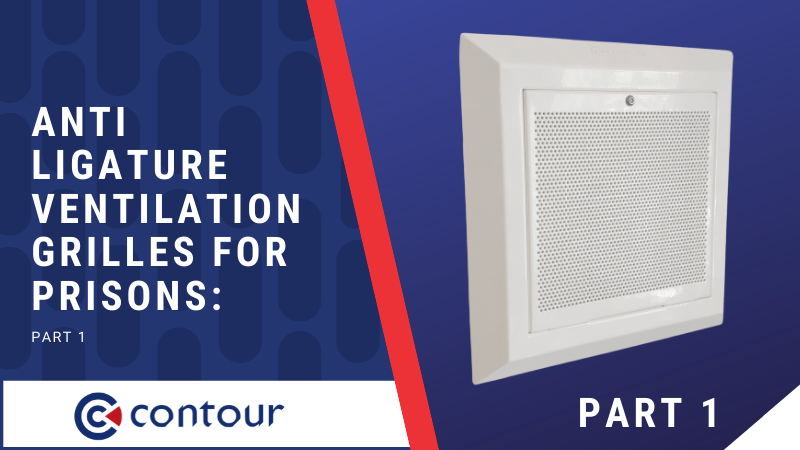 Contour's anti-ligature ventilation grilles closely align with the requirements set out by the Ministry of Justice in providing safe, secure prison cells.
The high-security grille is designed to promote and maintain airflow, whilst reducing any potential ligature points that are apparent in standard grille designs.
This blog sets out to highlight the importance of anti-ligature ventilation grilles in custodial environments, through two key design characteristics such as:
Anti-ligature grille design
Robust full frame
Part 2 will explore the following design characteristics:
Security fixings for authorised access only
Reducing Stash points
BioCote® protection
Anti-Ligature Ventilation Grille Design
In 'safer cells' and standard prison cells, there is a potential risk of suicide, self-harm or violence subjected towards others.
With ventilation grilles often being positioned on ceilings or high walls, they present an easy opportunity for strangulation through suspended hanging.
A recent report by The Independent highlighted that there has been a surge in prison suicide across England and Wales last year, with a rise in 23 per cent.
Clearly, there's a need to address this statistic in both the psychiatric support provided to prisoners and the opportunities given to prisoners when inflicting harm on themselves or others.
Standard Ventilation Grilles Pose a Ligature Risk
Standard grille openings and their overall structural design can result in harmful consequences for prison inmates due to the ease of ligature access.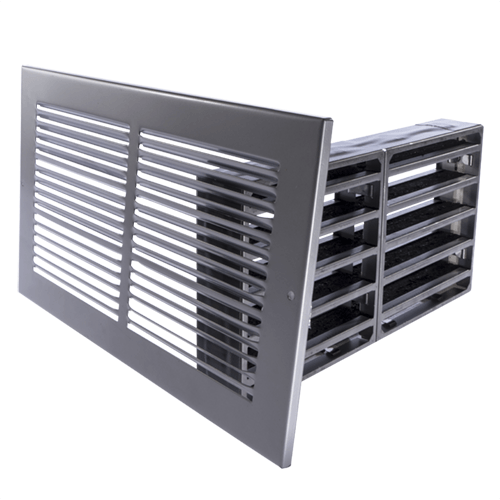 Anti-Ligature Ventilation Grille's Strength
Both safer cells and standard prison cells are particularly vulnerable to vandalism. A report from The Telegraph highlighted that,
'Prisoners smashing up their cells fuelled a prison maintenance bill of £320 million last year".
A National Audit Office report found that cell 'smash-ups' accounted for 40 per cent of unplanned maintenance at Feltham Young Offenders' Institution in south West London and up to 75 per cent at Stoke Heath YOI in Shropshire.
These figures highlight that the provision of robust, tamper-proof resources is essential in the prison environment.
Contour's Anti-Ligature Ventilation Grille Strength
Contour's anti-ligature ventilation grille is manufactured from 1.5mm Zintec Steel. This can be changed to 1.6mm Magnelis, which is suitable for wet environments, making them appropriately equipped to meet the demands as highlighted in the figures above.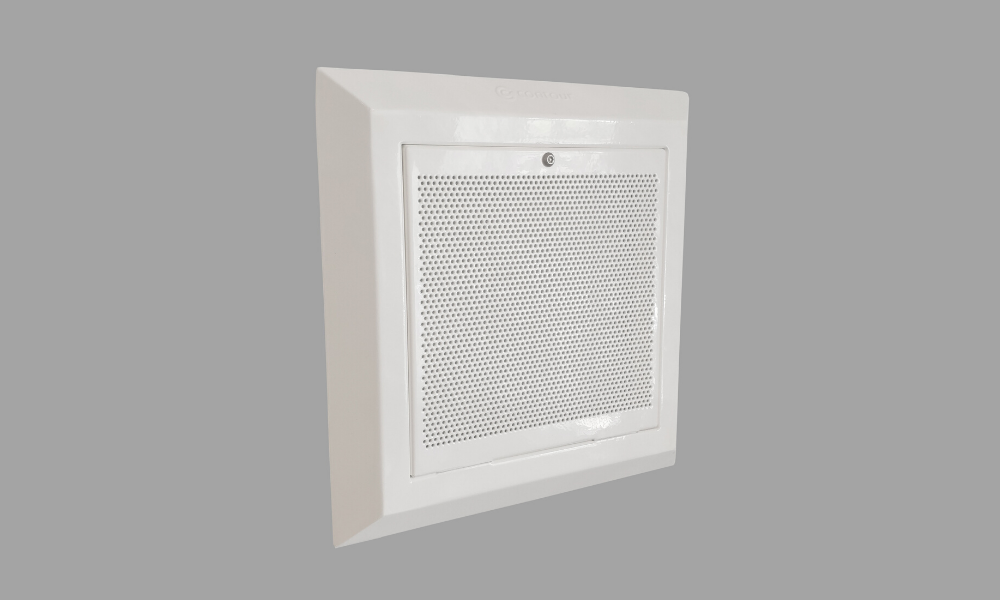 The Danger Of Improvised Weapons
Improvised weapons are a major cause for concern in prisons in England and Wales with many reports suggesting that improvised weapons are made from damaging other fixings and appliances.
This risk further concludes that a strong and secure ventilation grille is essential.
When you consider that many ventilation grilles on the market are made from plastic, specifiers should be aware of the risks associated with weak materials in prison cells, from not only a cost perspective-but to reduce the risk of improvised weapons.
Conclusion
We've highlighted some of the key characteristics that specifiers should look out for when identifying appropriate ventilation grilles for prisons.
Click here to read our next post. There you'll find out the importance of security fixings for authorised access only, the reduction of stash points and why anti-microbial protection in prisons is essential.
For more information, get in touch with one of our experts today.
About Us
Contour produces a range of innovative, safe surface temperature systems for healthcare, education, mental health, commercial and secure sectors, working in close partnership and collaborating with architects, M&E engineers, NHS Trusts, local authorities, design consultants and contractors to deliver outstanding safe heating solutions.
Contour is the exclusive partner of BioCote® anti-microbial technology for LST and anti-ligature radiators. BioCote® additives reduce bacteria by up to 99.9%. Contour combines an extensive range of colour-paints is with BioCote® for a durable, high-quality finish.
Contour's heating solutions offer secure, single-person quick access to radiator guard interiors for regular deep cleaning and maintenance. Each year, Contour save the NHS millions of pounds in cleaning costs, therefore delivering.
Topics: Pipe Boxing, prisons