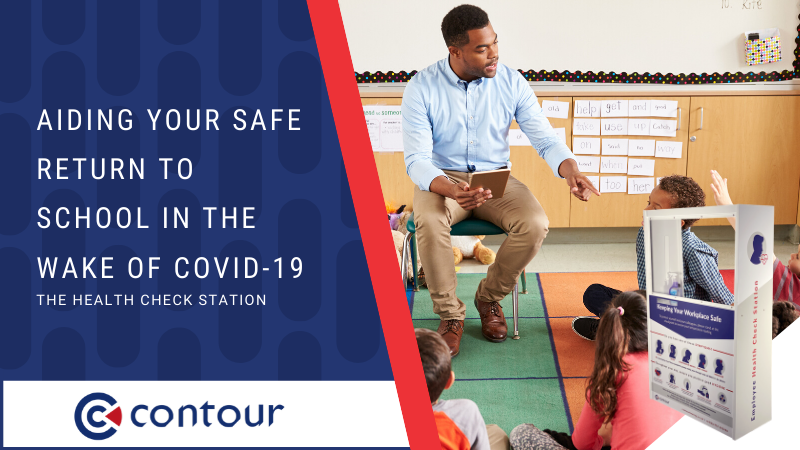 As part of Boris Johnson's 'conditional plan' for reopening the UK, we have seen pupils in Reception, Year 1 and Year 6 return to their schools after nearly three-months off, as a result of the Coronavirus pandemic.
These unprecedented times have forced us all to adapt in ways we didn't expect, and for those embarking upon their slow return to normality, we anticipate that these 'adaptations' will continue for a long time to come.
To help aid the safe return to school for staff, children and visitors, Contour's latest innovation, The Health Check Station, has been specifically designed to help control the spread of the virus.

What is The Health Check Station?
Designed to be placed in entrance ways and foyers, the Health Check Station will allow users to gain a temperature reading before entering the main building. In this case, a school.
With its mild steel construction and sturdy Perspex frame (complete with small cut out for temperature reading), this simple, yet effective design could help to detect an un-diagnosed symptom of Coronavirus.
As we're aware, a high temperature is a key symptom of the virus, yet one that is not as easily detected when compared to more flu-like symptoms.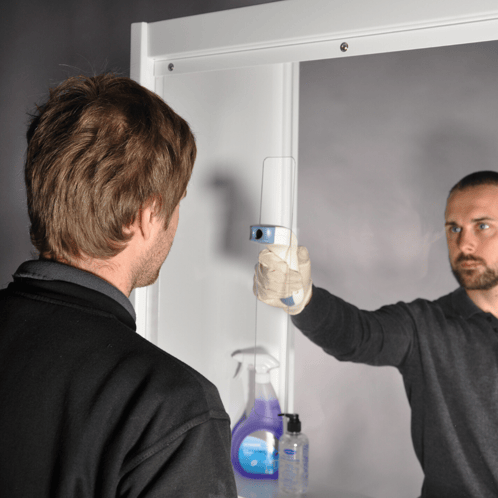 Why Is The Health Check Station Suited To School Environments in the Wake of COVID-19?
In 'normal' circumstances, schools are heavily populated places, and whilst the Prime Minister's conditional plan does not represent a complete return to normality, schools are likely to receive a high proportion of individuals in one space at a time.
Whether you're a parent, teacher, visitor or indeed a pupil, there will be risks associated with close contact over the coming months.
It's therefore crucial that steps are put in place to help contain the spread and advise those who are displaying underlying symptoms of the virus.
Design Options For The Health Check Station
As standard, the Health Check Station comes with a clear graphic that aligns itself with government guidelines for controlling the spread of the virus. However, The Health Check Station can also be supplied as a plain construction. Additionally, you can apply your own school's message onto the front of the station, giving the booth a more personal touch.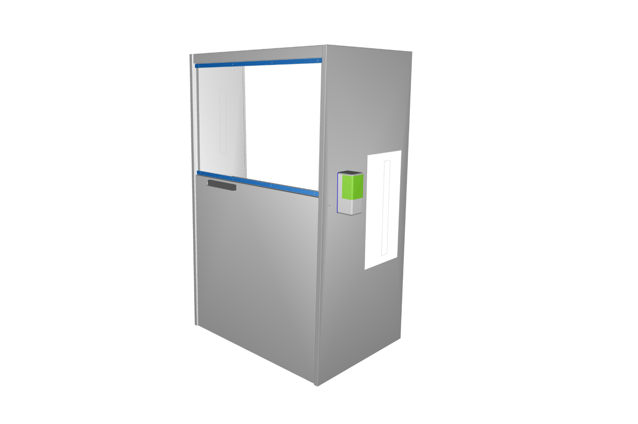 The Health Check Station can be adapted to suit a range of needs
Conclusion
You can find out more technical information on The Health Check Station, including product features and technical drawings on our product page.
If you want to talk more about how you can control the spread of COVID-19 in your school, or any work environment, talk to us today.
About Us
Contour produces a range of innovative, safe surface temperature systems for healthcare, education, mental health, commercial and secure sectors, working in close partnership and collaborating with architects, M&E engineers, NHS Trusts, local authorities, design consultants and contractors to deliver outstanding safe heating solutions.
Contour is the exclusive partner of BioCote® anti-microbial technology for LST and anti-ligature radiators. BioCote® additives reduce bacteria by up to 99.9% and are combined with Contour's extensive range of colour-paints to coat products for a durable, high-quality finish.
Contour's heating solutions offer secure, single-person quick access to radiator guard interiors for regular deep cleaning and maintenance. Each year, Contour save the NHS millions of pounds in cleaning costs, while delivering cleaner, safer environments. Contour has redefined the marketplace and is regarded by many as a design and innovation leader within the industry.
Contour's vision is supported by a quality-first philosophy and a passionate and conscientious customer focused team who possess a 'can-do' attitude, taking pride in developing solutions for your heating requirements.
Contact us at:
The Mansions, 43 Broadway Shifnal
Shropshire TF11 8BB United Kingdom
+44 1952 290 498