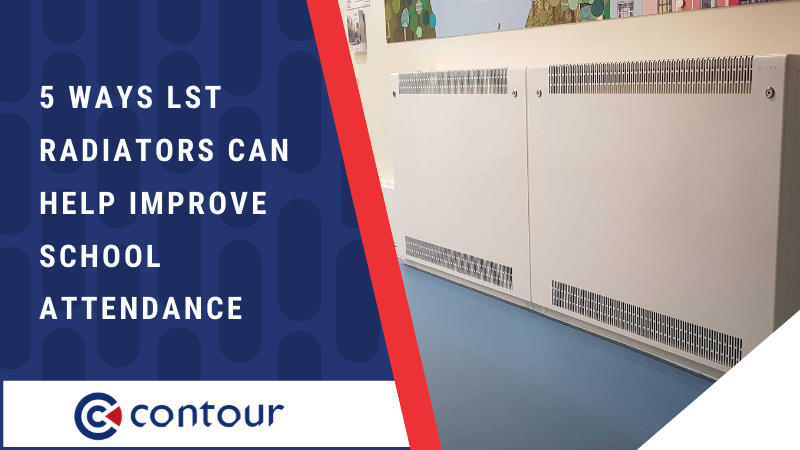 Low surface temperature, or LST radiators, have long been considered a safe heating solution, especially in places that are either populated by heavy traffic, or in environments that are used by those most vulnerable.
Noting this, LST radiators for schools have become one of the more popular environments - but not just for safety reasons. LST radiators also offer other benefits that assist in improving school attendance. Here's a closer look at the three ways these appliances help lower absenteeism, which in England averages 7.2 days per year during a student's primary years and 9.3 days annually during their secondary education years.
1. LST Radiators are Safer
As we noted above, LST radiators are low temperature appliances, so any inadvertent contact in the classroom to an exposed radiator isn't likely to result in injury. This feature alone makes them a safer overall heating solution, especially compared to conventional radiators, which may operate at surface temperatures ranging from 60 to 80 degrees Celsius.
2. LSTs Are Easier to Clean
Another nice thing about LST radiators, especially in the classroom setting, is that they're easy to clean and maintain. Compared to conventional radiators, which take up to 30 minutes to clean after proper disassembly, LST radiators can be easily cleaned by one person in about 5 minutes. This can help keep the classroom environment safer and healthier - and with minimal effort from cleaning and maintenance staff.
3. They Promote an Overall Healthier Environment
Many people joke that schools are like Petri dishes for germs - and they're not wrong. In fact, it's estimated that bacteria in primary schools is up to 15 times more prevalent than it is in the average indoor environment.
And one of the items that collects the most bacteria in a classroom is the radiator, which often heats to ideal temperatures to harbour this bacterial growth. LST radiators can help improve the indoor air quality in the classroom, as their surfaces work to better inhibit microbial growth to keep classrooms healthier.
4. LST Radiators May Have Anti-Microbial or Antibacterial Protection
Radiators that are surface treated with bacteria-inhibiting additives are proven to reduce bacteria up to 95 percent in these environments, which can help keep children in school, and absenteeism to a minimum.
Many LST radiators now boast a form of protective coating, whether anti-bacterial or anti-microbial. For the specifier, it may be difficult to differentiate between the two.
While an antibacterial agent will kill a large range of mild bacteria, an antimicrobial agent offers a much broader scope of protection acting as an antibacterial, antibiotic, antifungal, antiparasitic and antiviral agent all-in-one! Source.
This suggests that specifiers – or those responsible for the heating appliances within a school – should seek to choose a product that offers the greatest level of protection. In this case, an anti-microbial is far more superior than an anti-bacterial coating.
BioCote® is an anti-microbial. Contour's DeepClean range of LST and anti-ligature radiators and guards all benefit from this superior protection. You can learn more about BioCote's unique properties here.
Studies have shown that BioCote®-protected classroom appliances have, in fact, reduced school absenteeism. During a recent study, two classrooms underwent a scientific analysis over the course of a year. One classroom contained BioCote-protected furniture and appliances, whilst the other classroom contained zero BioCote-protected items.
Alarmingly, the protected classroom reported an astonishing 20% reduction in pupil absenteeism over the course of the academic year. If you'd like to find out more on this case study, click here.
5. LST Radiators May Have Pencil Proof Grilles
When children are around, the design of furniture, fixtures and fittings should prevent injury and damage wherever possible. Quite often, radiator grilles are subjected to stationary and other classroom items being pushed inside the internal area of the radiator, causing damage over time.
Additionally, grilles to pose a risk of fingers or clothing being caught inside them.
When specifiers are looking for low surface temperature solutions, grill design should be closely considered. To read more about pencil-proof grilles, click here.
Contact Contour Heating Today
Being that a child misses more than 50 days on average during their primary education years and more than 46 days during their secondary education years due to absenteeism, it's important to address issues that are preventing students from learning in the classroom environment.
And one of the biggest reasons for absence is none other than illness. Incorporating safer, healthier appliances in the classroom can help. For more information on LST radiators and how they can help reduce absenteeism rates, contact Contour Heating today.
About Us
Contour produces a range of innovative, safe surface temperature systems for healthcare, education, mental health, commercial and secure sectors. We work in close partnership with architects, M&E engineers, NHS Trusts, local authorities, design consultants and contractors to deliver outstanding safe heating solutions.
Contour is a partner of BioCote® anti-microbial technology for LST and anti-ligature radiators. BioCote® additives reduce bacteria by up to 99.9% and are combined with Contour's extensive range of colour-paints to coat products for a durable, high-quality finish.
Contour's heating solutions offer secure, single-person quick access to radiator guard interiors for regular deep cleaning and maintenance. Each year, Contour save the NHS millions of pounds in cleaning costs, while delivering cleaner, safer environments. Contour has redefined the marketplace and is regarded by many as a design and innovation leader within the industry.
Contour's vision is supported by a quality-first philosophy and a passionate and conscientious customer focused team who possess a 'can-do' attitude, taking pride in developing solutions for your heating requirements.
Contact us at:
The Mansions, 43 Broadway Shifnal
Shropshire TF11 8BB United Kingdom