Our client's old, damaged radiator covers needed to be replaced with casings that allow easy access for maintenance and cleaning, due to children inserting small items through the grilles.

Contour provided onsite meetings to ensure that they knew exactly what we needed to achieve. Following Contour's return to take final measurements, it was only 2 weeks before our radiator covers were ready for instalment.

On behalf of Walton Hall, HPI are delighted with Contour's radiator guards – both the products and the service. The radiator covers are strong and allow caretakers full access to the inside of the casings for routine maintenance. The casings provide safe heating for the children without any sharp edges that could cause injury.

We can't rate Contour highly enough and would recommend their bespoke radiator covers to all SEN schools.

– Steve Kirbyshire, Director of Small Works and Refurbishment – HPI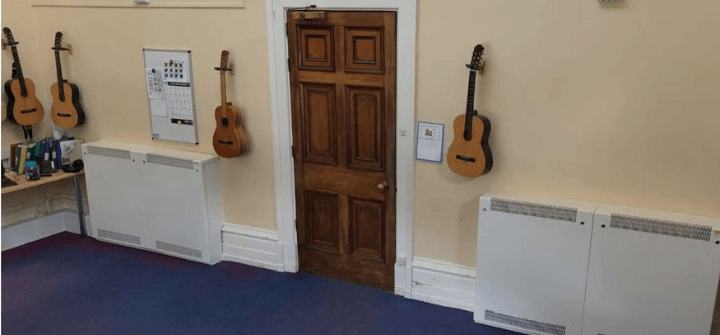 Contour have recently completed a successful heating project appointed by HPI Stoke for Walton Hall Academy. The special educational needs school required 19 DeepClean radiator covers to protect their cast iron radiators and ensure safety. DeepClean radiator covers are designed with radius edges and bullnose corners to be robust and offer maximum protection for children who struggle with disabilities.
Walton Hall Academy is a high-achieving SEN school in Eccleshall, Staffordshire. Students of Walton Hall benefit from extensive specialist facilities and residential care during short-term boarding.
Walton Hall's pre-existing cast iron radiators are a non-traditional design that ready-manufactured casings do not fit. Contour worked to create bespoke radiator guards that would completely protect the radiators and ensure safety.
Contour prioritise manufacturing specialist LST radiator covers that are tailored to each individual setting. The DeepClean covers for Walton Hall are designed to fit into classroom alcoves to save space for learning activities and overcome issues noted during surveying.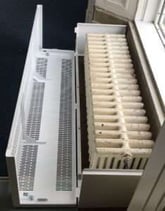 The radiator covers are reinforced with strengthening struts to add strength to the top of the casings and improve overall durability. This will be particularly beneficial should children attempt to sit on the radiators. Walton Hall's bespoke project is the first radiator cover manufacture in which Contour have integrated strengthening struts in the top of the casings.
Why Specify DeepClean LST Radiators And Radiator Covers?
DeepClean LST radiators and radiator covers are designed with a full length drop-down front access door. This allows fast and easy access to the heat emitter inside for regular cleaning and maintenance.
DeepClean radiators and radiator guards are coated with BioCote® anti-microbial coating. The patented coating technology provides effective, permanent protection to surfaces against the growth of harmful microbes. A regular testing regime shows that BioCote kills up to 99.96% of pathogens including MRSA, E. coli and Salmonella within two hours of contact.
DeepClean LST radiator covers feature rounded edges and bull-nose corners, minimising the risk of injury.
DeepClean casings are finished with a tough, easy-clean, white PPC paint. However, Contour are able to provide guards finished in any RAL or BS colour, subject to minimum order.
The DeepClean range is supported by a comprehensive package, comprising of free site consultations, a bespoke design facility, short delivery lead times and an approved installation service.
DeepClean grilles provide maximum heating efficiency.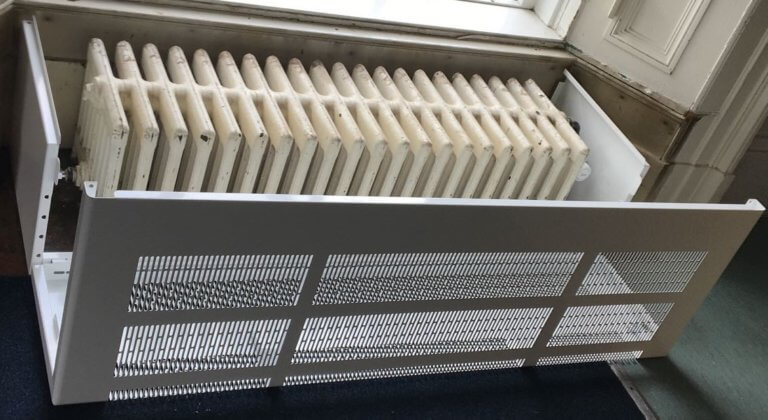 How Could Contour LST Radiators Improve Safety In Your Educational Setting?
All schools require safe heating solutions. Contour achieve this through anti-microbial, easy to clean, safe-temperature radiators and radiator covers that are made to specification (in any colour of your choice) to improve safety and hygiene in your nursery.
To find out how Contour services can be tailored for your school, sign up below and a heating expert will contact you.
For comprehensive information on Contour's entire LST and anti-ligature radiator & cover range, or to arrange a free site survey, call 01952 290 498, or email sales@contourheating.co.uk