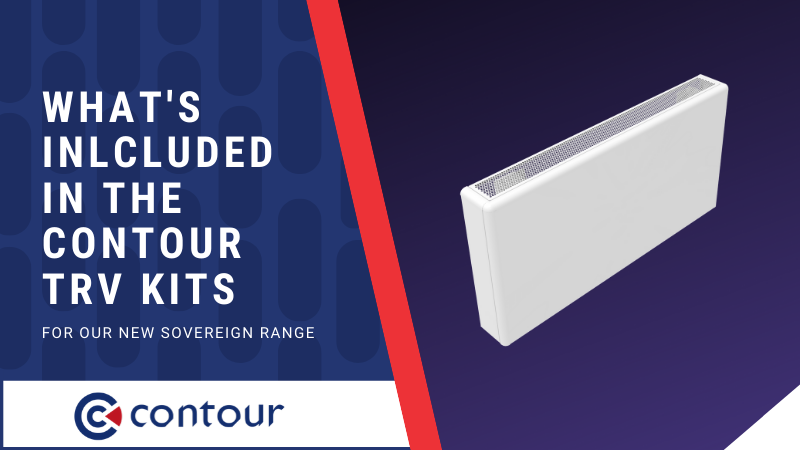 With the release of the new Sovereign Wall & Floor Mounted range, this post sets out to highlight the different TRV kits available.
Contour offers three different thermostatic radiator valve (TRV) kits specifically designed for our Sovereign LST radiators. They are available for both two pipe and one pipe systems.
Read on to find out what's included in the kits…
Contour Introduces A New Sovereign Range
Contour's new range of wall and floor mounted heat convectors provide a simple, safe and stylish solution for your heating requirements.
Ideal for schools, care homes, offices and other public establishments, the Sovereign range comes in a variety of different colours to meet your aesthetic requirements.
Click here to view the Sovereign product page. Here you can access a full list of features, as well as technical literature including data sheets about output tables.
To read more about our new Sovereign range, read our latest blog here.

90210-13 Standard Internal TRV Kits
This TRV system is suitable for areas where access to the valve is not of a high priority and can be adjusted once a year.
The standard internal TRV kit must only be used in Bottom Bottom Opposite End (BBOE) connections to avoid the thermostatic head from getting false temperature readings.
Comprising:
1 no. 9200-30 Design Sensor
1 no. 7724-91 TS-90 Angle Body 1/2"
1 no. 3724-41 Return Valve Angle 1/2"
2 no. 6292-01 15mm Nut & Olive
7463-41 Internal TRV Kit With Remote Sensor
This is suitable for spaces where it doesn't need regular adjustments. However, the radiator is connected TBOE, meaning the thermostat will be located at the top of casings.
This means that you would locate the remote sensor at the bottom inlet grill. Suited to TBOE connections, you will be able to read the correct temperature.
Comprising:
1 no. 9430-08 Remote Sensing Phial 2m
1 no. 7724-91 TS-90 Angle Body 1/2"
1 no. 3724-41 Return Valve Angle 1/2"
2 no. 6292-01 15mm Nut & Olive
9330-41 Standard External TRV Kit
This kit allows service users to adjust the temperature of the room themselves as the remotes and thermostat is placed outside of the casing.
Comprising:
1 no. 9230-06 Design Sensor
1 no. 7724-11 TS-E Angle Body 1/2"
1 no. 7350-60 Capillary & Fixing Adaptor
1 no. 3724-01 RL-1E Return Valve 1/2"


Conclusion
The purpose of this blog is to demonstrate what's inside the box when you purchase one of our TRV kits.
As you can see, there are many options available, depending on your individual needs and requirements.
If you would like to learn more about Contour's TRV kits, click here.
Alternatively, you can get in touch with one of our experts by filling in the form below.
About Us
Contour produces a range of innovative, safe surface temperature systems for healthcare, education, mental health, commercial and secure sectors, working in close partnership and collaborating with architects, M&E engineers, NHS Trusts, local authorities, design consultants and contractors to deliver outstanding safe heating solutions.
Contour is the exclusive partner of BioCote® anti-microbial technology for LST and anti-ligature radiators. BioCote® additives reduce bacteria by up to 99.9%. Contour combines an extensive range of colour-paints is with BioCote® for a durable, high-quality finish.
Contour's heating solutions offer secure, single-person quick access to radiator guard interiors for regular deep cleaning and maintenance. Each year, Contour save the NHS millions of pounds in cleaning costs, therefore delivering.