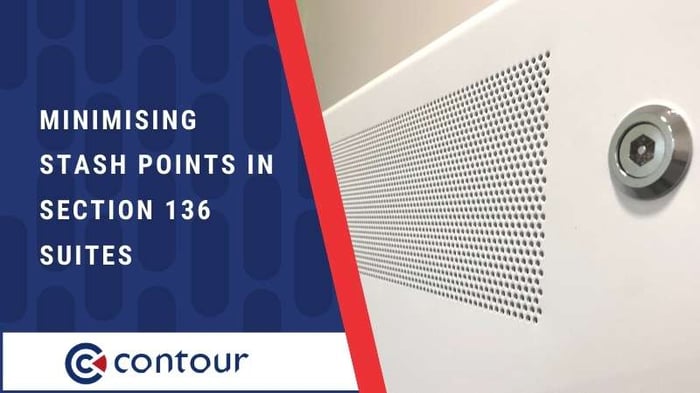 The Section 136 suite provides security for individuals who have been arrested under Section 136 of the Mental Health Act by the police following concerns that they are suffering from a mental disorder.
In Section 136 suites, individuals are searched before they enter a suite and, in most cases, they'll only be staying for a short period of time. Therefore, stash points may not be a serious area of concern.
However, in an unlikely event where an individual chooses to use stash points, specifiers and architects need to consider a heating solution that has small ventilation grilles and pipe boxing to minimise the risk.
Stash Point Considerations for Section 135 Suites
Despite the level of search that takes place, contraband such as drugs, mobile phones, and even weapons are items that can be found in stash points.
A Section 136 Suite should be designed to minimise the potential for Users to stash any objects or items that could cause harm to themselves or any workers within the setting. This means that furniture, fixtures and fittings should be carefully considered.
For example, any exposed pipework could be used as a stash point, so it's vital that this is covered with a robust solution, such as steel pipe boxing.
Secondly, items could be stored behind or inside exposed grilles, such as those found in conventional radiators and air conditioning units.
Wide grille design – or any exposed ligature – will also make an item more vulnerable to vandalism, creating more opportunities to stash objects in concealed areas.
With Contour's pipe boxing, the exposed pipework is fully encapsulated by a 2mm Zintec steel casing, making it highly efficient at preventing individuals within section 136 suites from stashing contraband around the pipework.
With Contour's Anti-ligature radiators and guards there are characteristics to make it difficult for stash points, such as:
Small IP3X grilles
(If wall secured) No large gaps between product and wall
Minimal gaps or joints
No sharp edges
Bullnose, rounded corners
Security locks and fixings



Reducing Stash Points With Anti-Ligature Features
Anti-ligature solutions are often specified in areas where there's a potential risk for suicide and self-harm.
However, the anti-ligature radiator and guard's full casing and IP3x grille design ensure that they're the ideal deterrent for the cover-up of contraband; making it highly unlikely for individuals to hide items inside casings.
Along with Contour's easy-access locking system, routine checks can be carried out safely and thoroughly in the unlikely event of an item being placed inside the casing's interior.
Conclusion
Through the appropriate specification of heating and ventilation solutions within section 136 suites, you can reduce occurrences of hidden contraband, helping to promote a safe and custodial environment.
Section 136 need to be comfortable environments for the individuals that enter them, therefore a relaxed environment without the worry of stash points is necessary for the wellbeing of these individuals.
For more information on how Contour's products can provide effective heating and ventilation grilles for your section 136 suite project, get in touch with one of our experts today.



About Us
Contour produces a range of innovative, safe surface temperature systems for healthcare, education, mental health, commercial and secure sectors, working in close partnership and collaborating with architects, M&E engineers, NHS Trusts, local authorities and contractors to deliver outstanding safe heating solutions.
Contour is the exclusive partner of BioCote® anti-microbial technology for LST and anti-ligature LST radiators. BioCote® additives reduce bacteria by up to 99.9%. Contour combines an extensive range of colour-paints is with BioCote® for a durable, high-quality finish.
Contour's heating solutions offer secure, single-person quick access to radiator guard interiors for regular deep cleaning and maintenance. Each year, Contour save the NHS millions of pounds in cleaning costs, therefore delivering cleaner, safer environments. Contour is redefining the marketplace and therefore many regards us as a design and innovation leader within the industry.
Contour has a quality-first philosophy. Our customer-focused team possess a 'can-do' attitude, they take pride in developing solutions for your heating requirements.