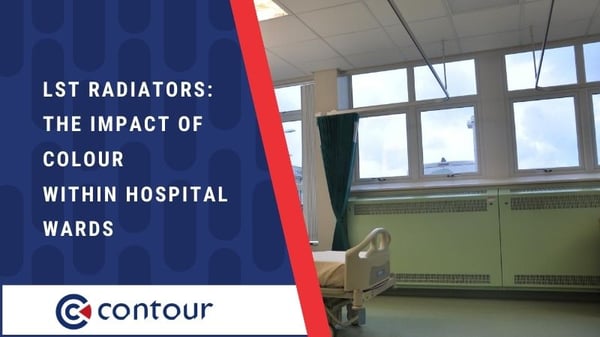 The psychology of colour is impactful. Colour is an integral part of our life and without colour, life would be dull and lifeless. It's all around us, with nature and it has the power to influence our feelings.
Often overlooked, colour can have a huge impact on the hospital environment. Hospitals are known for their white interior, which now psychologically has a 'clinical' feel.
'It's pure science when we say colours are infused with healing power' (Simour). Showcasing colour in hospitals can play a part in patients' responses towards medical care and acute recovery.
Read on to find out how LST radiators colour can have psychologic impacts…
Colour In Hospital Wards
Escaping this clinical feel, the hospital design should accommodate a comforting atmosphere as well as, a practical one.
Especially for patients who spend a considerable amount of time in a hospital – they should be able to feel at home.
A hospital stay is already a daunting experience for many individuals. Sleeping in unfamiliar spaces can be difficult, particularly if it doesn't feel welcoming or homely.
As soon as patients walk into a hospital they'll instantly make a judgement on whether the hospital will provide them with the quality of care that they'll need.
It's imagined that green shades provide a feeling of stability and harmony whilst red can raise blood temperature and help those experiencing weakness or fatigue.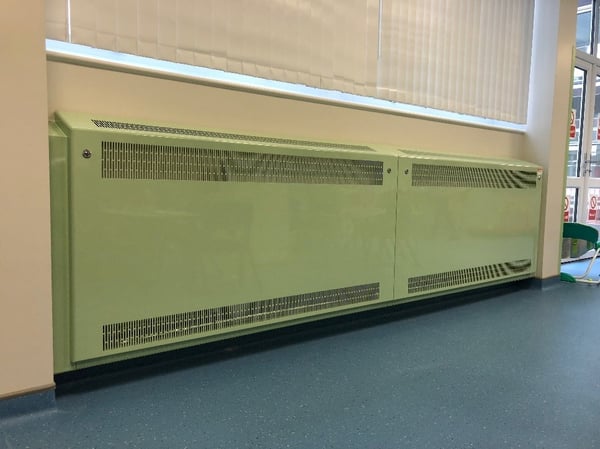 Tones of orange can trigger mental activity, so orange is often avoided within psychological well-being settings.
However, orange can stimulate appetite, which can help in the treatment of those with eating disorders. Also, the use of yellow can help in processing and intestinal movements.
In dementia wards, colour can sadly become a confusing experience for dementia patients. This uncertainty can happen with patients struggling to locate bathroom facilities.
Unable to differentiate between white LST radiators and other white facilities, such as toilets, there have been cases where white radiator covers have been used as urinals or toilets.
Colour In Children's Wards
Children can often become frightened in unfamiliar places such as, hospitals. Therefore, colour psychology is important for the overall feeling of contentment for children.
Contour have previously installed green LST radiators that blended in with a children's ward which was jungle themed.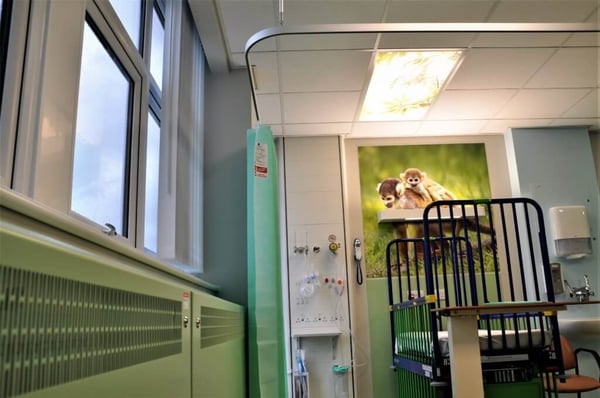 This was to help elevate anxiety levels that may slow down children recovery rates so that the children felt secure and at home.
The overall objective was to transform a cold clinical ward into a friendly and calming environment for children. Whilst maintaining optimum hygiene levels with our BioCote® radiator coating.
RAL Chart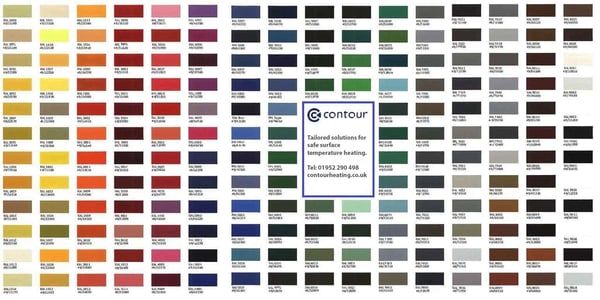 Working from a RAL chart, Contour can deliver almost any colour LST radiator, to match with your colour schemes.
Conclusion
It's no doubt colour can have profound effects on all walks of life within hospitals. Working from a RAL code and a RAL chart, Contour can provide you with LST radiators in a range of colours to suit your needs - both aesthetically and psychologically.
We understand the psychology of certain spaces. As part of our consultancy, whilst working alongside you, we can understand your needs to make appropriate colour recommendations.
About Us
Contour produces a range of innovative, safe surface temperature systems for healthcare, education, mental health, commercial and secure sectors, working in close partnership and collaborating with architects, M&E engineers, NHS Trusts, local authorities, design consultants and contractors to deliver outstanding safe heating solutions.
Contour is the exclusive partner of BioCote® anti-microbial technology for LST and anti-ligature radiators. BioCote® additives reduce bacteria by up to 99.9%. Contour combines an extensive range of colour-paints is with BioCote® for a durable, high-quality finish.
Contour's heating solutions offer secure, single-person quick access to radiator guard interiors for regular deep cleaning and maintenance. Each year, Contour save the NHS millions of pounds in cleaning costs, therefore delivering cleaner, safer environments. Contour is redefining the marketplace and therefore many regard us as a design and innovation leader within the industry.
Contour has a quality- first philosophy. Our customer-focused team possess a 'can-do' attitude, they take pride in developing solutions for your heating requirements.
Contact us at:
The Mansions, 43 Broadway Shifnal
Shropshire TF11 8BB United Kingdom
+44 1952 290 498
Twitter: @Contour_Heating
LinkedIn: Contour Heating Products Ltd
Topics: LST Radiators, news