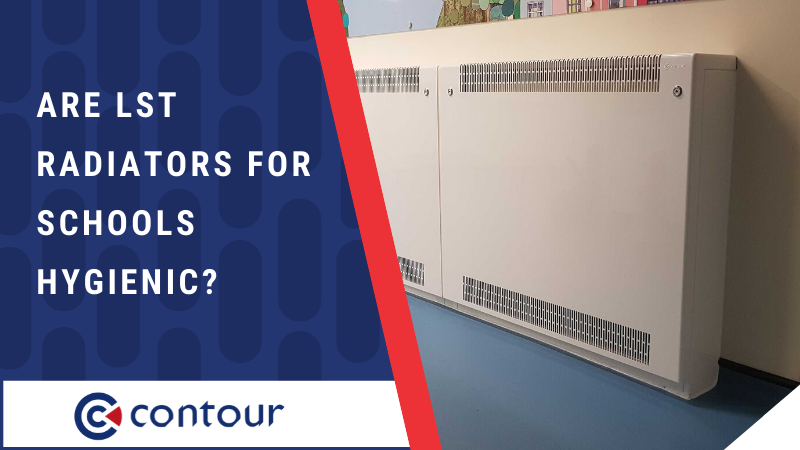 Upholding exceptional hygiene standards in all educational settings is of utmost importance, particularly in the wake of COVID-19.
Now, more than ever, those responsible for the refurbishment of a school environment should be looking at ways to help minimise the spread of infection.

Many LST radiators are designed in such a way that allows for efficient, yet thorough cleaning. This blog aims to explore some design characteristics for specifiers to look for during their product research process.
Read on to find out more...
How are Contour's LST Radiator Covers Optimised For Hygiene?
BioCote®
As exclusive partners with the leading provider of anti-microbial technology, BioCote®, Contour highly recommends the unique antimicrobial protection that the coating can provide.
BioCote® supply Contour with anti-microbial additives, which are integrated into the paintwork stage of our manufacturing process for all DeepClean radiator covers and their anti-ligature heating solutions. The anti-microbial additives destroy up to 99.9% of bacteria in under two hours, and a significant microbial reduction is clear within just fifteen minutes.
BioCote® has over 20 years' worldwide experience in the development and application of anti-microbial technology and guarantee superior anti-microbial performance.
This performance lasts for the lifetime of the radiator cover.
To learn more about BioCote®, including latest test certificates, click here.
Easy Cleaning Design
Traditional radiator covers tend to be basic, fixed units that are difficult to access, preventing thorough cleaning. They also harbour dangerous levels of bacteria. Internal cleaning requires complete disassembly and assistance from facilities estates personnel. All too often, this proves too difficult and time-consuming, so cleaning is dropped from the priority list.
The results of this?
Dangerous levels of bacteria multiply in and around radiators, causing increased levels of illness in the classroom.
A radiator cover interior that hasn't been cleaned, combined with the convection process, forms the perfect condition for the multiplication and distribution of harmful bacteria. The risks are all too prevalent year-round, but they increase in winter. During the convection process, dormant bacteria are re-activated with moisture as the radiators heat. The period of stasis ends as the bacteria continue to multiply, and the risk of illness grows.
Contour implement solutions to battle these hygiene-related issues with our DeepClean range.
| | |
| --- | --- |
| Traditional LST Radiator Covers | Contour DeepClean LST Radiator Covers |
| Covers require two people to clean, including estates personnel. | Only one person required to clean. |
| Covers require a minimum of thirty minutes to remove, casing, clean interior, clean radiator and clean the surrounding floor space. | Takes five minutes to remove casing, clean interior and clean the radiator and surrounding floor space. There is no need to replace sealant around units. |
| It is not possible to clean behind the covers. | The wall and back of the radiator can easily be reached and cleaned. |
| In 7 hours, 2 people can clean 14 LST radiator covers | In 7 hours, 1 person can clean 84 radiator covers. |
| In 10 days, 2 people can clean 150 radiators. | In 2 days, 1 person can clean 150 radiator covers. |
Optimised for maximum hygiene and, ultimately, minimal disease, Contour LST products include, but are not limited to:
Wall-to-wall radiators and covers: These protect users from perimeter or finned pipe heating systems; they also bridge gaps between radiator covers and adjoining walls.
Bay window radiator covers: These allow low surface temperature systems to follow angled walls using internal fixing brackets.
Free-standing radiator covers: These are designed for environments where it is not possible to achieve a fixing behind the cover. Instead, free-standing radiators have a floor mounted fixing system.
Vertical radiator covers: The grilles in these covers are located centrally to provide maximum efficiency of heat convection.
Corner fitted covers: These open shoulder design guards fit into corners, particularly beneficial for tight spaces.
Rotarad rotating radiator valves: Rotarad is a unique WRAS, KTW and ACS approved rotating valve kit. The valves are suitable for new installation projects and existing radiators. Rotating valves allow emitters to pivot away from the wall to the floor and deliver complete access behind the radiator for cleaning.
Security cables: Useful for oversized doors, radiator cover door cables can be fitted to the interiors of DeepClean models to prevent the covers falling to the floor when the casing is opened.
Universal valve adapters: These convert existing valves, such as Drayton, Myson and Danfoss brands, allowing them to accept our valve bodies.
Front-facing TRVs: These are positioned over the front of a unit if access to the side of a radiator cover is restricted.
Hygiene In The Education Sector
Hygiene in education is pivotal to the health and wellbeing of children. When hygiene is optimised, healthier children contribute to better educational outcomes. Contour's specialist DeepClean designs are fundamental in the refurbishment of schools to undergo a key shift in the welfare of all students and staff. Contour work with educational environments for all age-ranges to build happy and healthy spaces for new generations to learn and grow.
If you would like to be contacted by Contour to find out how we could minimise classroom-associated illnesses in your educational environment, contact us.
About Us
Contour produces a range of innovative, safe surface temperature systems for healthcare, education, mental health, commercial and secure sectors, working in close partnership and collaborating with architects, M&E engineers, NHS Trusts, local authorities, design consultants and contractors to deliver outstanding safe heating solutions.
Contour is the exclusive partner of BioCote® anti-microbial technology for LST and anti-ligature radiators. BioCote® additives reduce bacteria by up to 99.9% and are combined with Contour's extensive range of colour-paints to coat products for a durable, high-quality finish.
Contour's heating solutions offer secure, single-person quick access to radiator guard interiors for regular deep cleaning and maintenance. Each year, Contour save the NHS millions of pounds in cleaning costs, while delivering cleaner, safer environments. Contour has redefined the marketplace and is regarded by many as a design and innovation leader within the industry.
Contour's vision is supported by a quality-first philosophy and a passionate and conscientious customer focused team who possess a 'can-do' attitude, taking pride in developing solutions for your heating requirements.
Contact us at:
The Mansions, 43 Broadway Shifnal
Shropshire TF11 8BB United Kingdom
+44 1952 290 498