Installing LST radiators into a space doesn't have to mean installing plain white radiator covers that are clinical in appearance and often don't match the tone of the room.
Contour Heating supply LST radiators in different colours and we understand how different colours can affect how a space works for its users.
Read on to find out more…
Hospitals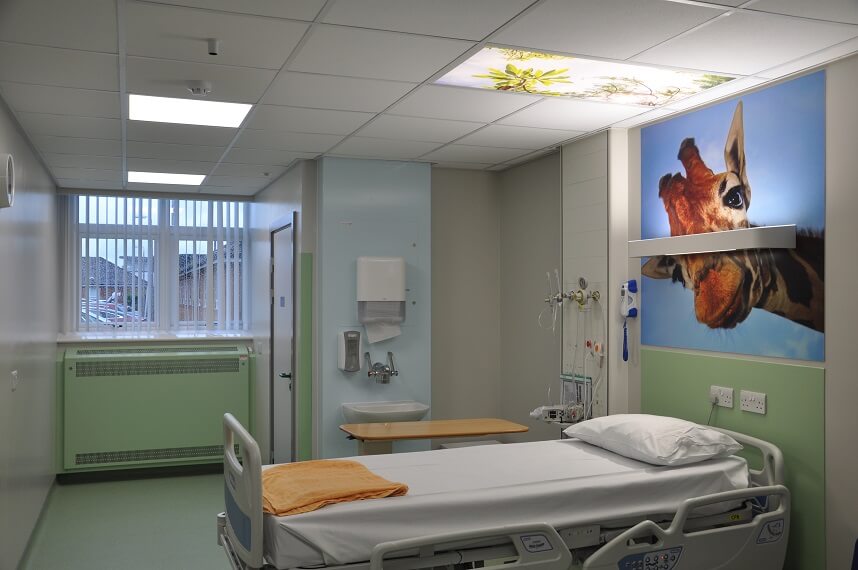 Nobody wants to be in hospital, and any amount of time there can be stressful and uncomfortable for service users and their families. It's important that the design of a hospital incorporates elements that make it a calm environment for everybody to ease the pressure of these already stressful situations.
Colour is a huge part of this.
Light blues and greens are typically calming colours that can help create a more settled environment and sends a trust signal to people that they are safe to help them relax. Healthcare leaders such as the NHS and Bupa use blue in their logo for example because it's associated with trustworthiness.
In certain spaces, it can be beneficial to create an environment that distracts from the situation such as in a children's ward. Contour have experience working in this type of environment, providing green LST radiators to Leighton Hospital children's wards where a jungle theme was employed to make the environment seem more friendly towards children.
Colours can impact on our mental activity, even on a subconscious level and this means that it's important to put the right colours in the right spaces. This goes beyond simply making a space more aesthetically pleasing.
In maternity wards, yellow is rarely used because, despite its happy connotations, it's known to have a distressing effect on babies.
Similarly, strong colours such as red can raise blood pressure which can make it inappropriate for cardiac wards.
In mental health wards, colours such as blue can have a suppressing effect on appetite, making it potentially inappropriate if the ward is treating those with eating disorders.
Getting the right colour for the space is essential for creating a manageable environment where staff and service users are comfortable and calm.
Schools
Cool colours on LST radiators such as purple and blue have been found to have a calming effect on the mind as well as stimulating the way that they learn. In a school this can impact on how students interact with lessons and take in information.
The colour blue influences the creative side of the brain. Installing LST radiators in this colour into an English or art classroom, where creativity is key, students will be in a more stimulating environment that will help them grasp subject matter, complete tasks and reach their full creative potential.
Purple, which is classified as a cool colour because there is blue in the pigment, promotes prob solving thinking. In a maths or science classroom, where students are dealing with technical queries, an LST radiator in this colour could promote that style thinking.
Cool colours can also promote a calm feeling which can promote more positive attitudes and behaviours, creating happier learning environments for staff and students.
Conclusion
Colours can subconsciously impact on our mood and create physical symptoms in our bodies such as increased blood pressure. In schools, hospitals and mental health facilities it's important to get the right colour for the space to create a calm environment.
Contour offers close consultation with you and can provide any colour to match your space requirements based on a RAL chart. If you're unsure about how to get the right colour for your space, fill out the form below and a heating expert will be in touch!
About Us
Contour produces a range of innovative, safe surface temperature systems for healthcare, education, mental health, commercial and secure sectors, working in close partnership and collaborating with architects, M&E engineers, NHS Trusts, local authorities, design consultants and contractors to deliver outstanding safe heating solutions.
Contour is the exclusive partner of BioCote® anti-microbial technology for LST and anti-ligature radiators. BioCote® additives reduce bacteria by up to 99.9%. Contour combines an extensive range of colour-paints is with BioCote® for a durable, high-quality finish.
Contour's heating solutions offer secure, single-person quick access to radiator guard interiors for regular deep cleaning and maintenance. Each year, Contour save the NHS millions of pounds in cleaning costs, therefore delivering cleaner, safer environments. Contour is redefining the marketplace and therefore many regard us as a design and innovation leader within the industry.
Contour has a quality- first philosophy. Our customer-focused team possess a 'can-do' attitude, they take pride in developing solutions for your heating requirements.
Contact us at:
The Mansions, 43 Broadway Shifnal
Shropshire TF11 8BB United Kingdom
+44 1952 290 498
Twitter: @Contour_Heating
LinkedIn: Contour Heating Products Ltd