LST Radiators are often thought of as being large, clinical looking constructions for hospitals, residential care homes or schools. This can make the atmosphere feel intimidating to service users.
Contour are often asked if we can make designer adjustments to our LST radiators to make them less clinical-looking. We have put together this blog post to explore the designer options available to our customers.
Bespoke Grille Design
Creating a product that makes a space feel more personal can make a huge difference in the way that people interact with it.
Contour can provide LST radiators with the logo of your schools, hospital or trust punched into the grille; making it part of the overall design. This would give your space a more personal feel.
Open Ended Shoulders
Contour can create LST radiators designed to fit wall to wall rather than just over the radiator.
This can be an option from a safety perspective or to remove the look of a radiator jutting out from the wall. Wall to wall features gives a smoother look to a space. This comes with an additional safety benefit as it removes the edging from the sides which could cause injuries with they are fallen again.
Colour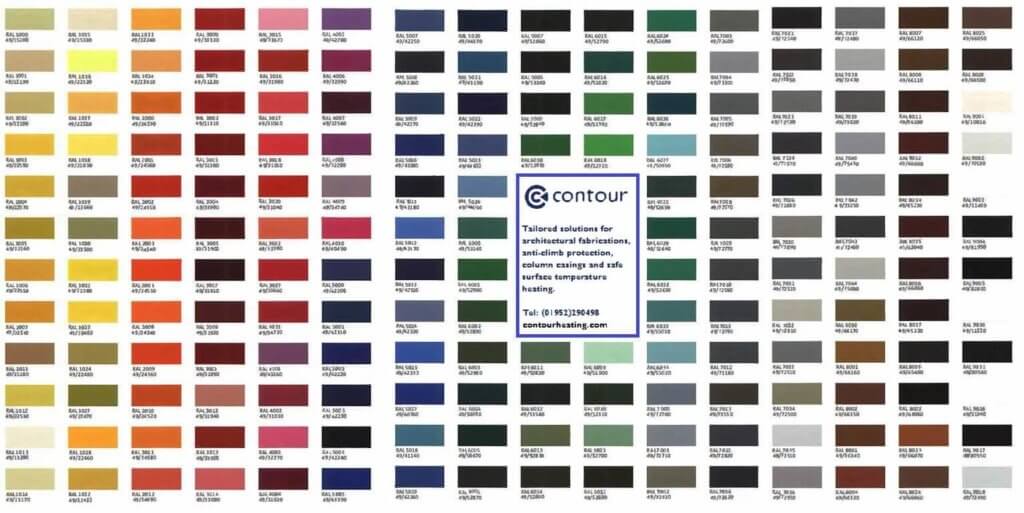 Using Contour's RAL Chart, you can select any colour for your LST radiators to make them blend seamlessly into any environment.
For children's hospitals, this can be particularly effective, removing the clinical look of a ward to relieve some of the distress from emotional situations such as young people staying in hospital.
Contour has recently completed a project bringing green radiator covers to a children's ward at Leighton Hospital in Crewe. The ward was jungle themed and we supplied radiators coloured to match this environment; removing the clinical feel of standard white radiators.
Graphics Wrap
As well as colours from the RAL chart, Contour can consult with you to have radiator covers graphics-wrapped for a more aesthetically pleasing look to the LST radiators.
Working on a one-to-one basis with our clients, we can consult on how our products can be graphics-wrapped; making spaces look more inviting and engaging for all.
Bespoke Sizing
Contour LST radiators come in sizes between 300mm x 300mm, with a 500mm x 550mm radiator cover and 2200mm x 1045mm.
However, we can work outside of these parameters on a bespoke basis with our clients, creating LST radiators to suit you!
We can also provide vertical solutions if wall space is limited; creating a taller LST radiator for you, designed entirely around the available space.
Conclusion
With our customer first mindset, Contour can create bespoke designed LST radiators to suit any environment.
Whether it's a particular colour, graphic or grille design, we can work to accommodate your needs and ensure that your heating solutions are an exact match for the space.
If you would like to find out more, or to speak to a heating expert, fill out the form below to talk to us about how we can offer designer heating solutions for you!
About Us
Contour produces a range of innovative, safe surface temperature systems for healthcare, education, mental health, commercial and secure sectors, working in close partnership and collaborating with architects, M&E engineers, NHS Trusts, local authorities, design consultants and contractors to deliver outstanding safe heating solutions.
Contour is the exclusive partner of BioCote® anti-microbial technology for LST and anti-ligature radiators. BioCote® additives reduce bacteria by up to 99.9%. Contour combine an extensive range of colour-paints is with BioCote® for a durable, high-quality finish.
Contour's heating solutions offer secure, single-person quick access to radiator guard interiors for regular deep cleaning and maintenance. Each year, Contour save the NHS millions of pounds in cleaning costs, therefore delivering cleaner, safer environments. Contour is redefining the marketplace and therefore many regard us as a design and innovation leader within the industry.
Contour have a quality- first philosophy. Our customer-focused team possess a 'can-do' attitude, they take pride in developing solutions for your heating requirements.
Contact us at:
The Mansions, 43 Broadway Shifnal
Shropshire TF11 8BB United Kingdom
+44 1952 290 498
Twitter: @Contour_Heating
LinkedIn: Contour Heating Products Ltd