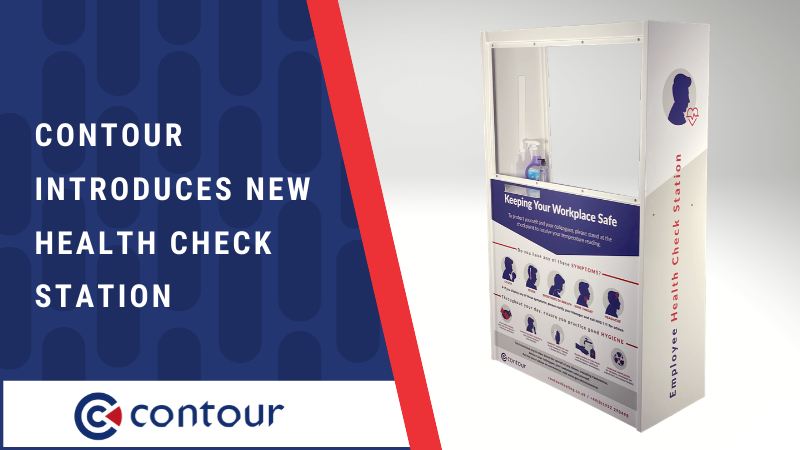 As the UK workforce begins its return to normality, Contour is excited to introduce their latest product to the market: The Health Check Station.
Read on to find out more about Contour's latest innovation.
What is the health check station?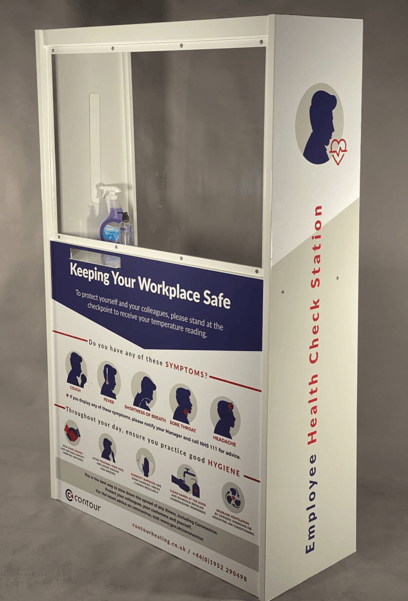 The Health Check Station acts as a 'check point' for all employees and visitors as they enter a public building – for work or other purposes.
Designed to be placed in reception areas or outside main entrances – upon entry into the main building – users can simply stand at the station to receive a temperature reading. This will give an indication as to whether individuals might be showing symptoms off COVID-19.
The visual signage of the Health Check Station provides users with basic prompts on how to control the spread of infection, whilst the 'document slot' can be used to help keep on top of important information – such as registers and time-sheets.
The Health Check Station is fitted with a durable Perspex screen that contains a small cut out to allow for the use of a digital thermometer. The Perspex screen provides the individual responsible for carrying out the temperature check the ability to maintain a recommended level of protection. The cut out is offset to the side so the tester isn't in direct line of site of the person they are testing.
Why Is It Important To Receive A Temperature Reading?
Government guidelines state that if you experience any symptoms of Covid-19, you are to self-isolate for at least seven days. Unfortunately, a high temperature is difficult to identify, particularly when compared to other flu-like symptoms associated with the virus (for example, a cough or cold).
By checking the temperature of an employee, visitor or any user entering a public building – the Health Check Station could help to control the spread of this deadly infection.
BioCote® Antimicrobial Protection
As with most of Contour's products, the Health Check Station is protected by BioCote®: a unique antimicrobial that helps to combat a wide range of dangerous bacteria, including MRSA and E.coli.
To learn more about BioCote®, click here.
Conclusion
Over the next few months, business owners, managers and other professionals will be seeking solutions to help make their establishment as safe as possible. If you would like to learn more about the Health Check Station, don't hesitate to get in touch with one of our experts today.
About Us
Contour produces a range of innovative, safe surface temperature systems for healthcare, education, mental health, commercial and secure sectors, working in close partnership and collaborating with architects, M&E engineers, NHS Trusts, local authorities, design consultants and contractors to deliver outstanding safe heating solutions.
Contour is the exclusive partner of BioCote® anti-microbial technology for LST and anti-ligature radiators. BioCote® additives reduce bacteria by up to 99.9%. Contour combines an extensive range of colour-paints is with BioCote® for a durable, high-quality finish.
Contour's heating solutions offer secure, single-person quick access to radiator guard interiors for regular deep cleaning and maintenance. Each year, Contour save the NHS millions of pounds in cleaning costs, therefore delivering cleaner, safer environments. Contour is redefining the marketplace and therefore many regard us as a design and innovation leader within the industry.
Contour has a quality- first philosophy. Our customer-focused team possess a 'can-do' attitude, they take pride in developing solutions for your heating requirements.
Contact us at:
The Mansions, 43 Broadway Shifnal
Shropshire TF11 8BB United Kingdom
+44 1952 290 498
Twitter: @Contour_Heating
LinkedIn: Contour Heating Products Ltd