'I was shocked when I realised how much bacteria could be in one small box.'
Paul Tutt, Senior Project Manager of Southern Health NHS Foundation Trust.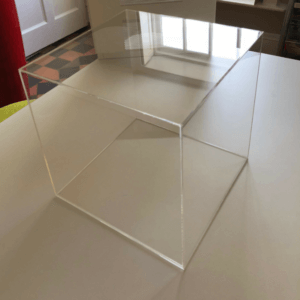 Contour's most recent exhibition for our anti-ligature radiator and radiator cover range took place in Birmingham at the Design In Mental Health Conference (May 2018), during which we engaged in numerous discussions with healthcare providers about their bacteria-related concerns and solutions, and implemented a new competition.
Visitors were encouraged to guess the number of bacteria in a 300mm Square Perspex box. The competition was designed to raise awareness of how high levels of bacteria really are, and how important it is to combat the growth of microbes, especially in healthcare environments, where it is particularly essential that hygiene is promoted, and illnesses minimised.
After the show, Contour sent the box to the BioCote® laboratory for analysis in preparation for the announcement of the results.
We are delighted that the competition generated so much interest, receiving 87 entries, and can now confirm that BioCote® found a shocking count of 97 million bacteria in the box.
Think the box in the photo looks clean? Think again.
No matter how clean your radiator looks, it's harvesting millions of bacteria, just like this box.
Winner
We are pleased to announce that Paul Tutt of the Southern Health NHS Foundation Trust made the closest bacteria count prediction of 98 million.
The Southern Health NHS Foundation Trust provides community health, mental health, learning disability and social care services that are integral to the wellbeing of patients. Paul oversees capital NHS projects that provide anti-ligature solutions and improve healthcare safety. Hygiene and bacteria reduction is at the centre of all of Paul's projects for the NHS.
At the conference, Paul's colleague calculated a prediction of 99 million for the bacteria in the box. Paul used this prediction to place his own guess at only one million less – and won the contest.
Paul was intrigued by the competition, curious to find out exactly how much bacteria could be carried in one small space. He highlighted the importance of hand washing and explained that sometimes it's easy to just consider cleanliness as a standard that must be adhered to in clinical environments, though, in reality, hygiene is so much more than this. It's integral to reducing illness and improving health in all settings, benefitting all service users. Paul explained that minimising bacteria is vital in his current projects, in which he is focusing on improving infection control for the NHS.
Paul listed some of the criteria he looks for in radiators and radiator covers for healthcare settings. He underlined the importance of anti-ligature radiator covers that are coated with anti-microbial additives, are robust, durable, rust-resistant and easy to clean.
Donation
On the 70th birthday of the NHS, representatives from Contour travelled to Southampton to award Paul his prize.
We are delighted that Paul has chosen to generously split his prize funds between the Southampton CAMHS service and the Southampton Learning Disabilities service. The funds will provide mobile DVD players for visitor rooms where families are encouraged to interact with their children.
Contour highly value Paul's decision. As his chosen causes are so beneficial, we have decided to double the order for the children's mobile DVD players.
BioCote®
Contour is the first and only company to integrate the world's leading antimicrobial additives, BioCote® into the paintwork of radiator covers to permanently inhibit bacteria on the covers. The patented additives significantly reduce dangerous bacteria that cause MRSA and E. coli, amongst other illnesses. BioCote® obstructs the growth of dangerous microbes, vastly improving the cleanliness of radiators and radiator covers.
We can't express the importance of eradicating bacteria in radiators enough. You could reduce illness in your environment by refurbishing your radiators with Contour's anti-microbial, anti-ligature radiator covers. For comprehensive information on Contour's anti-ligature radiator and radiator cover range, or to arrange a free site survey, sign up below.
We hope to see you at the Design In Mental Health conference next year, where we will have another exhibition for you.
About Us
Contour produces a range of innovative, safe surface temperature systems for healthcare, education, mental health, commercial and secure sectors, working in close partnership and collaborating with architects, M&E engineers, NHS Trusts, local authorities, design consultants and contractors to deliver outstanding safe heating solutions.
Contour is the exclusive partner of BioCote® anti-microbial technology for LST and anti-ligature radiators. BioCote® additives reduce bacteria by up to 99.9% and are combined with Contour's extensive range of colour-paints to coat products for a durable, high-quality finish.
Contour's heating solutions offer secure, single-person quick access to radiator guard interiors for regular deep cleaning and maintenance. Each year, Contour save the NHS millions of pounds in cleaning costs, while delivering cleaner, safer environments. Contour has redefined the marketplace and is regarded by many as a design and innovation leader within the industry.
Contour's vision is supported by a quality-first philosophy and a passionate and conscientious customer focused team who possess a 'can-do' attitude, taking pride in developing solutions for your heating requirements.
Contact us at:
The Mansions, 43 Broadway Shifnal
Shropshire TF11 8BB United Kingdom
+44 1952 290 498