In hygiene conscious environments, cleanliness isn't an options; it's a requirement and NHS guidelines state that hospital LST radiators should be cleaned at least one a week.
In schools this is less strict, but hygiene standards must be maintained.
Contour have been blogging about the design of our LST radiators and how they are suitable for easy access for cleaning.
Read on to find out more…
Why Cleaning Behind LST Radiators Is Important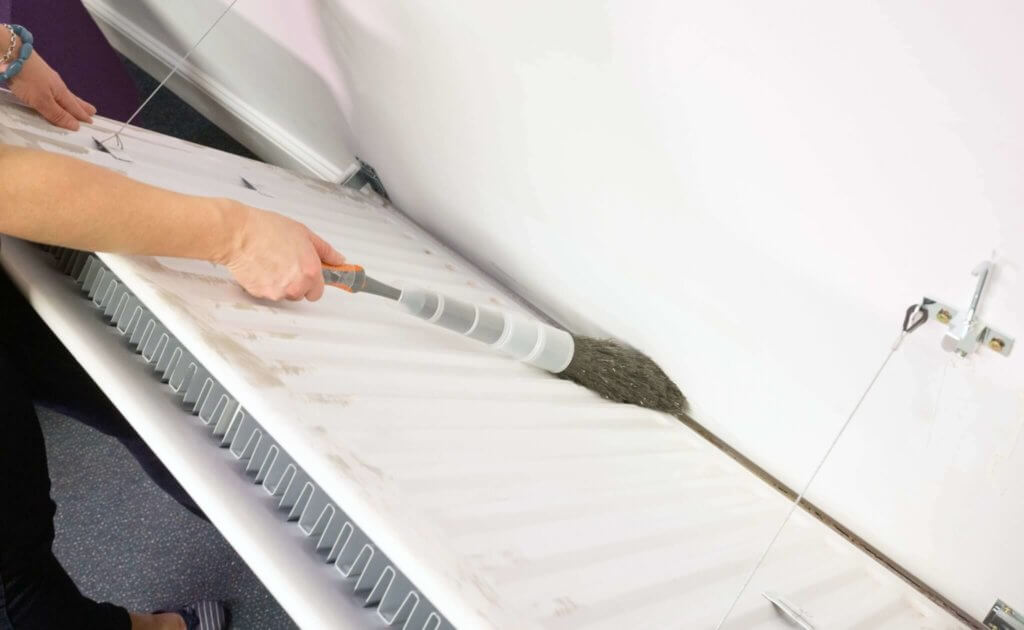 The back of LST radiators are warm, dark spaces, therefore becoming the ideal place for bacteria to grow and thrive.
In schools and hospitals there can be serious implications of high bacteria presence as vulnerable children and service users may not be able to combat infections in the same way a healthy immune system will.
Proper cleaning and maintenance of LST radiators, including the back, prevents the growth and spread of these bacteria.
With Contour's LST radiators, you can feel assured that you have additional protection from BioCote® antimicrobial technology which inhibits the growth of 99.9% of bacteria within two hours.
As well as bacteria, dust build up behind you LST radiator can affect heat output because it blocks the grilles and the fins. This can affect the cost of heating a room as the LST radiator will need to be on for longer to make up the difference.
Contour's range of DeepClean LST Radiators prevents them from becoming dust traps making them more hygienic wherever they are installed.
Cleaning Equipment
Contour LST radiators are coated with BioCote® antimicrobial technologies. Because of this, we recommend using brushes or damp, non-abrasive cloths without cleaning agents to maintain the integrity of the powder coating.
Microfibre Brushes
Microfibre is a synthetic that's finer than human hair. It's used in non-abrasive cleaning cloths and brushes because it's a highly effective way of collecting dust and dirt when cleaning behind LST radiators.
Vacuums
Use either a hand-held or regular vacuum cleaner to get the dust from behind the radiator without the need to reach all the way down it.
This method isn't always as effective as using a microfiber brush as it doesn't reach all of the smaller places where dust can hide. However, as part of the cleaning process it's a good starting point.
RotaRad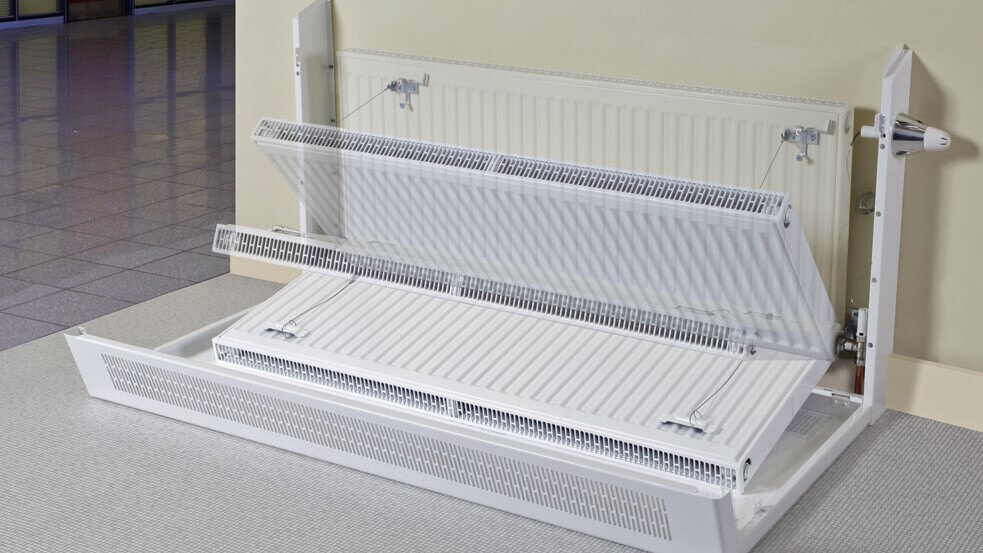 RotaRad are WRAS, KTW and ACS approved rotating valve kits that can be installed onto new and existing radiators. They also allow the LST radiator to be bought down to floor level. This means that they entire structure of the wall and radiator itself can be thoroughly cleaned.
In schools, it's often found that students push items into the radiator covers and if this builds up it can cause a reduction in heat output. Installing RotaRad as part of your LST radiators means that these can be easily retrieved as part of the cleaning process.
RotaRad features:
Flame-free installation
Simple and fast to fit and operate
Reliable, safe and economic
A design life of 50 years minimum
Can be rotated through 360 degrees
Slimline, unobtrusive and paintable
Conclusion
Cleaning behind LST radiators is important because it prevents blockages as items are pushed through the grilles and can prevent the growth and spread of bacteria behind them.
Clean them using non-abrasive microfibre brushes, vacuums or damp clothes without cleaning agents. This maintain the integrity of the powder coating on the LST radiators.
By using RotaRad kits as part of your LST heating solutions, you can make accessing the back of the radiator and the wall much easier. Because they lower to floor level the entire structure can be cleaned.
If you would like to find out more about our low surface temperature solutions fill out the form below and we will be in touch!
About Us
Contour produces a range of innovative, safe surface temperature systems for healthcare, education, mental health, commercial and secure sectors, working in close partnership and collaborating with architects, M&E engineers, NHS Trusts, local authorities, design consultants and contractors to deliver outstanding safe heating solutions.
Contour is the exclusive partner of BioCote® anti-microbial technology for LST and anti-ligature radiators. BioCote® additives reduce bacteria by up to 99.9%. Contour combine an extensive range of colour-paints is with BioCote® for a durable, high-quality finish.
Contour's heating solutions offer secure, single-person quick access to radiator guard interiors for regular deep cleaning and maintenance. Each year, Contour save the NHS millions of pounds in cleaning costs, therefore delivering cleaner, safer environments. Contour is redefining the marketplace and therefore many regard us as a design and innovation leader within the industry.
Contour have a quality- first philosophy. Our customer-focused team possess a 'can-do' attitude, they take pride in developing solutions for your heating requirements.
Contact us at:
The Mansions, 43 Broadway Shifnal
Shropshire TF11 8BB United Kingdom
+44 1952 290 498
Twitter: @Contour_Heating
LinkedIn: Contour Heating Products Ltd