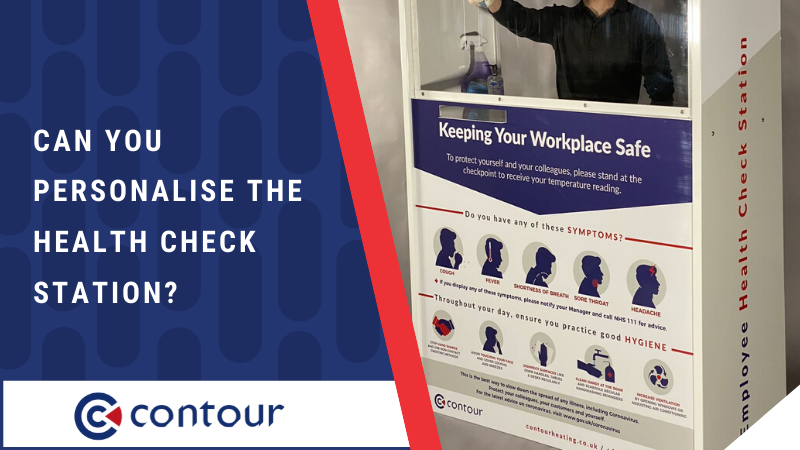 Last week, Contour launched its latest product, The Health Check Station. The Health Check Station has been specially designed to help aid the safe return to 'normality' in the wake of the Covid-19 pandemic.
Placed in entrance ways and foyers, The Health Check Station acts as a 'check point' for individuals to receive a temperature reading before entering a public building.
As we're aware, one of the most common symptoms of the virus is a high temperature, yet it is one of the most difficult to identify – particularly when compared with other flu-like symptoms.
To find out more about the Contour's latest product, click here.
Today, we explore the personalisation options available to you and your organisation, should you choose to purchase one of Contour's Health Check Stations.
Standard Option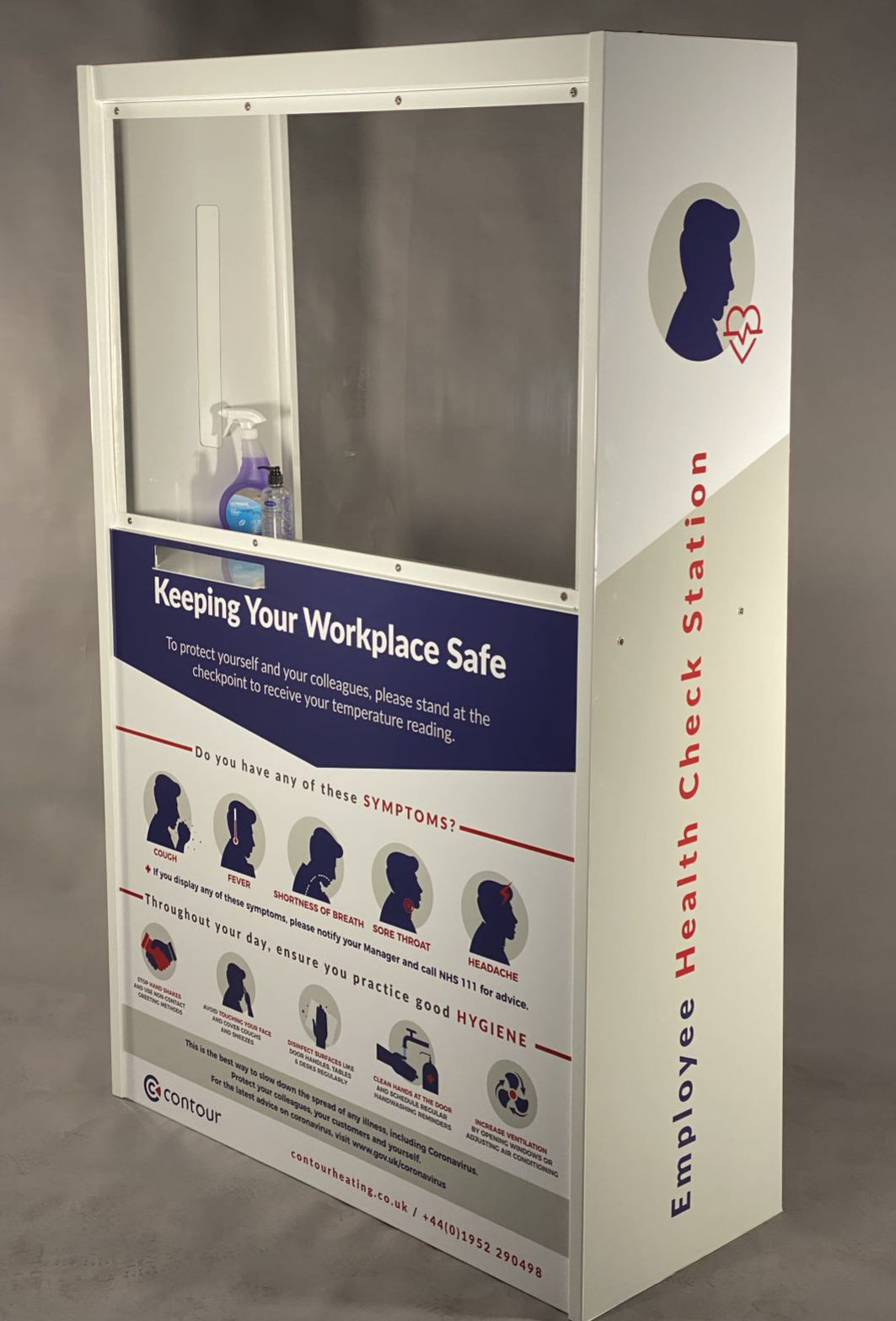 As standard, The Health Check Station comes with a clear design on its front and side panels. The front panel offers useful advice to individuals on how to minimise the spread of infection. The main aim of the design is to prompt and inform users, whilst providing a tasteful aesthetic.
Due to the informative nature of the design, we recommend this option in work-place environments to help promote healthy practises amongst staff members within an organisation.
The Plain Option
For those looking for a more simplistic aesthetic, Contour also provides a plain design with no artwork on the front or side panels.
This is the ideal solution for establishments looking for a more discreet option. Additionally, the plain design allows organisations to attach their own design on the front panel – whether it be notices or any other important information.
We recommend this design in more commercial outlets. Why not use the front panel to write 'today's specials' for customers to view upon entering your restaurant?



Apply Your Own Design To The Health Check Station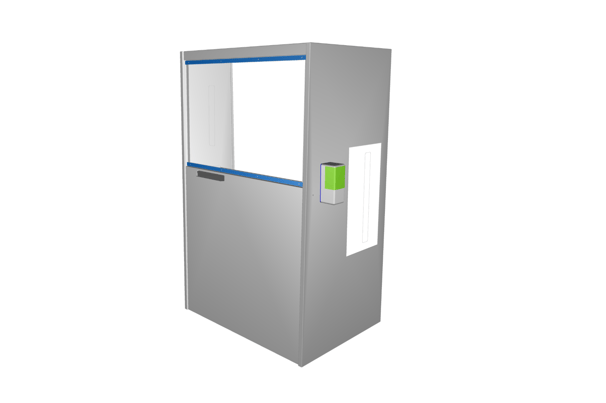 Contour also provides a completely personalised design for those wanting to make their Health Check Station part of the furniture.
Working closely alongside our printing team, you can submit your own design – complete with branding – creating a totally bespoke aesthetic.

This option is ideal in establishments that place a high emphasis on their own personal brand. Salons, shops, bars and restaurants will all benefit from a more personalised approach, whilst making customers feel safe and at ease.
Conclusion
Whatever your environment or establishment, The Health Check Station is versatile enough to meet your unique requirements.

If you'd like to discuss your options further, don't hesitate to get in touch with an expert today. Installing a Contour Health Check Station into your establishment is the first step in getting back to normality.
About Us
Contour produces a range of innovative, safe surface temperature systems for healthcare, education, mental health, commercial and secure sectors, working in close partnership and collaborating with architects, M&E engineers, NHS Trusts, local authorities, design consultants and contractors to deliver outstanding safe heating solutions.
Contour is the exclusive partner of BioCote® anti-microbial technology for LST and anti-ligature radiators. BioCote® additives reduce bacteria by up to 99.9%. Contour combines an extensive range of colour-paints is with BioCote® for a durable, high-quality finish.
Contour's heating solutions offer secure, single-person quick access to radiator guard interiors for regular deep cleaning and maintenance. Each year, Contour save the NHS millions of pounds in cleaning costs, therefore delivering cleaner, safer environments. Contour is redefining the marketplace and therefore many regard us as a design and innovation leader within the industry.
Contour has a quality- first philosophy. Our customer-focused team possess a 'can-do' attitude, they take pride in developing solutions for your heating requirements.
Contact us at:
The Mansions, 43 Broadway Shifnal
Shropshire TF11 8BB United Kingdom
+44 1952 290 498
Twitter: @Contour_Heating
LinkedIn: Contour Heating Products Ltd