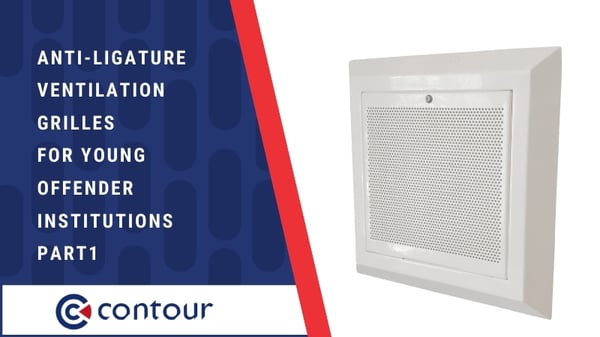 It's important that anti-ligature ventilation grilles closely align with the requirements set out by the Ministry Of Justice in providing safe, secure Young Offender Institution cells.
For young offender institutions, it's essential to maintain a high-secure grille design to promote airflow, whilst reducing any potential ligature points that are apparent in standard grille designs.
This blog sets out to emphasise the significance of anti-ligature ventilation grilles in custodial environments, through key design characteristics such as:
Anti-Ligature Grille Design
Potential Risks With Standard Grilles
Danger Of Improvised Weapons
Contour's Anti-Ligature Ventilation Grille
Part 2 will explore the following design characteristics:
Security Fixings For Authorised Access Only
Reducing Stash Points
BioCote® Protection
Anti-Ligature Ventilation Grille Design
Within YOI's there is a potential risk of suicide, self-harm, and bullying. With ventilation grilles often being positioned on ceilings or high walls, they present an easy opportunity for strangulation through suspended hanging.
Clearly, some problems need to be addressed in both the psychiatric support provided to offenders and the possibilities given to offenders when inflicting harm on themselves or others.
Potential Risks with Standard Grilles

Standard grille designs pose ligature risks which can result in harmful consequences for offenders due to the ease of ligature access.
This is by having large enough gaps that allow offenders to tie something in between the grilles. Ventilation grilles with standard grilles are simply too harmful to be placed in YOI cells where levels of suicide are extremely high.
Danger Of Improvised Weapons
YOIs and youth establishments have the highest assault rates of any prisons in England and Wales according to Politics.co.uk.
With high suicide levels and bullying within YOI's, articles have discovered that anti-ligature ventilation grilles can be used as improvised weapons.
Improvised weapons are becoming a common issue in these environments. These weapons are generally made by destructing and altering objects and furniture into something sharp-with the intent of using it to cause harm.
Anti-ligature ventilation grilles can become objects that are used to create improvised weapons. This risk further concludes that a strong and secure ventilation grille is essential.
When you consider the many ventilation grilles on the market are made from plastic, specifiers should be aware of the risks linked with weak materials in YOI cells, from not only a cost perspective-but to reduce the risk of improvised weapons causing harm.
Contour's Anti-Ligature Ventilation Grille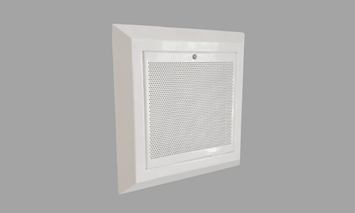 Contour's anti-ligature ventilation grille is manufactured from 1.5mm Zintec Steel, providing a robust solution against improvised weapons.
If needs be, this can be changed to 1.5mm Magnelis, which is suitable for wet environments, making them appropriate for young offender institutions.
Conclusion
Key characteristics that specifiers should look out for when identifying appropriate ventilation grilles for YOI's are, being strong and robust to minimise improvised weapons and grilles that are anti-ligature to decrease suicide rates.
Click here to read our next post. In this post, you'll find the importance of security fixings for authorised access only, the reduction of stash points and why anti-microbial protection in young offender institution is essential.
About Us
Contour produces a range of innovative, safe surface temperature systems for healthcare, education, mental health, commercial and secure sectors, working in close partnership and collaborating with architects, M&E engineers, NHS Trusts, local authorities and contractors to deliver outstanding safe heating solutions.
Contour is the exclusive partner of BioCote® anti-microbial technology for LST and anti-ligature radiators. BioCote® additives reduce bacteria by up to 99.9%. Contour combines an extensive range of colour-paints is with BioCote® for a durable, high-quality finish.
Contour's heating solutions offer secure, single-person quick access to radiator guard interiors for regular deep cleaning and maintenance. Each year, Contour save the NHS millions of pounds in cleaning costs, therefore delivering cleaner, safer environments. Contour is redefining the marketplace and therefore many regards us as a design and innovation leader within the industry.
Contour has a quality-first philosophy. Our customer-focused team possess a 'can-do' attitude, they take pride in developing solutions for your heating requirements.
Contact us at:
The Mansions, 43 Broadway Shifnal
Shropshire TF11 8BB United Kingdom
+44 1952 290 498
Twitter: @Contour_Heating
LinkedIn: Contour Heating Products Ltd