As a key part of its radiator guard offer, Contour has developed a specialist range of solutions for use in secure environments such as NHS or private mental health facilities, prison and other secure custody services, where reducing the risk of potential ligature and tamper opportunities is of paramount importance in reducing the risk of harm to vulnerable individuals.
Grilles and external TRV's on all radiator guards are areas that should receive particular scrutiny, as these have been identified as potential ligature points.
These risks have therefore been analysed and addressed on all Contour anti-ligature radiator guard solutions, including:
Secure anti-ligature mesh or grilles – our latest anti-ligature guard designs incorporate a grille using 2mm diameter holes at 4mm centres, set in a triangular formation, punched directly into the body of the guard. This obviates the need for a separately welded mesh in the body of the guard. The grilles holes exceed the requirements of the BS IP3x test.
Anti-ligature TRV shrouds
Internal fixings as standard
Range of security fastenings – including pin-hex locks
Anti-ligature base plates
NEW DeepClean Extra IP3x anti-ligature radiator guard
The DeepClean Extra IP3x is a new anti-ligature radiator guard that overcomes the safety issues that can be raised by installation on uneven walls, whilst still allowing easy full internal access for cleaning and maintenance.
Complementary anti-ligature solutions
Extending Contour's anti-ligature radiator solutions, a range of other security fittings and fixtures has also been engineered, this includes ceiling grilles.
Download Brochure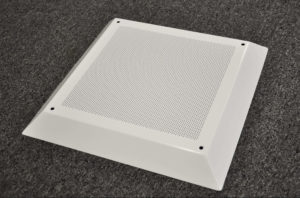 A professional and extensive service offering is available to support your anti-ligature radiator project, comprising of technical site consultations and surveys, short lead times, dedicated delivery and technical departments, bespoke design and an accredited nationwide radiator guard installer network.
To discuss your specific anti-ligature radiator guard requirements, please call: 01952 290 498 or email: technical@contourcasings.co.uk.
(N.B – The grille design in these anti-ligature radiator guards can inhibit the convection process. Therefore we cannot guarantee that the casing will not exceed a surface temperature of 43°C)