Complete LST and anti-ligature radiator systems
LST radiators typically work by warming air between an internal heated radiator and a cooler, safe-to-touch external radiator guard. The warmed air moves up and out of vents at the top of the guard, through the convection process and is replaced by cooler air sucked in at the bottom of the guard.
Contour's complete LST radiator systems consist of three elements:
An internal radiator as the heat emitter – Contour now uses the latest QRL Hi-Lo Round Top radiators in its complete range of LST radiators. These have been designed with smaller water channels which mean they contain less water on average than 'compact' style panel emitters. The smaller channels allow more metal to be in actual contact with the water, providing a faster warm-up time. Significantly, they can deliver considerably higher outputs for the same heat energy input compared to panel emitters. Indeed the Round Top radiators in Contour LST units offer up to 17% improvement in heating efficiency over older style 'compact style' panel emitters, marking a significant step forward in energy savings.

Contour can provide a LST radiator solution for virtually every room size and environment with internal radiators available in up to 160 size variants across single convector (Type 11), double panel plus (Type 12) and double convector models (Type 22).

All our emitters come with Bottom Opposite End (BOE) fitting and are covered by a 10 year product warranty*.
A radiator guard – our guards are designed to be robust, easy to clean and above all safe for users. They are available in Zintec protected mild steel in various gauges from 1.2mm up to 2mm, and in aluminium if intended for use in humid installation environments. All Contour radiator guards are designed with rounded corners and edges to minimize the risk of injury should someone fall against a unit. For additional durability and corrosion resistance, Contour guards are all powder coated inside and out. The standard finish is white RAL 9003 however other RAL or BS colour finishes are available. All Contour radiator guards are covered by a 5 year product warranty*.
A radiator valve set – complete Contour LST systems come with high quality Herz Thermostatic Radiator Valves (TRVs). For added peace of mind these are covered by a manufacturer's 5 year product warranty*.
Contour's DeepClean™ and Covora™ ranges are available as complete LST radiator systems.
DeepClean™ LST radiators
The DeepClean low surface temperature radiator range represents the latest in safe surface temperature technology, delivering multiple layers of protection and functionality, protecting service users and service providers. It is the ideal solution for use in institutions such as hospitals, care homes and schools, providing cleaning and estates staff unrivalled internal access for cleaning and maintenance. In addition to an extensive standard range of DeepClean LST radiators, an array of anti-ligature options are available for application in secure environments such as prisons or mental health facilities.
Download our latest DeepClean LST Output Datasheets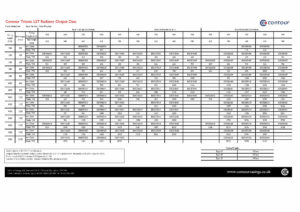 Covora™ LST radiators
Designed to ensure safety compliance, Covora is Contour's high quality, low cost, no fuss LST radiator range. The Covora range has been primarily designed for general healthcare, educational and commercial environments. This range is ideal for M&E and building contractors and heating and plumbing installers, who are working to price-sensitive budgets but require simple, high quality safety compliant radiators.
LST product selector
To assist with product selection we have produced a general guide based upon typical needs by application. We would recommend a thorough risk assessment of service user needs before final selection. The table provides a quick and easy way of finding the Contour LST solution most suited to yours needs.
Access a PDF of the LST product selector chart