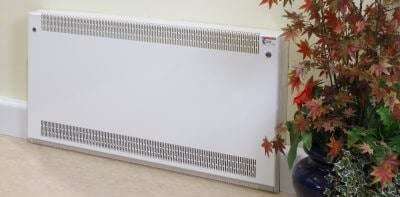 Metal Radiator Covers For Safety In Commercial Environments
Contour has a long heritage of supplying and installing metal radiator covers to protect vulnerable service users across the UK for the last 15 years.
During this time, Contour metal radiator guards have been used in a wide variety of buildings, including;
Hospitals,
Health Centres,
Mental Health Facilities,
Care Homes,
Sheltered Accommodation,
Nursery Schools,
Primary Schools
Special Educational Needs (SEN) Schools,
Custodial Buildings, including Police Stations and Prisons, and
Public Buildings, such as Libraries and Community Centres.
How much do metal radiator covers cost?
Contour metal radiator covers are available in 3 designs for distinct applications.
The DeepClean metal radiator cover is designed specifically for environments that require regular cleaning. These include hospitals, health centres and elderly care facilities.
The patented design includes a drop-down front door providing secure, yet, quick and easy access to the interior of the casing for cleaning and maintenance. Casing removal doesn't require assistance from facilities or estates support staff.
Contour DeepClean metal radiator covers have numerous safety features, including; radiused corners, anti-tamper locks, pencil proof grilles, one-piece robust construction.
Contour supply a specialist range of anti-ligature metal radiator covers, which have been designed specifically for use in mental health environments and custodial facilities. These include custody suites, prisons and young offenders institutes, in which there is a suicide risk from ligatures.
The IP3X grille pattern meets the MOJ and Home Office specification and is punched into the casing, rather than welded on, for added protection and security.
Due to the specialist nature of these environments, Contour offers a bespoke design service for high-security installations which need a more robust solution.
Covora metal radiator covers are value-engineered for more cost-conscious environments, where compliance with safe surface regulations is your only consideration.
Standard Metal Radiator Cover Design Features
As standard, all Contour Metal Radiator Covers have BioCote® anti-microbial protected paintwork. This is proven to reduce the risk of healthcare-associated infections such as MRSA and E.coli, by reducing germs and microbes on the guard's surface by up to 99.96% in less than 2 hours.
We also provide pre-fabricated cut-outs for vinyl flooring and skirting boards ensure there is no need for noisy and messy on-site cutting.
As part of the Contour service, we can visit your site to carry out a detailed survey to ensure that your metal radiator covers are manufactured precisely to fit your building.
We also offer a professional installation service too, providing you with a turnkey solution from design all the way through to handover.
Please call us today on 01952 290 498, or email us at sales@contourheating.co.uk for pricing or to arrange your site survey.