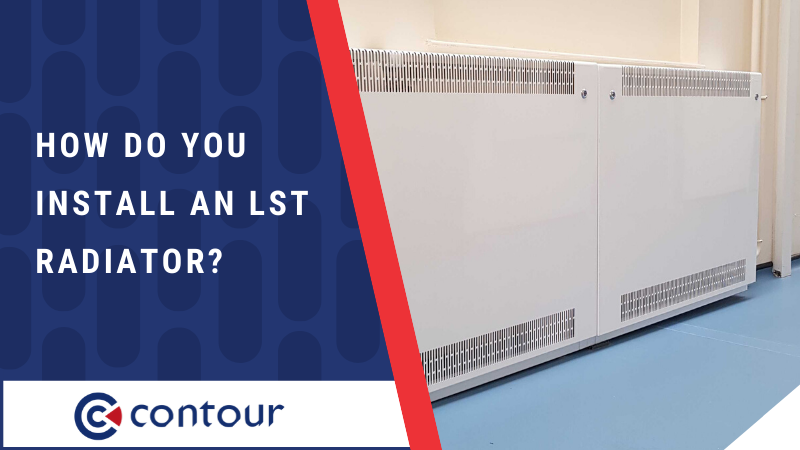 How we install LST radiators is a question that we are often asked here at Contour.
We strive to ensure that customers understand our process from start to finish to make sure that they are satisfied with our service at all times.
Contour have been blogging about LST radiator installation and the different factors of consideration around this. Please note: this blog post was updated in April 2020 to reflect new images and legislation.
Read on to find out more...
LST Radiators are made up from three separate components: panel radiator, valves and casing.
Some manufacturers supply these as separate components and others supply them as one complete unit. There are benefits to both.
Supplying them separately limits the potential for damage to the casings on site. If they are required on site before the building is ready for hand over this is particularly important.
To start with, ensure there is enough wall space to accept the radiator, the casing that will be installed on over the top, and any externally mounted TRV heads.
The wall you are fixing to needs to finished and strong enough to have a radiator fix to it. The varying sizes can affect the potential weight, but they are often heavy; particularly once they are filled with water. The wall must be strong enough to support this.
Areas that will have large LST radiators, for example, an 1800 x 750 double-panel radiator, installing a wood pattress behind the plasterboard will ensure a completely secure fixing. This gives you the peace of mind around security for years to come. However, this is only an option if you are replastering the wall or installing LST radiators as part of a new build project.
However, you can also fix the wood pattress to the front of the plasterboard if needed. This would do the same job, but this may affect the depth of your cover. Check this prior to fitting an external pattress.
Floor or Wall Mounted LSTs
LST radiators can be installed with a cover that goes down to the floor or with the option to have them mounted off the floor.
If you require the casing down to the floor then the radiator would need to be installed 200mm off the floor. This allows enough room underneath for pipes and valves to be installed. However, you should check the sizes stated by the manufacturer as the design and project could affect this.
For wall mounted options this may be slightly higher. This depends on how much gap you want to leave between the bottom of the casing and the floor. If you wanted a 100mm clearance from the floor to the underside of the casing then you would need to mount the radiator 250mm off the floor. You should confirm the sizes of the manufacturer as you would with a floor mounted option first though.
Valves
Once the LST radiator is installed, the valves can be added to your required orientation and the pipework can be adapted to suit the this and valve positions.
Most modern radiators that are connected on to a two pipe system can be connected Bottom Bottom Opposite End (BBOE).
Older systems that still have a one pipe system are connected Top Bottom Opposite End (TBOE).
Casing
Once you are happy that the LST radiator has been installed correctly, the system has been pressure tested, balance and vented, the casing can be installed.
Using suitable fixings, fix the cover recommended by the manufactures guidelines.
Some LST radiators are designed to have internal fixings that can't be tampered with. This is preferable when you're installing LST radiators into environments where the covers could get damaged or tampered with. This includes hospitals or SEN Schools.
Keeping LST Radiators Clean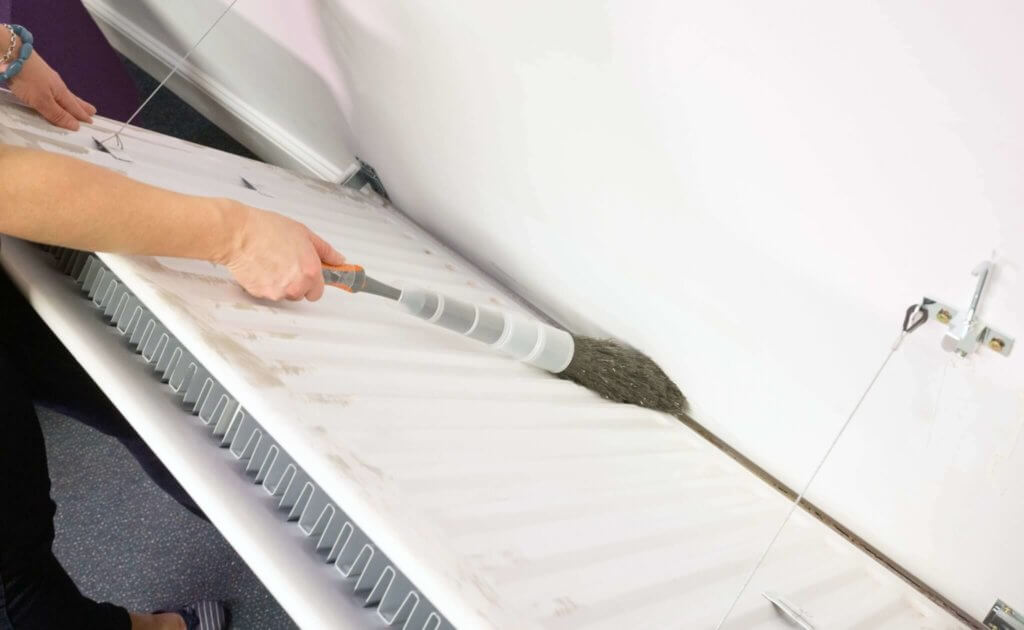 Because of the nature of an LST radiator, they can become dust traps. This is because they draw in air through the grilles at the bottom pulling in dust and hair.
This creates a perfect place for bacteria to grow. It's warm and dark and unlikely to be disturbed unless being cleaned. Choosing an LST radiator designed to allow you to fully remove the top makes cleaning easier. It also helps with the instalment of the LST radiator at the beginning of the project.
If you require LST radiators with easy access to the back wall, there are options available to lower the door to the floor. The cover would ideally need to be connected BBOE to allow the radiator to be lowered. This will enable you to clean up any spilt liquids. It also aids infection control teams combating superbugs in areas such and High Dependency Units (HDU) because the cleaning staff will have full access under the cover.
Conclusion
Many factors are taken into account when installing LST radiators. This includes whether it's a single unit or a multi-component structure and if it's wall or floor mounted.
With doors that can be lowered to the floor for easier cleaning, you can have LST radiators installed that maximise the cleanliness of your heating solutions and make installation easier in the interim.
If you would like to find out more about LST radiators and having them installed into your space, fill out the form below and a heating expert will be in touch.
About Us
Contour produces a range of innovative, safe surface temperature systems for healthcare, education, mental health, commercial and secure sectors, working in close partnership and collaborating with architects, M&E engineers, NHS Trusts, local authorities, design consultants and contractors to deliver outstanding safe heating solutions.
Contour is the exclusive partner of BioCote® anti-microbial technology for LST and anti-ligature radiators. BioCote® additives reduce bacteria by up to 99.9%. Contour combine an extensive range of colour-paints is with BioCote® for a durable, high-quality finish.
Contour's heating solutions offer secure, single-person quick access to radiator guard interiors for regular deep cleaning and maintenance. Each year, Contour save the NHS millions of pounds in cleaning costs, therefore delivering cleaner, safer environments. Contour is redefining the marketplace and many regard us as a design and innovation leader within the industry.
Contour have a quality- first philosophy. Our customer-focused team possess a 'can-do' attitude, they take pride in developing solutions for your heating requirements.
Contact us at:
The Mansions, 43 Broadway Shifnal
Shropshire TF11 8BB United Kingdom
+44 1952 290 498
Twitter: @Contour_Heating
LinkedIn: Contour Heating Products Ltd