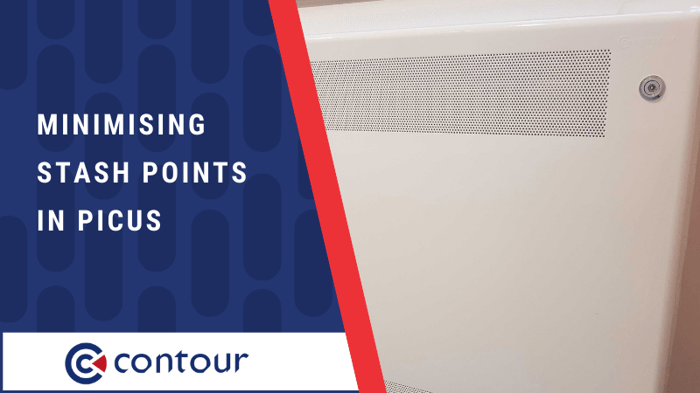 Psychiatric Intensive Care Units (PICUs) provide a comfortable environment for adults who are experiencing severe mental health disorders.
These committed wards provide inpatient mental health care assessment and full treatment to individuals at PICUs.
It's important to minimise stash points in these high-secure mental health settings because even a 2mm gap could be used as a stash point for contraband.
Another thing to consider is that mental health facilities now offer more freedom to Service Users. This has involved giving Users more access to personal belongings and more control over their comfort.
If you're involved in the specification of high-secure mental health hospitals such as PICUs, read on to find out how to minimise stash points in these environments…
Stash Point Considerations For High-Secure Mental Health Hospitals
Whilst this added independence may improve morale, it does create more chances for Users to carry out acts of vandalism, self-harm and creating stash points.
Therefore, what was once deemed an appropriately robust radiator or guard may need assessment to ensure it meets the challenges that modern-day PICUs face.
As service users are bringing more personal belongings into high-secure mental health units, there is more risk of stash points.
For example, an individual could use their personal belongings to create exposed pipework. This could be by using a thin piece of material to create a larger gap.
This could then be used as a stash point, so this must be covered with a robust solution, such as steel pipe boxing.
The Layout Of The Room
The layout of the PICU room is something to take into consideration because a room that's cluttered or has furniture that's close together creates more opportunities for stash points.
If a bed is next to a radiator, for example, there is a greater chance of hiding contraband in small gaps that are not visible.
To avoid stash points with heating solutions, it's essential that the room is spacious, and that furniture isn't

Grille Design
Something to be considered for potential stash points is that items could be stored behind or inside exposed grilles, such as those found in conventional radiators and air conditioning units.
So, a wide grille design – or any exposed ligature – will also make an item more susceptible to vandalism, creating more opportunities to stash objects in concealed areas.
Grilles in high-secure environments should be small, not only to reduce the risk of stash points but to create an anti-ligature radiator solution too.
Open-Ended Shoulders
Even the smallest of gaps can be used for stash points and radiators that are located close to the corner of the room will create gaps, therefore open-ended shoulders (OES) need to be considered.
An OES works to minimise stash points in PICUs by allowing a radiator guard or an air conditioning guard to fit tightly up to a corner without creating gaps, rather than only covering the radiator itself.
This will minimise even the smallest of gaps that could be used for stash points.
Sloping Tops
A flat-top on a heating solution can be a potential stash point, especially if the heating solution is high up on a wall – contraband will be easy to miss.
So, having a sloping top heating solution in your PICU environment will ensure that nothing will sit on top.


Reducing Stash Points In High-Secure Mental Health Settings
Contours Deepclean extra works to ensure a robust and hygienic solution. With anti-pick mastic, all gaps are sealed to avoid stash points.
Any potential gap for contraband will be a gap to gather dust too. So, the Deepclean extra allows for easy access for cleaning that will help promote a hygienic environment as well as getting rid of stash points.
Anti-ligature solutions are often specified in high-secure areas where there's a potential risk for suicide and self-harm.
However, the anti-ligature radiator and guard's full casing and IP3x grille design ensure that they're the ideal restraint for the cover-up of contraband; making it highly unlikely for individuals to hide items inside casings.
Conclusion
Along with Contour's easy-access locking system, routine checks can be carried out safely and thoroughly in the unlikely event of an item being placed inside the casing's interior.
With pipe boxing, Contour's exposed pipework is fully encapsulated by a 2mm Zintec steel casing, making it highly efficient at preventing individuals within PICUs from stashing contraband around the pipework.
Through the appropriate specification of heating and ventilation solutions within PICUs, you can reduce the risk of hidden contraband to help encourage a safer and more secure environment.


About Us
Contour produces a range of innovative, safe surface temperature systems for healthcare, education, mental health, commercial and secure sectors, working in close partnership and collaborating with architects, M&E engineers, NHS Trusts, local authorities and contractors to deliver outstanding safe heating solutions.
Contour is the exclusive partner of BioCote® anti-microbial technology for LST and anti-ligature radiators. BioCote® additives reduce bacteria by up to 99.9%. Contour combines an extensive range of colour-paints is with BioCote® for a durable, high-quality finish.
Contour's heating solutions offer secure, single-person quick access to radiator guard interiors for regular deep cleaning and maintenance. Each year, Contour save the NHS millions of pounds in cleaning costs, therefore delivering cleaner, safer environments. Contour is redefining the marketplace and therefore many regards us as a design and innovation leader within the industry.
Contour has a quality-first philosophy. Our customer-focused team possess a 'can-do' attitude, they take pride in developing solutions for your heating requirements.