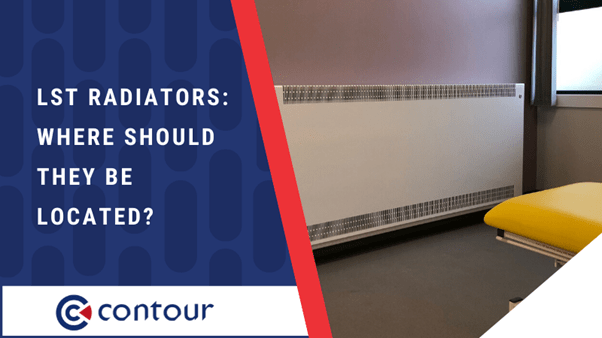 LST Radiators are vital for creating comfortable, safe environments. In fact, the LST radiator guards are the part of the radiator that are responsible for ensuring individuals cannot burn themselves if they decide to or accidentally touch the radiator for any reason.
Despite their level of safety, it is important LST radiators are placed in an optimal location in order to provide the highest comfort levels. If it is placed in an area that causes disruption, staff and service users may find these radiators to be more of a hassle than a convenience. Fortunately, we have compiled the best LST radiator locations that nearly all of our customers can use!
The Best LST Radiator Location
Gone are the days of having to place LST radiators underneath a windowsill. It was often expected and required to place radiators underneath windowsills because of the single glazed windows that were used in buildings. Most modern buildings offer double glazed windows and do not need to cancel the draft that comes from a single glazed window.
Now, the question still remains, "Where is the best LST radiator location?" The answer is simple: wherever the room is the coldest. The best LST radiator location will not be the same in every room. Rooms that have external doors that are opened often will see the greatest benefits by placing the LST radiator next to the door. Individuals in larger rooms will find having the radiator in the centre along the back most wall will keep the room the warmest.
LST Radiator Location Considerations
It is important to remember that safety is still a factor when it comes to the location of LST radiators. If the radiator must go under the window because it does not fit anywhere else, ensure that curtains are appropriately adjusted so as not to obstruct the ventilation or heat output.
In addition, radiators should not be obstructed by furniture. This will result in air not being able to circulate through the casing efficiently.
LST Radiators in Bathrooms
If the bathrooms require a radiator, consider a model that is designed specifically to inhibit bacteria growth and reduce cross contamination. Especially in the COVID-19 era, it is important to use a DeepClean LST radiator that reduces the presence of harmful germs.
Find Your Best LST Radiator & Its Location with Ease
When it comes to finding the best LST radiators for your space, the experts at Contour can help you find the best model and determine its most beneficial location before you make your purchase. All of our radiators are made to order, which ensures your exact needs are met. We encourage you to contact us today to get started or to ask any questions you may have.
About Us
Contour produces a range of innovative, safe surface temperature systems for healthcare, education, mental health, commercial and secure sectors. We work in close partnership with architects, M&E engineers, NHS Trusts, local authorities, design consultants and contractors to deliver outstanding safe heating solutions.
Contour is a partner of BioCote® anti-microbial technology for LST and anti-ligature radiators. BioCote® additives reduce bacteria by up to 99.9% and are combined with Contour's extensive range of colour-paints to coat products for a durable, high-quality finish.
Contour's heating solutions offer secure, single-person quick access to radiator guard interiors for regular deep cleaning and maintenance. Each year, Contour save the NHS millions of pounds in cleaning costs, while delivering cleaner, safer environments. Contour has redefined the marketplace and is regarded by many as a design and innovation leader within the industry.
Contour's vision is supported by a quality-first philosophy and a passionate and conscientious customer focused team who possess a 'can-do' attitude, taking pride in developing solutions for your heating requirements.
Contact us at:
The Mansions, 43 Broadway Shifnal
Shropshire TF11 8BB United Kingdom